RCS messaging traffic to hit 415bn by 2025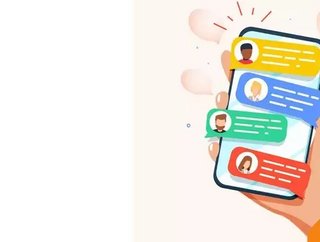 Experts predict Rich Communication Services business messaging will see traffic increase to 415bn globally in just five years...
A by the technical think tank shows that RCS will see a 2,500% growth in messaging over the next five years, reaching traffic levels of over 415bn worldwide.
RCS messaging is the successor to traditional SMS, which has been used since the late 90s. The service is being replaced by RCS, which primarily offers an enhanced consumer experience and can be harnessed by businesses to expand their m-commerce and mobile marketing potential.
According to Juniper analysts, the substantial growth of RCS will be driven by the increasing popularity of CPaaS (Communications-as-a-Platform) services. Brands and enterprises will turn away from traditional online advertising channels and will put greater investment into RCS because it offers direct marketing opportunities and better ROI.
Until now, many companies have relied on digital banner advertising which yields low returns on investment. According to data gathered by , a global leader in mobile advertising and data monetisation, the service has a 0.1% ROI. This means that every $1mn invested only derives $1,000 of value for brands. Failing to divert funds from digital banner adverts could lead to $917.2bn of wasted investment by 2028.
RCS also has multiple options for brands, with a range of content features that rival messaging services such as WhatsApp and Facebook Messenger.
Keep it simple
However, the report by Juniper Research urges CPaaS providers to minimise the complexity of RCS over the next two years to encourage adoption as a business messaging technology. Although RCS enables more comprehensive billing mechanisms, the report urges CPaaS providers to keep a simple price-per-message billing system, like SMS business messaging, for familiarity.
Research author, , explains, "As CPaaS platforms are increasingly adopted by brands and enterprises for outbound communication, they must leverage the rich-media nature of RCS to provide clear advantages over established SMS protocols and benefit from the increased revenue attainable from RCS business messaging."
Juniper's research also identified two key areas critical to increasing the value of RCS over SMS, namely, the introduction of conversational commerce and efficient brand authentication processes. Conversational commerce includes the ecommerce activities accomplished over RCS clients.
However, the report warns that CPaaS platforms must remain agile to changing demand in monetisation models. They must also be open to future ecosystems where closer partnerships between CPaaS players and retailers create revenue sharing models and drive conversational commerce over RCS clients.
, Chief Insight Analyst, Mobilesquared, believes RCS offers enterprises another option for direct marketing that can deliver better returns. 
He says, "RCS is a really exciting opportunity for consumers, brands, agencies and mobile operators. Brands can no longer waste vast swathes of their digital budget on ineffective channels."
Lane adds, "Mobile operators need to deliver a rich messaging experience to their subscribers and remain central to the messaging landscape, otherwise they face the risk of losing this massive opportunity to the likes of WhatsApp and other challenger messaging apps."