ANGA COM 2022 releases Strategy Programme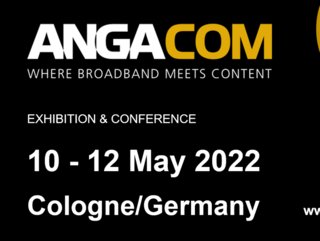 ANGA COM has released its agenda for the strategy panels of the conference programme
Exhibition and Conference for Broadband, Television & Online from 10 to 12 May 2022 in Cologne / Germany
Strategy programme with 21 panels and more than 100 speakers
5 summit discussions on broadband and media topics
New: Theme Day Smart Connectivity with free access
350 exhibitors on more than 22,000 sqm exhibition space
Conference programme and ticket shop at www.angacom.de

Cologne/Germany, 15 March 2022 | ANGA COM has released its agenda for the strategy panels of the conference programme. The Exhibition and Conference for Broadband, Television & Online will take place in Cologne/Germany from 10 to 12 May 2022. Highlights of the strategy programme are five summit discussions:

Digitalization Summit "Networks, Services, Connectivity: How do we create a digital Boost?" with Dr. Hannes Ametsreiter (CEO, Vodafone Deutschland), Thorsten Dirks (CEO, Deutsche Glasfaser), Srini Gopalan (Board Member, Deutsche Telekom), Timo von Lepel (Manging Director, NetCologne) and Christoph Vilanek (CEO, freenet).

International CTO Summit "What's new with Fiber, DOCSIS & 5G" with Colin Buechner (Managing Director / Chief Network Officer, Liberty Global), Michael Fränkle (EVP Networks & CTO, TDC NET), Angie Hagemann (Chief Construction Officer, Deutsche Glasfaser), Dr. Belal Hamzeh (SVP and CTO, CableLabs) and Mallik Rao (Chief Technology & Information Officer, Board Member, Telefónica Deutschland Holding).

Fiber Summit "Full Speed for Network Expansion: Ready to go?" with Dr. Dido Blankenburg (Board Representative for Broadband Cooperations at Deutsche Telekom, Telekom Deutschland), Nelson Killius (CEO, M-net), Dr. Daniel Ritz (CEO, Tele Columbus) and Bernd Thielk (Managing Director).

Media Summit "Streaming and TV: New Concepts for the perfect Mix" with Susanne Aigner (GSVP & GM, Discovery GSA & BNLX), Matthias Dang (Co CEO, RTL Deutschland / CEO, Ad Alliance), Andreas Laukenmann (Director Consumer Business Unit, Vodafone Deutschland), Devesh Raj (CEO, Sky Deutschland) and Dr. Christoph Schneider (Managing Director, Amazon Prime Video).

Content Summit "Linear and On-Demand – Which Content for which Platform?" with Nicole Agudo Berbel (Managing Director & Chief Distribution Officer, Seven. One Entertainment Group), Thomas de Buhr (EVP DACH, DAZN), Christine Strobl (Programme Director, ARD) and Elke Walthelm (EVP Content & MD, Sky Deutschland / MD, NBC Universal Global Networks Deutschland).

The strategy panels address a wide range of up-to-date topics of the broadband and media industry. A strong focus is on fibre roll-out. All strategy panels are listed here on our website; the speakers are named here.

A new conference format is the Theme Day Smart Connectivity on Thursday, 12 May 2022, which is completely free of charge. The panels will address particularly innovative, smart connectivity topics as:
Smart Networks: New Investors and their Roll-Out Concepts
Smart Sustainability: Digitalization is the only Way to achieve Sustainability (in cooperation with VATM)
Smart City and 5G: Networks, Services, Business Models
Smart Regions: Innovative Roll-Out Concepts for Fiber
The agenda for the technology panels of the conference programme will be released at the beginning of April. A total of 14 technology panels will address the topics FTTH, DOCSIS 4.0, Wi-Fi, RDK, OTT, Cloud Services, Artificial Intelligence and Sustainability.

The gross exhibition space for more than 350 exhibitors amounts to over 22,000 sqm. Dr. Peter Charissé, Managing Director of ANGA COM: "We are happy to see how much our customers look forward to our restart in May. It is fantastic to feel the loyalty of our exhibitors and conference speakers. 2022 will not be the year of new records, of course. But the quality of the two exhibition halls and in the conference programme is higher than ever. With our extremely spacious fairgrounds in Cologne, including the very popular open-air plaza, we can offer our industry the optimal conditions for a personal reunion."

Registration for conference and exhibition visitors is now possible online at www.angacom.de. Tickets for the exhibition are available for 25.- Euros. Participation in the conference programme can be booked from 120.- Euros. On 12 May 2022, the Theme Day Smart Connectivity, participation in the exhibition and conference is completely free of charge. Registrations are only possible online this year; there will be no ticket sales on-site.
About ANGA COM:
ANGA COM is Europe's leading Exhibition and Conference for Broadband, Television & Online. It brings together network operators, vendors and content providers on all issues of the broadband and media distribution. The next date is 10 to 12 May 2022 in Cologne/Germany. Sponsoring partners are ASTRA Deutschland, AVM, QVC and Vodafone Deutschland.