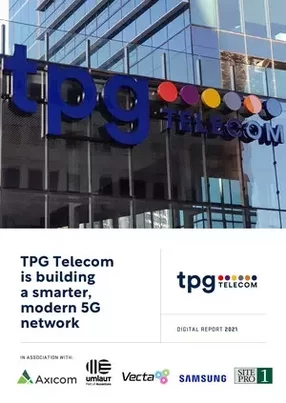 TPG Telecom is building a smarter, modern 5G network
Yago Lopez, GM of Wireless & Transmission Networks at TPG Telecom, talks mergers, COVID-19, and bringing next-generation 5G to Australia's biggest metros.
The 5G rollout has presented a monumental financial and logistical challenge for telecom operators around the world over the past two years. Some carriers, however, have had to contend with greater challenges than others. TPG Telecom's 5G rollout has occurred at the same time as it executed one of the biggest mergers in the history of the Australian telecom sector, contended with the loss of Huawei as a key equipment supplier following a ban by the Australian Government - and did it all in the middle of the COVID-19 pandemic. 
"It's been a challenging time, but when life hands you lemons you make lemonade," says Yago Lopez, TPG Telecom's General Manager Wireless & Transmission Networks. 
"Of course, the rollout has had its challenges, chief among them being the Huawei ban, but it has given us the opportunity to end up with a legacy-free, standalone, 5G-native network." 
Now, with the merger complete, and the company on track to outperform its 5G coverage targets for the year, I sat down with Lopez to find out how a skillful integration, a diverse network of talented partners, and a refusal to succumb to the obstacles placed before it has resulted in TPG Telecom bringing a world class, state-of-the-art 5G experience to Australian consumers. 
A "Match Made in Heaven" 
TPG Telecom is the result of a merger between TPG and Vodafone Hutchison Australia, which itself is a product of the merger between Vodafone Australia and Hutchison - better known in Europe and Asia as Three.
Prior to being united, TPG was the country's second-largest internet service provider (ISP), and was "very strong in the consumer and enterprise fixed line space" but did not have a mobile network. Vodafone, on the other hand, was a mobile network operator with limited assets in the fixed domain. "It was basically a match made in heaven," recalls Lopez. "From an asset and market point of view, there wasn't much overlap between the two companies. As a merged company, we now have some of the most loved telco brands in Australia under one roof including Vodafone, iiNet, TPG and Lebara. This creates a great opportunity to cross-sell one another's products. It was two highly complementary businesses coming together to create a much better business than the sum of its parts." 
Joining the new company from the Vodafone side, Lopez remarks that "when you're going through a merger, the key thing is to understand the cultures of the companies that are coming together." Bringing two outlooks, cultures, and "families" together successfully, he continues, is "all about empathy". 
"One thing you absolutely cannot do when you're trying to execute a merger is to try and make one company into the other. You need to take the best elements of both, listen to both sides, and choose the right combination to ensure you get the best of both worlds." 
One year later, and the integration process is nearly complete. "We needed to ensure that we become - and are seen by our customers as - one functional entity rather than two," Lopez explains. The next step is to leverage the formidable combined capabilities of the brand new TPG Telecom in order to do something remarkable: take a bite out of the NBN. 
"In Australia, we have a government-owned company called the National Broadband Network (NBN) and they're the main provider of fixed broadband services for both consumers and enterprises throughout the country," says Lopez. "One of our key strategies at TPG Telecom is to leverage our 4G and 5G mobile network to deliver home internet services, as we try to keep our customers within our own network rather than give up ground to the NBN." 
Taking on the state-sponsored ISP is no small thing. However, Lopez is confident that Australian consumers deserve to be offered more choice and better value than a single government-run infrastructure body can provide. "At the end of the day, we are providing choice and value to Australian consumers and enterprises," he says. "The NBN is kind of a monopoly in that a lot of Australians only have one choice when it comes to their home connectivity, and we want to change that." 
Of course, in order to offer the world-class service that might stand a chance of holding up in direct competition with the NBN for Australia's home internet market, a successful 5G rollout is critical. 
5G, Huawei, and Making Lemonade 
When the Australian government announced that it would ban Chinese tech firm Huawei from its 5G buildout back in 2018, Vodafone found itself faced with a serious issue. "Before the ban, we were planning to use Huawei as the natural vendor to upgrade our 4G network to non-standalone 5G, because we'd already been working with them for a long time," recalls Lopez. "When Huawei was banned from supplying Australia's 5G equipment, all of Vodafone's existing radio and transmission network infrastructure was Huawei, which presented a big challenge for us." 
The majority of 5G rollouts around the world - including in 5G 'leader' countries like South Korea - eased the transition from 4G to 5G using non-standalone 5G networks. By piggybacking on existing 4G infrastructure, the process of rolling out a 5G network becomes more gradual, reducing costs and potential disruption. However, with 4G infrastructure built using Huawei equipment, a complete network build was required. 
"Without Huawei's equipment to build on, we had to start our 5G buildout from square one," says Lopez. "TPG Telecom is probably the only operator in the world where the move from 4G to 5G meant completely ripping apart our mobile network, because all our 4G infrastructure was built by Huawei. Instead of being an incremental expense, building from non-standalone 5G and slowly rolling it out across the network, we needed to build the entire network from the ground up." It's a testament to the dedication and skill of TPG Telecom's network engineering department that the company has managed to not only build and spin up an entirely new standalone 5G network in such a short space of time, but this success will also build towards future wins for TPG Telecom. "Every piece of equipment we're putting into our network is 5G ready, and that's something that we're going to be able to continue to leverage for years to come. We're very proud of what we've built in such a short amount of time," Lopez says, adding that the merger between Vodafone and TPG "came at a great time, because it combined all the expertise and assets of Vodafone with some of the strategic spectrum purchases made previously by TPG - as well as their fibre and fixed assets. When you put the capabilities of our two companies together, and remove all that legacy infrastructure from our network, you end up with something really special." 
Partnering for Success
"In a 5G world, you have got to have strong partners. And our partners have been key to finding solutions to the challenges of our 5G rollout," explains Lopez. "TPG Telecom has partnered with Nokia for our radio access and mobile transmission networks and Ericsson for our standalone core. For the optical components on the fixed side we've partnered with Ciena, and we've also been collaborating with Samsung on emerging technologies like V_RAN and Axicom - which is a tower company. We've been working with all of them to help support a 5G rollout with a 'no legacy' mentality."  
He adds that TPG Telecom has also "relied heavily on a partnership with steel fabricators Site Pro 1 and radio frequency experts Vecta Labs to assemble our new 5G sites in controlled warehouse environments, which is safer, more reliable, and faster – and an Australian first." 
Lopez reflects that, in the 5G era, "partner relationships are also changing. You can't just have one-to-one conversations anymore; we want all our partners to be able to collaborate with one another to really create this ecosystem where ideas and skills are shared without TPG Telecom necessarily having to be at the centre of every conversation." 
To that end, TPG Telecom recently opened its new Innovation Lab in Sydney. "Together with our partners, the lab allows us to test innovations in 5G network technologies. The lab is driving innovation in our 5G network and allows us to develop and showcase use cases that will enable the digitisation of more industries across Australia," says Lopez.
TPG Telecom's 5G rollout has been gathering pace. "We're exceeding our rollout targets. We originally intended to cover 85% of Australia's top six metros - Sydney, Melbourne, Brisbane, Adelaide, Perth and Canberra - by the end of the year," Lopez says. "Right now, we're on track to also hit that goal in four of the most populated regions in the country - the Gold Coast, Sunshine Coast, New South Wales Central Coast, and Wollongong - by the close of 2021." 
As TPG Telecom's 5G services reach more of the Australian population, the lower latencies and higher throughput connectivity it delivers is supporting improved video streaming, gaming, and enterprise applications. "The technology is really helping us deliver the kinds of services our customers are going to be requiring in the near future. And we want to be able to offer to Australians the best of those possible services which 5G is already making a reality," Lopez explains. "I'm not talking about distant advancements like driverless cars; cloud native, 5G-driven applications for 5G are here already." 
Particularly in light of the COVID-19 pandemic's effect on the growth of remote work, cloud migrations, and the consumption of digital services, Lopez argues that "5G is going to be really important when it comes to letting people have a seamless, work from anywhere experience." "Our spectrum portfolio is the strongest it has ever been, and was boosted further with recent 5G spectrum acquisitions which will allow us to provide an excellent 5G experience for our mobile and home wireless customers."
In order to expand upon its 5G applications, TPG Telecom is continuing to work with its key partners, including Nokia and the University of Technology Sydney. Recently, TPG Telecom was selected by the Australian Government to use its 5G technology in order to develop a better method of counting sheep - a labour-intensive, mission critical job for farmers throughout the country's massive agricultural sector.  
As 2021 draws to a close and companies turn their sights towards 2022 and beyond, Lopez is excited for the next phase in TPG Telecom's 5G journey. "We're focusing on those top 10 most-populated cities and regions first, and then plan to move forward with our 5G rollout across other areas of the country in the years to come," he says. "We'll continue focusing on our key priorities including going hard on 5G home wireless and other products to migrate customers from the NBN."