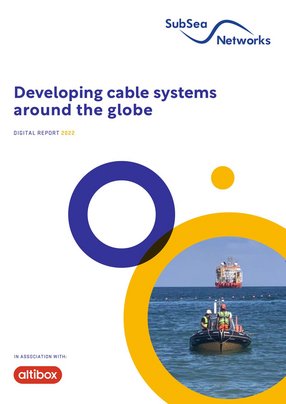 SubSea Networks: Developing cable systems around the globe
Subsea Networks has been involved in the telecommunications industry for a decade, providing high quality consultancy services for global clients.
Subsea Networks was founded in 2012 by Jol Paling after many years working for BT, STC Submarine Systems, ASN and Global Crossing. His idea was to form an independent consultancy business made up of specialist subsea personnel.
Based in the heart of the historical subsea industry near the Porthcurno submarine telegraph museum in Cornwall Jol selected experts with the necessary background and experience to offer support and solutions for people looking to build new cable systems.
Jol was soon joined by Jeremy Marston, Denis Gallagher, and Neil Dann who had previously worked for Global Crossing and Level 3. SubSea Networks are also supported by a number of other subject matter experts providing detailed knowledge and experience in a number of key disciplines including marine surveys, subsea installation, optical design and other commercial and technical backgrounds.
Building projects, new customers and the EllaLink system
Six years later, Lynsey Thomas joined the management team on an outreach basis, rather than in Cornwall, and has been at the company for almost four years. During that time, she has helped with the development of several of Subsea Networks' projects and contracts. "We really like to get involved with new projects right at the beginning, at the embryonic stage when new routes are being developed. This includes due diligence, business case development, looking at designs, finding anchor tenants and customers and forming contracts with them," Thomas said, explaining how the company supports its customers.
She also points out that when developing new systems, it's "really great to work on the contract development and negotiation as well as the construction because you become really focused on making sure you have the best agreement in place to facilitate a smooth build phase." Talking about the stages of involvement in a project, she added that SubSea Networks are typically engaged from concept through tender evaluation and on to construction and O&M.
"We provide project management services to support both turnkey and disaggregated supply and we can provide managed rep solutions, which consist of client representatives on board vessels or in cable stations," Thomas said. Subsea Networks have provided Horizontal Directional Drill solutions but much of their work focuses on the early-stage development, contract support and getting projects funded and/or signed. Subsea Networks is very proud of the fact that once their customers have worked with them at the early stages and seen what they can do, then they are usually engaged for the ensuing project management quality assurance, technical support and network lighting, to name just a few aspects.
Over the last five years SSN has supported EllaLink both through the development of the funding,and negotiating and managing anchor tenant contracts, as well as the technical consultancy and project management support. "EllaLink is a new low-latency, diverse, transatlantic cable system," Thomas says. "It runs from Sines in Portugal to Fortaleza in Brazil, and it has branches into Madeira and Cape Verde. The EllaLink system has created a direct connection between Europe and Latin America that avoids the two-hop route via North America that traditional cable systems take – it is a route revolution!" Thomas explains that the company worked on that project from formation to provisional acceptance, adding it was "fantastic to be involved with."
The NO-UK cable system: 700km of cable across the North Sea in 22 months
A highlight for Subsea Networks was the recent NO-UK cable system, that was designed and installed by turnkey supplier Xtera. Running between Norway and the UK, connecting the Green Mountain data centre in Stavanger and the Stellium data centre in Newcastle, the project was a team effort with just 22 months between contract in force and provisional acceptance. Subsea Networks were engaged to get the system over the line, to make the vendor selection recommendations and to support the drafting and negotiation of the supply contract. This resulted in a two-year engagement to project manage the successful installation and system turn up.
"It is easy to underestimate the challenges a system like this can create," Thomas said. "We were working in the North Sea, which as you know, has many constraints in terms of terrain, weather and cable crossings. Lockdown in the UK came a month after we signed the supply contract, which obviously created issues for everyone in the industry to some extent. The market was exceptionally busy, with vessel availability stretched and cable manufacturing slots sparse."
Another challenge the team faced was permitting the project in time to allow marine operations within the available weather windows. "In order to obtain the permits in principle, crossing agreements and the operational permits in time to meet the programme, the teams at Subsea Networks, Xtera, NO-UK and Altibox Carrier (the system operator) had to remain very focused. The experience of the experts involved played a key part in the NO-UK success story".
"An active dynamic management style was needed for this project, and everybody played their part," Thomas said. She noted that one of the interesting aspects of the project was that during the commissioning period, Ciena, the lighting vendor selected by Altibox Carrier, performed trials which concluded that NO-UK is the only submarine cable system in the world that has been able to carry an 800Gbit/s channel to date. This is in part due to Xtera's wide bandwidth and low noise repeater, and is a terrific achievement for the teams at Xtera and Ciena and a great result for the customer." Thomas said. "Furthermore, using software automation that forms part of Ciena's GeoMesh Extreme feature set we were able to test all 8 fiber pairs in one day during the Purchaser test period. Something which would have taken far longer previously. This automation, combined with a collaborative open cable way of operating (as per ITUT G.977), allowed Ciena, Xtera and Altibox Carrier to work together throughout the project to ensure all parties expectations for the system were aligned."
Finding supplier strengths for each project
When starting a project, it's important for the purchaser to select its suppliers carefully and make an informed decision on which one would suit it best. This process is adopted by Subsea Networks for every project it embarks on. Discussing it further, Thomas said: "We've worked with the main players in our industry. We've been deeply involved with new build projects from Xtera, ASN and SubCom for many years, so we're well versed in the sort of technology and skillsets of the various suppliers.
"You have to consider which supplier is right for which project. Some may have more strengths on the marine side. Others may have more strengths on the project management, permitting and optical side. You have to look at the region, the seabed, geopolitics, the required functionality of the equipment or capacity of the system, amongst other things.
"So, you really need to have a good idea what all the suppliers are capable of and what their technology and availability is, and match this with what your customer wants," summarises Thomas.
Is time more important than money when it comes to customers? The tender process
Thomas says that, in reality, time and money are likely to be equally important, and moreover are often one-and-the-same thing. "But what are the main drivers for your customers?" she asks, before explaining that the "best way to get a good understanding of how to design and construct any new system is to run a tender process." These can be time-consuming and involved, and so Thomas says it's often a good idea to engage someone who has a deep and broad subsea knowledge if your company doesn't have that skill set in-house.
Experts can help customers to run tender processes and evaluate the available suppliers both fairly and equally, so that the customer can move forwards into the next stage of contract negotiation, Thomas explains.
The sub optic diversity and inclusion group and its aim to promote culture and ethnic equality in the subsea industry
Another important element of Subsea Networks work is the sub-optic diversty and inclusion group. Thomas notes that there are a number of these groups, and that Subsea has been proactive in its work to quite successful. The aim of the group is to promote culture and ethnic equality, and to value people's differences. Thomas is involved with subcommittee for mentoring part of the group, something which is really important.
"I've had mentors in my career and I think it's really valuable for career development and for confidence. It's a two-way street: both mentors and mentees learn from each other," Thomas said.
The International Women in Engineering Group: Encouraging women to join the engineering industry
Speaking of diversity and inclusion, Thomas points out that there is an increase in proactiveness in encouraging women to pursue careers in the subsea and engineering industries. Discussing this in more depth, Thomas said: "As a woman who's worked in this industry for 27 years, I would say it is quite a good working environment for women. I have always felt supported and have always worked with very inclusive people.
However, the number of women pursuing careers in engineering is low, something which Thomas would like to change. "I do know there is a massive shortage in young girls signing up to become engineers, and there has been for many years," she said.
"But there are some brilliant schemes out there. Sienna Vodafone and a number of other companies have good, inclusive schemes for women - and not just encouraging them to join, but also supporting them once they have joined. There's also the international women in engineering group as well.
"Many of us in the subsea business get together as part of that initiative to talk about engineering and encourage each other," commented Thomas.
Long-existing contracts and embryonic partnerships to continue into the future
Looking ahead to the future, Subsea Network's aim is to continue to support its existing customers and partnerships. Which are very much a crucial part of the business. "We're always on the lookout for projects at the early development stages, identifying where and how to build new systems, identifying customers and negotiating the contracts – that is really the exciting part of our job. Developing designs, supporting the development of new routes and getting projects off the ground, these are the sort of activities we have planned as a company over the next 18 months," noted Thomas excitedly.
Subsea Networks also prides itself on the fact that it has been able to add momentum to projects, both at the start, middle and end of their life cycle.