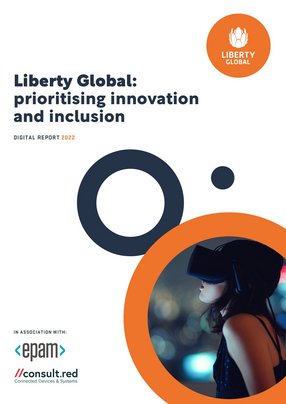 Liberty Global: prioritising innovation and inclusion
Gavin Sheldon, Managing Director for Technology Development at Liberty Global, discusses the company's innovative spirit & inspiring response to COVID
Liberty Global is a world leader in converged broadband, video and mobile communications services. Delivering next-generation products through DOCSIS Hybrid Fibre, advanced fibre and 5G networks, Liberty Global connects 85 million subscribers across Europe.
The company operates under some of the best-known consumer brands, including Virgin Media O2 in the UK, VodafoneZiggo in The Netherlands, Telenet in Belgium, Sunrise UPC in Switzerland and UPC in Eastern Europe.
Commenting on the company, Gavin Sheldon, Managing Director for Technology Development said: "We are, at our core, a large-scale broadband television and mobile business. In addition to that Liberty Global is a significant and successful technology ventures business. We have many ventures we invest in - growing content, technology and infrastructure businesses - that add value in and around our core and emerging business. For example last year we launched an edge computing business called Atlas Edge and we also invest in Formula E, the electric high-performance car racing brand. I would characterise the company as a large scale telco and media business, but also with a diverse M&A business portfolio," he added.
With his team, Sheldon is responsible for developing the technology platforms that Liberty Global deploys to the businesses it owns either fully or partly, across all of the markets in which it operates.
"We are responsible for the strategy, design, architecture, build and deployment of our entertainment, connectivity, central mobile and fixed voice platforms, and our centrally delivered B2B services." he explained.
Using Artificial Intelligence (AI) technology to benefit employees and customers
As Managing Director of Technology Development, Sheldon uses technology to remove barriers, helping teams complete their work effectively and efficiently.
"My job involves making sure we support our people in everything they need to do, whether it's through making sure they've got the right resources or prioritisation on delivery. A major part of my role is making sure we're clear on what we will and won't do, and crucially, removing barriers for people," he said.
Recognising the power of artificial intelligence and machine learning (ML), and its ability to free up time for Liberty Global employees, Sheldon explained the company is increasingly looking at this technology to harness its rich dataset and use it to drive action.
He explained: "We increasingly use data, AI and ML to improve the functionality and prioritisation of features, and bug removal/fixes/improvements on our platforms. Telemetry is at the heart of the ongoing optimisation of our platforms, helping us to improve the customer experience with all our regular, agile-based software releases."
"We use artificial intelligence to spot where customers have poor in-home Wi-Fi and placement of boosters, and we'll automatically reach out to them before they contact us to advise them, for example 'we can see you have poor WiFi in your bedroom. We recommend moving your Wi-Fi booster, and/or adding a new Wi-Fi booster which we can provide'. Data is allowing us to be proactive and help us making our products better for the customer'.
Harnessing this technology is part of Liberty Global's core strategy. As keen innovators, the company is always looking for new technologies to invest in and develop.
Reflecting on the past two years, Sheldon outlined some key examples of this: "We've launched a small, innovative Internet Protocol (IP) set-top box. It has won several awards for its green credentials and for its design aesthetic. Importantly it allows us to deliver the same entertainment experience to all our customers, whatever the network type. As long as they're connected to the internet, we can give them the service they desire. This device runs the same self-built middleware and back-office as our more traditional Cable/IP Hybrid device. We now have one connectivity platform, powering different boxes and product types, across all of our markets."
Maintaining Liberty Global's digital-first strategy
With its vast reach across Europe, Liberty Global offers broadband/Wifi, mobile and entertainment services. To ensure its customers gain the best digital experience, the company provides a converged service both in a commercial and technical sense.
"Digital-first is our strategy, we want to try and engage with our customers digitally because that's what they want to do! Major transformations are underway in every one of our markets to improve our IT and digital technology capability to make it easier for customers to engage with us."
By listening to customer feedback, Liberty Global has created platforms that earn high levels of customer satisfaction. Sheldon says: "We are proud of our entertainment platform, called Horizon. It is evolving to be a place where we aggregate more content of different types - content we own, free to air, national broadcaster and increasingly apps such as Netflix, Amazon, Disney+ and YouTube. It's a smart platform that delivers a fantastic customer experience, and so far, our customers' feedback tells us the strategy is working. We're continuing to invest in the platform in line with evolving customer demands," he continued.
Rising to the challenges brought about by COVID-19
As with companies across the globe, Liberty Global had to respond to challenges brought about by COVID-19. Although a tricky and uncertain time for many, Sheldon explained how the company played an essential role keeping people connected at home and making sure businesses, education and healthcare services could continue to function with a reliable, secure and fast internet connection.
Although the pandemic highlighted the importance of the company's services - with its usage going up by 35% and remaining there – it also demonstrated the resilience of staff who effectively and quickly transitioned to remote working.
Sheldon commented on his team's response to remote and agile working: "We saw productivity increase during the lockdown because people were spending less time travelling and more time working on core deliverables."
Also, during the pandemic, Liberty Global launched the Virgin Media O2 joint venture (JV).
"That was one of the biggest telco JVs that's happened in the past 10 years. Largely orchestrated and planned over video conference calls!" said Sheldon.
Not only did the company's response to the pandemic show its ability to thrive in unprecedented conditions, but it also highlighted the company's unwavering commitment to its employees and their well-being. Sheldon adds: "Businesses are built on relationships, team work and on connections. I'm proud of how we've worked hard to support our colleagues through this period with wellbeing packages, apps and access to industry experts. We also launched the Liberty Global Response Fund, raising $4m, to help employees and their families affected by the crisis."
Growing with diversity and inclusion at the forefront
Sheldon also praises Liberty Global's ambition to provide an inclusive culture that supports employee wellbeing and empowers people to bring their full self to work. "In the past two years, we have had a pronounced focus on diversity and inclusion. We're running a number of initiatives across the group that are challenging our thinking and encouraging diverse, equitable and inclusive conversations within our business.
"In particular we are taking action to hear from our employees through surveys and listening sessions and ensure promotion of positive role models, removing any bias in our recruitment practices and focusing on hiring diverse talent. We're also taking steps to ensure that our communication and policies are inclusive for all genders, races, ethnicities, disabilities, neurodiversities, ages and sexualities, and we have set up a number of employee resource groups to provide communities of support for our people," he added.
Liberty Global, Sheldon outlined, is committed to building its diverse, equitable and inclusive culture as it grows in the future.
"There's more to do but I'm proud of everything our people are doing across the organisation to build an inclusive movement, because it's simply the right thing to do. I believe this for two reasons, firstly my personal experience of working in more diverse teams is you innovate more effectively, and secondly if we better represent the breadth of our customers we will be a more successful business."