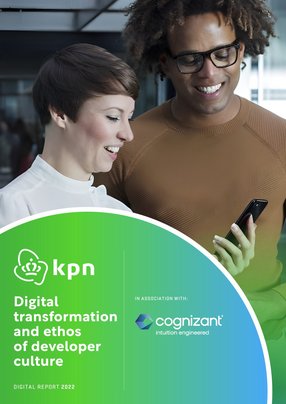 KPN's Digital Transformation and Ethos of Developer Culture
Sailing through two waves of digital transformation, Dutch telco KPN puts trust and creativity in the hands of developers to yield remarkable results
Teams are vital to KPN. "For many years, we've had a culture where the teams are the ones that are in the lead, because that is where the knowledge and the expertise really is; our leadership team is there to provide vision and set parameters," says Bastiaan Gerrits, Director of IT Mass Market at KPN, the leading telco in the Netherlands.
This team-led structure originates from KPN's core values of autonomy and trust, as well as the synergies between its workforce, developers, internal structures and external markets ‒ all of which are remarkable, underscoring how work culture directly impacts a company's performance and their ability to adapt.
At KPN, creativity is essential to the entire process.
Gerrits has been at KPN since 2008, occupying several roles concerned with Business and IT. From 2017, his role was Programme Director of Business Transformation, where he was responsible for the simplification of the company's OSS landscape. For the past three years, he's been responsible for IT for the consumer market.
"People are key to our organisation, developers are our oxygen" says Gerrits. "We've been focusing very much on creating an engineering culture, for which our three core values are central. We build on trust, show courage and live to grow. These values contribute to our purpose: Every day we go all out to connect everyone in The Netherlands to a connected and sustainable future."
"For growth, we have implemented our Future Fit Friday scheme, where every week developers are able to join our courses where they can be developed and stay up-to-date with the latest techniques (since such techniques are evolving at an exponential rate)."
"We have also developed a learning platform 'TechFlix', which is by developers, for developers, and enables them to teach and learn from one another. This is part of 'learning by doing', and connected to our core value of 'courage', which is very important for them to be able to experiment and learn in a safe environment. Last but not least our 'purpose', which is becoming more and more important for people to understand their contribution to the greater good. Our IT teams are crucial to realize KPN's goals and on a bigger scale we are crucial to connect the Dutch society, especially in this digital era."
This is the ethos at KPN that directly informs its ability to remodel and transform itself to shifting markets. Telcos are successful only insofar as they are able to rapidly adapt to a changing environment and, because they serve to maintain a region's informational nervous system, their swift adjustment is key to the survival of the entire digital organism. Due to interconnectivity, if a telco fails, the consequences can be far-reaching.
"8 years ago, we were kind of like a snail trying to cross the highway," says Gerrits, "and the question was not if, but when this snail would be run over. So we decided things had to change drastically. We changed the setup of our IT department, recruited fresh blood, started a new front-end stack and made sure that our new developers had all the tools in hand to undergo this transformation. It was very successful."
"We then applied similar tactics for the BSS (Business Support Systems) and OSS (Operational Support Systems), where we had a lot of technical depth in order to clean up a complex IT landscape, in which almost every product-technology combination had its own stack.
Around two years ago, we finished our OSS transformation, which is also quite unique in the Telco world and is really the heart of our IT, functioning between the consumers and the network."
"Such a transformation is like open heart surgery, in that every Telco struggles with it, so many telcos never undertake it, and the ones that do tend to quit halfway," says Gerrits.
"This achievement has decreased our lead-times for customer connectivity and halved our order-fallout. It has also increased our time-to-market for innovations like XGS.PON with the 10gb up-and-down speed. Our OSS transformation also allowed for big brand IT integrations that would previously have been impossible."
This was KPN's first-wave of digital transformation, brought on by the accelerating technological landscape. Its second wave of digital transformation was accelerated by COVID and its own fallout.
"We needed to speed up the digitisation of our customer journeys during Covid," says Gerrits. "With the central role for a digital touchpoint, the app, the web and the systems that our colleagues use at the call centre. We essentially had to rethink our strategy in the omnichannel domain, transforming from channel-specific solutions to omnichannel solutions. After good conversations with our developers ‒ who asked for six months of innovation freeze and trust ‒ we decided to go with their courageous plan (courage being a central touchstone at KPN). Indeed, after six months, the entire app architecture was not only much better than before, but it also came with bonus features like message inbox, push notifications, improved MB sharing capabilities and dark mode to improve our customer journeys. Our rating went from 3.2 to 4.5 in the Apple and Google stores and is still increasing."
"When I zoom into my department and its purpose," says Gerrits, "it's to make sure that our customers have access to KPN's services in a frictionless manner, and that when they have a specific problem or disruption, they can easily fix this digitally or via a call centre, if they wish."
KPN plays a crucial role in connecting all of Dutch society: "Our strategy is to go all-out to connect everyone in the Netherlands to a sustainable future. During the COVID pandemic, that became very clear once again, as the whole country was working, studying and connecting from home. We recognised once again that a stable and robust internet connection is central to the functioning of all of Dutch society."
Just as KPN is integral to Dutch Society, Developers are at the heart of KPN, according to Gerrits: "A lot of corporates struggle with developer's professional developments, because the standard Junior- Senior-Manager growth paths are not fit for developers, and this is something that they fail to understand.
As we become a more technical company, and developers naturally play a more crucial role, it is only logical to have a developer-growth path, which includes the Junior-Middle-Senior developer, but also includes Tech-Leads, principal engineer and numerous other roles that eventually lead up to CIO if a developer aspires that, but where a position leads is not as important as the journey in-between."
This is the kind of corporate and professional vision that makes KPN exceptional as a Telco. Traditionally, one of the assumptions underlying corporate economics has been that, if you can build it yourself, it'll reduce costs. The 'eliminate-the-middle-man' principle. But this principle doesn't always hold and depends entirely on the circumstances.
"Until about two, three years ago," says Gerrits, "we had quite a rigorous strategy in our front-end to build everything ourselves. But now we've changed that into a common-off-the-shelf strategy 'unless' (it doesn't fit our needs).
An interesting example is our marketing-automation system. Eight years ago, we decided that we needed to build it ourselves, which was a lot of work, but it served our purpose very well. When that application was almost end-of-life two years ago, we asked ourselves, 'do we want to buy off-the-shelf, or do we continue with our self-build strategy?', and decided to go with the solution from one of frontrunners in this domain. Under the circumstances this was more cost-effective, time-saving and efficient.
On the other end, we also have an example in the opposite direction: an application for our call-centres and shops that overarched our other backend applications, and there, we decided to stay with our own-build, since that's best fitting for the specific needs of our colleagues on the front-ends."
KPN is clearly a solutions-focused Telco, and its corporate ethos revolves not around a one-size-fits-all approach, but a specialised, relative and case-by-case MO.
"In terms of KPN's sustainability practices, we have achieved CO2 neutrality since 2015 and we aim to achieve net zero emissions in the chain by 2040.What our IT department contributes in sustainability is our developers, who always want to create the most efficient code, which uses less data centre capacity and therefore electricity," explains Gerrits. "Also, we use auto scaling mechanisms which downscale capacity when systems are used less f.e. during the night. And we enable the wider KPN organisation with IT solutions for closed-loop logistics, so that devices that our customers are not using anymore are sent back with track and trace. This allows us to refurbish them or, alternatively, give them to our supply chain partners to recycle."
"We've recently been awarded 'best mobile network' with the highest score worldwide' by the Umlaut Benchmark,"says Gerrits with pride. "And, in the last 6 years, we have been in the top five most sustainable Telcos in the world.
We don't brag about that too often in public, but I must say, I'm proud of that."
KPN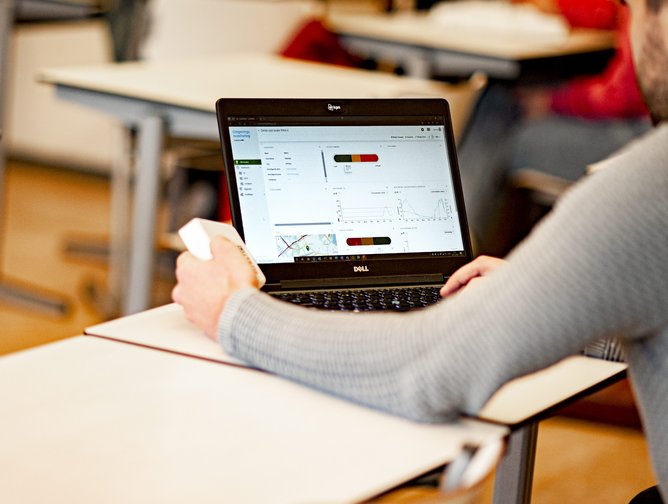 KPN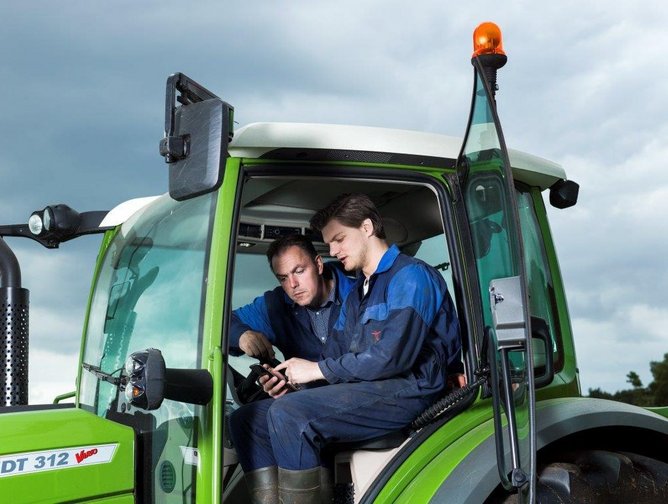 KPN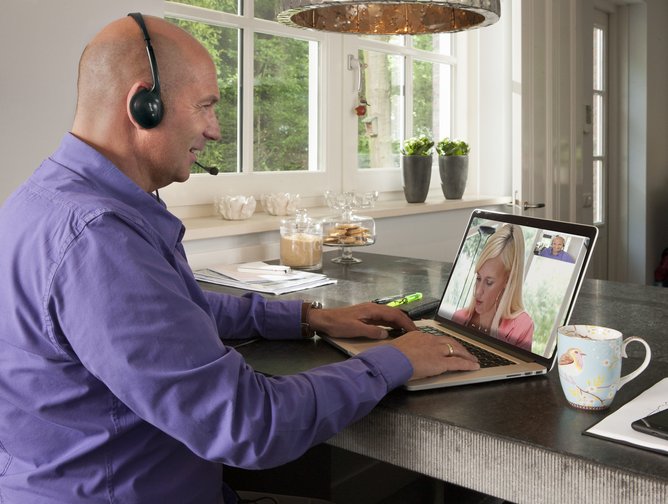 Online meeting