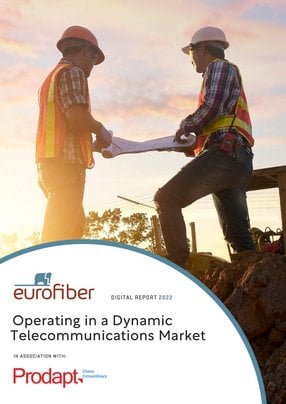 Eurofiber: Operating in a dynamic telecommunications market
Herbert Grevengoed, Director Customer Process and Quality at Eurofiber, discusses the company's journey, operational processes, and data challenges
Eurofiber is a fibre-optic network provider in the business market and was founded in 2000 in Belgium. CEO Alex Goldblum leads the company and has been part of its journey for more than 16 years.

Eurofiber's first venture was a 500km connection project called RandstadRing, which linked the four biggest cities in the Netherlands: Amsterdam, Rotterdam, the Hague, and Utrecht. From there onwards, the company grew gradually within Belgium and the Netherlands, where it became the leading altnet provider.

In 2016, Eurofiber branched out to colocation and cloud infrastructure services, before three years later becoming a European player by acquiring several French companies. Then, in October 2020, it welcomed Dutch pension fund PGGM as a new shareholder, in addition to Antin Infrastructure Partners, which has held the majority of Eurofiber shares since 2015.

Last year, Eurofiber partnered with German network operator NGN which adds another 19,000 km to our European footprint. Today, the company operates a fibre-optic network of 60,100 km in 4 countries and 11 data centres in the Netherlands and France. According to Eurofiber's Customer Process and Quality Director, Herbert Grevengoed, the company has more than doubled its staff from 300 to almost 700 over the last four years – an impressive feat in a competitive market.

Explaining what Eurofiber does from his office at home, Grevengoed says: "Utilising our own fibre-optic network and data centres, we provide smart, open, future-proof cloud infrastructure and connectivity solutions to companies, government bodies, and non-profit organisations. Customers have complete freedom to choose the services, applications, and providers they need, allowing them to tap into the full potential of digital innovation."

Currently, the company is establishing hyper-automation in its primary processes to automate all manual, repetitive tasks to help the employees focus on the customer.

He adds: "Eurofiber companies Dataplace, FullSave and Eura DC operate eleven data centres in the Netherlands and France. Supplementing that vital infrastructure, we also offer interconnectivity between nearly all carrier-neutral data centres in The Netherlands and Belgium through the DCspine platform."

The Eurofiber Group consists of an extensive number of subsidiaries: Eurofiber, Eurofiber Cloud Infra (including Dataplace, DCspine and MatrixMind, The Netherlands and Belgium), FullSave, Lumos, Netiwan, Eurafibre, ATE, and Eura DC (France).

If Eurofiber were to be defined by a central theme, it would be dynamism, Armand Rouw, Head of Corporate Communications at Eurofiber, explains. "We are in a very dynamic market, with rapidly changing technologies and market demands - for example, in demand for hybrid cloud solutions. We have a leading position there and we are very active in M&A and establishing joint ventures, but we are also growing organically and as people. All these aspects, together with a tight labour market means that managing growth is of the essence to Eurofiber," he says.
Spotting a requirement for high-quality data

As the company continued to grow throughout the 2010s, it noticed an increasing need for high-quality data. "This started several initiatives, like data governance, data cleaning and data migration," Grevengoed says. However, he adds that a lot of those earlier projects failed, prompting a fresh start in 2018 with a new data quality project to clean and gain control of our data.

Grevengoed explains that "by this time, we figured that data is not to be handled on its own". But why is that the case?

"It is tangled with processes, culture, and organisational structure. Therefore, we started to set up a data organisation to not only clean data, but to manage it throughout its lifecycle, with people being responsible for it – constantly showing the value of data – and with a good portion of perseverance.

"One of the unique factors of the process was that we were showing the value of clean data, the value of data on its own, and making sure that people notice that there is something in it for them. So that was a big cultural change there," he says.

People have been a key part of Eurofiber's success, growing in tandem with the company itself. "Being experts in their fields, they are continually learning and improving, anticipating and adjusting to the challenges that such a fast-growing company in a dynamic, international environment brings. We manage growth, among other things, by emphasising the importance of collaborating and sharing expertise, and by facilitating that," states Grevengoed.

He notes that there's a good mindset of dynamic people that are willing to work hard and willing to work together. "I see a lot of customer focus in there as well, so long as what we do is for the customer. We have a culture of people that can manage all the growth and everything that's coming to them, so we try to facilitate that also with our data team but also, within the whole cultural change, that we enable as a leadership team."

Struggling to keep up with the sheer volume of demand has been Eurofiber's biggest data challenge thus far, as increasing numbers of businesses, sectors and industries are beginning to realise its value and shift their priorities – although this challenge can be viewed in a positive light.

"The challenge is actually one of luxury from my perspective," Grevengoed says. "There has been a great hunger for data over the last couple of years. In all corners of the company, people are starting to work with data to base their decisions on. Data that is needed to better serve our customers, facilitate our employees, and improve the organisation; anywhere, anytime."

"Together with our goals for process automation – which needs data, of course – we almost can't handle all the requests. It is therefore also a challenge to manage the meta data, such as definitions, business ruling, privacy and security, in one place, so everyone is looking at the same truth."

"To have a central organisation facilitating decentral business units and requests is a challenge we are facing this year, and in the coming years," Grevengoed comments.
Data quality management and its benefits for Eurofiber's customers and employees

Data quality management is one of several processes implemented by Eurofiber to greater accuracy and efficiency and data quality is essential for both Eurofiber's customers and employees. "For example, if the data of our installed base is missing or incorrect, this will reflect on the invoice we send to our customer. We could end up billing the wrong amount, which is not something Eurofiber stands for," says Grevengoed.

He points out that another problem with the potential to arise if the quality of the data isn't managed effectively is that the company fails to register customer interactions, which will lead to an incomplete view of the customers' needs.

"We thrive on optimal customer experience; knowing what is relevant for our customer is one of the biggest factors contributing to that. If you are looking at technical data, we can say that having poor data quality can lead to great inefficiency and costs for our contractors. When we have a cable in the ground that is registered in another location, we could end up digging in the wrong place, breaking a cable already there, or searching for it without steering. So there are a lot of consequences around that," he says.

Eurofiber is also using artificial intelligence. "Having good data quality is one of the main focus areas, but we are now exploring AI as an enabler to improve data quality management. We could use ML algorithms that help us in auto-classification of data, self-healing etc., in order to quickly merge our disparate European business units into one way of working," explains Grevengoed.

The company is working on this with its partner, Prodapt, a leading global consulting, technology & managed services provider to the Connectedness industry. Prodapt is also Eurofiber's partner in digital transformation. Grevengoed says they inspire him with the new technologies in the data field and provide AI guidance.

In addition, Eurofiber is looking into the possibility of predictive maintenance, which could aid the company's network quality and consistency.

Discussing Eurofiber's partner ecosystem, Grevengoed says that the company is part of the digitisation chain – together with suppliers of equipment, software and other resources, contractors, managed service providers and, of course, end customers.

"In this chain, there is a strong interdependence as we all have our own specialisation. Therefore, collaboration and partnering are in Eurofiber's DNA. We believe in long-term relationships based on shared goals and values, expertise and ambition," commented Grevengoed. "With many of our partners, we have been on a great journey of continuous improvement and innovation, as we grow together and help the economies and societies in which we operate flourish."
Preparing for future company growth by enhancing the data organisation structure

Looking towards the next 12 to 18 months, Eurofiber is focusing on further expansion. "We are developing our data organisation structure even further, to be ready for future company's growth," Grevengoed says.

"We are delivering value with data science, having our first business results ready so our colleagues can get familiar with the concept and directly see the benefits. This fits in our data strategy, that we transform into a data-driven organisation by showing 'what's in it for me' to the people that it impacts."

In terms of future trends in the data industry, Eurofiber expects further acceleration of both the roll-out of fibre-optic networks and the demand for cloud infrastructure services, like hybrid cloud platforms throughout Europe. Grevengoed also says that digitisation will become even more vital for economies and societies, and the industry will grow further driven by cloud adoption, smart cities, remote working, 5G, IoT, and edge computing.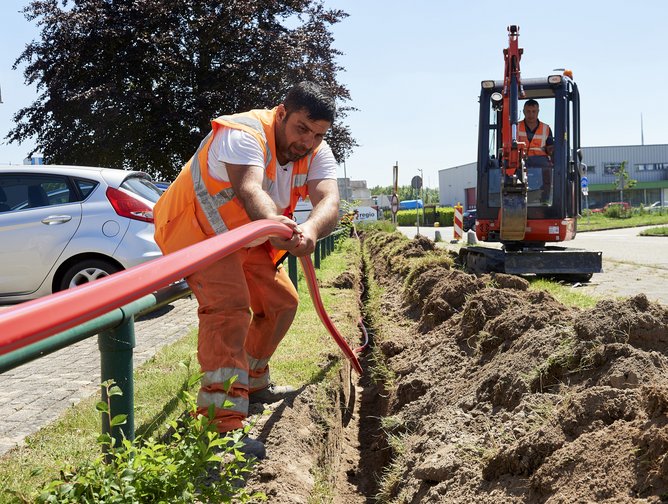 Eurofiber underground work cables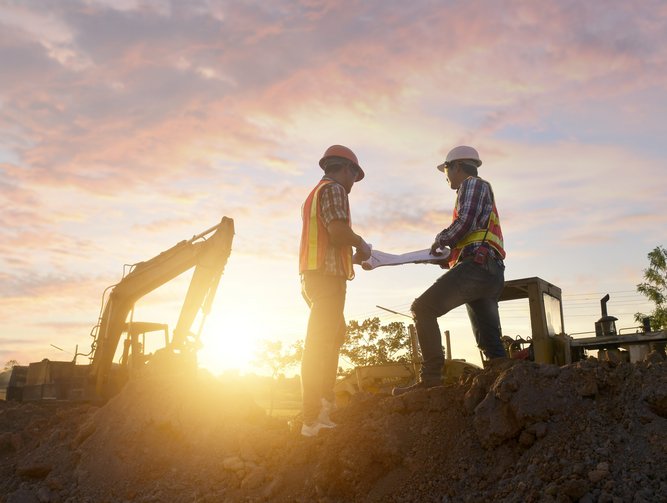 Construction work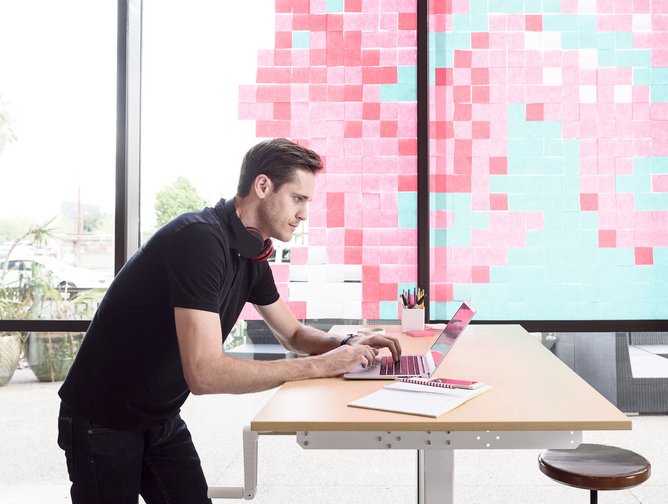 Eurofiber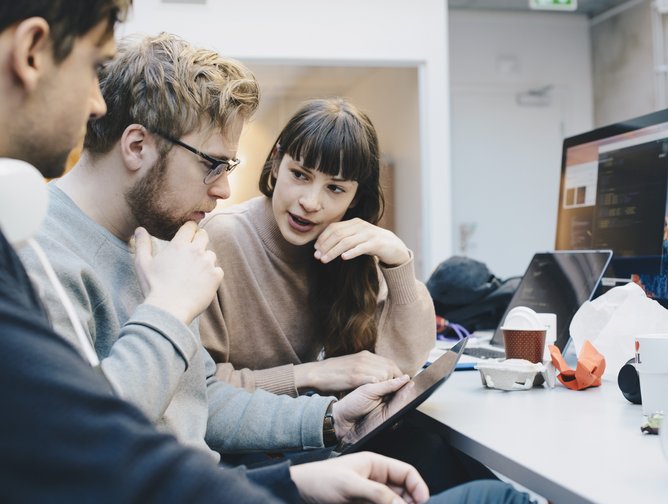 Developers at work