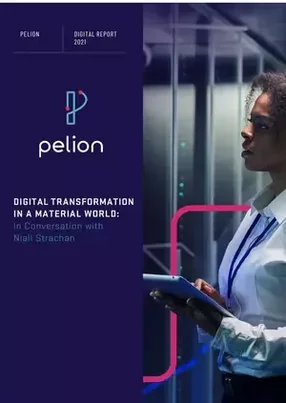 Digital Transformation in a Material World: In Conversation with Niall Strachan
Niall Strachan, Head of Product Strategy at Pelion, takes the Mobile Magazine hot seat to discuss digital transformation and supply chain...
In a world that seems to grow increasingly volatile with every passing day, companies are becoming dependent on technological means to maintain their pre-COVID-19 dominance in the marketplace and meet the ever-evolving demand of hungry consumers. Many companies faltered and subsequently fell during the ongoing periods of lockdown, while others have successfully managed to thrive amongst the turmoil, gracefully traversing the rock path that mother-nature created in the very beginning of 2020.  
As it happens, I had the opportunity to sit down and chat with Niall Strachan, Head of Product Strategy at Pelion─ a man, and a company that has clearly, with his team, created a strategy that provided resilience in the face of this year's adversity. To begin with, we discussed exactly what Pelion is and what they bring to the table; "So Pelion is a connected device platform ─ it's our recent spin-out of Arm that brings our connectivity and device management capabilities directly to the IoT market, which was previously run under the umbrella of Arm Holdings." Essentially, the team who ran Pelion are flying the nest, Niall shared. "We're now standing alone as our own brand, with our own product story, outside the umbrella of Arm, where it is clear that the market is ready for the launch of our capabilities as a standalone entity. Within Arm previously, we had a lot of benefits of being within part of such a large organisation, but that also came at the cost of agility and having the market understand our true capabilities." 
"So coming out and standing alone, we provide a connected device platform that also has specific discreet products. These products range from connectivity-enablement for deploying IoT devices to generate insights for enterprise products; connecting into networks, and providing connectivity from cellular operators. We also have a device management layer, which is all about helping people manufacture their own devices whilst simultaneously understanding and managing the firmware, security, and software that's running on them," Niall added. 
We delved into where Pelion's offering to the market is prevalent, and where their current customers implement the available software. "It's an excellent product that can run on ultra-constrained low power devices ─ even something as small as the RFID systems on pallets; or it can be implemented in a very feature-rich system such as an edge gateway, processing myriads of data in private networks." Looking for some elaboration on Pelion's edge capabilities, given that it's a hot topic currently, Niall told us that "edge capability is something that we're focusing heavily on. The larger story is that our customers have private networks, factories, delivery depots and other such assets that have edge networks within them, and they desperately need their data to be processed effectively and efficiently locally at the edge."
"If they can manage that, then their data will become valuable and more secure." That's a hard ask, of course, and that's where Pelion's true value shines. "Our value is in simplifying the layer between the physical hardware and the application that companies are trying to integrate and leverage. We provide the tools in the middle to help people deploy, connect, and manage the devices in their life cycle. Then they can really focus on the data and they, in theory, won't have to worry about the security or costs of their assets and devices, because we're already looking after it all for them."  
On the topic of supply chain operations and the digital transformation journey of many leading companies, Niall was willing to walk us through the wants and desires of leading companies, from his own experience dealing with them. "Our customers and partners who are moving into specific verticals in the supply chain are usually, as you might expect, heavily focused on data and data analytics. They want to harvest the data from all of their organisation's interconnected devices to both improve efficiency and to keep an eye on where their goods and services are at any given time ─ so that they can mitigate risk, avert any potential issues, and ensure customer satisfaction." Now, when it comes to data and data analytics, it's a heady subject ─ we all know that ─, and that's where Pelion comes in. "If a company features a truly multi-region or even multinational deployment, they want to understand all of this data that they collect. They want to know what the code is truly saying to them. At Pelion, we are able to provide that understanding; this creates a level of transparency across the data space and gives companies previously-unforeseen insight and visibility into exactly what they should or should not be doing in their daily supply chain operations." 
Something that has become increasingly important in the global, slightly oversaturated, technology marketplace, is the concept of having a 'flagship'. If you think about mobile devices for a moment, technology giants like Apple and Samsung battling in the arena with their industry-leading, cutting-edge smartphones released yearly, will likely spring to mind. At Supply Chain Digital, we always like to ask which flagship product our interviewees' company provides, and why it puts them ahead of their competitors. When I put this question to Niall, he answered openly and honestly, by stating that every company would say that "our product is the best for this or that reason or has the killer feature" The Head of Product Strategy then went on to say that the real golden-nugget for Pelion is "the understanding of how devices are manufactured and the smart decisions we can help our customers make in this space which comes from our heritage, being part of Arm. Arm's core background, within the Silicon IP space, helps people manufacture devices; they've been around for a long time, and they've trailblazed all the way. They have a strong position in the market, so our capabilities, expertise and functionality have essentially been inherited from the legacy of that business." 
"Being a subsidiary of Arm gives us a unique position that allows us to work with almost any device that our customers want to be manufactured ─ ultra constrained, feature-rich, whatever it may be. But then because we have all these capabilities that don't touch the physical hardware or the application stack, we can work with a real ecosystem of, pretty much, anybody. So, for example, at Pelion, we can work with different hardware manufacturers or different systems integrators or different application providers. This allows us to provide a service that acts as a one-stop-shop for all of the solutions that our customers need." End-to-end, if you like ─ a feat that wouldn't necessarily be possible without the influence and power of Arm, because, as Niall says, "it really does take an ecosystem of people to manufacture the very best devices, and get services deployed. You can't do it alone, and it's very difficult for companies to get on top, without standing on the shoulders of giants." 
"So that's where our superiority really is; it's in our ability, as one vendor, to provide customers with a full suite of services. Not many companies can say that."