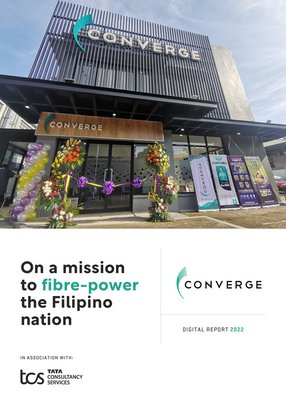 Converge: On a mission to fibre-power the Filipino nation
Since it started rolling-out its own fibre optic cable network in 2016, Converge now has one of the most extensive fibre networks in the Philippines.
Converge has completed quite the feat. In just a few short years, it has built one of the most extensive fibre networks in the Philippines, providing a world-class digital experience for both residential and enterprise customers.
Founded by Dennis Anthony and Maria Grace Uy in 2007, Converge became the first IT solutions company to run an end-to-end pure fibre internet network in the Philippines, with over 560,000km of fibre optic assets nationwide.
In a true David and Goliath story, the business has grown from operating in Pampanga to operating in nearby cities, provinces, and municipalities, to operating nationwide, and in 2020 was part of the second largest ever IPO on the Philippine Stock Exchange.
From working in his uncle's supermarket – where he first learned about technology – and selling Betamax tapes, Converge Co-Founder and CEO Dennis Anthony Uy is now on a life-long mission to fibre power the Filipino nation.
"I migrated to the Philippines when I was very young," he explains. "I faced many barriers; I didn't even know how to speak or write in English or the native language.
"At a young age, I was always tinkering and repairing things like air-conditioners and refrigerators in the supermarket. There, I learned about technology. This continued all the way to my high school days when I would enrol in vocational courses, in computers, refrigeration, and air conditioning services."
At the same time, he was flexing his entrepreneurial chops selling and renting Betamax videos, while also selling computers.
"When cable arrived in the 1990s, I knew the Betamax era was coming to an end," Uy adds. "I sold my Betamax tapes and got into cable."
After the Mt. Pinatubo eruption in 1991, he set up the Angeles City Cable Television Network (ACCTN). "People thought I was crazy," says Uy. "The city and the nearby Clark Air Force Base were blanketed in thick ashfall; major bridges were destroyed, the economy collapsed, and the Americans departed.
"But I saw a business opportunity. At the same time, I felt the need to provide people with news and entertainment to lift their spirits.
"Soon, the Internet came to Pampanga. I got into prepaid and dial-up internet. Then, because I had my cable TV infrastructure in place, I offered internet access through cable technology.
"At this point, I made the decision to stick to one type of technology, and I knew that fibre would be the best choice. Fibre is not a passing trend in technology. Even back in the 90s, I knew fibre was the future.
"In 2016, we launched Converge. The rest is history."
Best-in-class connectivity
Among the different types of broadband, fibre is the best-in-class option, with speed that surpasses copper and mobile technology, Uy says, and fibre-to-the-home lines coming in at 1Gbps.
"With copper technology – whether DSL or coaxial – the upload is a whole lot slower than the download, and not suited for work-from-home that we've been doing a lot these days," he adds.
"With the pandemic exposing the need for high-capacity and high-speed internet that wireless broadband can't meet, we launched an aggressive expansion plan and the pandemic further accelerated the demand for fibre internet."
Dominating in an underserved market
As the largest and fastest-growing pure-play high-speed fixed broadband company in the Philippines, Converge dominates in a market that is severely underserved and presents a blue ocean opportunity, adds Converge Co-Founder Maria Grace Uy, who serves as the company's President.
"We are the first to run an end-to-end pure fibre internet network in the country, providing Filipinos simple, fast, and reliable connectivity," she says. "Aside from broadband services, Converge also offers an integrated data centre and network solutions services.
"Converge has over 560,000km of fibre optic assets nationwide, which is one of the most extensive and newest fibre networks in the Philippines. With this fibre-powered network, Converge provides absolute premium, world-class digital experiences for both residential and enterprise customers."
The Philippines has one of the lowest broadband penetration rates and some of the slowest internet speeds in Asia. "This is despite the fact that our population is extremely young and are some of the biggest internet users in the world," Uy states.
"Against this backdrop, we founded Converge with a simple vision in mind: provide high-speed broadband at an affordable price point, accessible to everyone and anyone in the country," she adds.
"We deployed over US$1bn of capital to-date to build one of the most extensive end-to-end fibre networks in the Philippines. Our network currently reaches nearly half of the households in the Philippines and serves nearly two million customers nationwide."
A David and Goliath story
In a capital-intensive business, Converge's growth was a story of David and Goliath.
"We had to put in everything we'd built over the years, so we trusted our instincts and reinvested in the business," Uy adds. "Each year, we slowly continued to grow from operating just in Pampanga to operating in the nearby cities, provinces and municipalities."
The COVID-19 pandemic showed the importance of fast, reliable internet connection to many people, Uy says. "Everything happened very quickly. There was a surge in demand, so we set up additional customer service units to attend to applications and customer inquiries.
"At that time, we were also planning for an IPO," she says. "With the tremendous growth of the business amid the pandemic, we wanted to secure our five-year capex plan.
"With the funds raised in the IPO, we were able to roll out our fibre broadband network nationwide very quickly."
With a goal to reach the unserved and underserved, Converge ensured the network was able to reach the whole country. "We saw the tremendous demand of Filipinos quarantined at home for broadband, so we acted quickly," explains Uy. "We wanted to connect as many people as possible in the fastest possible time."
Taking a pragmatic approach
In 2020, Converge embarked on a nationwide expansion of its network to make broadband available to unserved and underserved communities, completing its nationwide backbone in November 2021.
"The Philippines is an archipelago, so connecting our islands would mean a combination of subsea and terrestrial cables," explains Jesus Romero, Converge's Chief Operations Officer.
"The existing infrastructure back then either did not have enough capacity or was uneconomical to use. So we took a more pragmatic approach.
"No one really wants to spend billions to build another submarine cable backbone, but we did what we needed to do," Romero says.
Access to the national fibre backbone of other players came at a cost that was higher than the acceptable threshold. As a result, Converge had to take on the capital-intensive fibre roll-out nationwide, helping make broadband more available, and at a cost lower than alternative offerings.
"Our data shows that more than 90% of our subscribers are first-time fixed broadband postpaid users," adds Romero. "This means that we are making fixed broadband more accessible now to people who did not have access to it before or were using alternative methods to connect to the internet.
"And now, we have completed our National Digital Highway and are present on every major island in the Philippines."
As the new player on the block, the pressure is high to offer something different, Romero acknowledges.
"We decided early on that the network is the product," he adds. "And that is our end-to-end pure fibre network. We're the only operator in the country that can claim that."
Converge has signed definitive agreements with Singapore-based Keppel Midgard Holdings Pte to participate in the BiFrost Cable System, which runs from Singapore to the United States and will boost its international bandwidth capacity. The business also boosted the international network capacity by an additional 1.3Tbps in the C2C cable system, making its submarine cable configuration fully redundant.
"Converge was the first in the industry to deploy Nx 400Gbps capacity per wavelength over its DWDM network," adds Romero. "The fibre backbone has been upgraded and we were once again the pioneer in using 800Gbps per wavelength technology, making sure transmission of data is fast and has high capacity."
Digital transformation
Partnering with TCS Philippines, Converge embarked on a digital transformation initiative that covered several areas in the organisation from billing, operations, finance and even human resources.
"TCS has been an incredible partner in achieving our goals with their expertise in digital technologies and best-in-class platforms and solutions," comments Romero. "Together with TCS, we are realising our vision of becoming a world-class ICT provider that empowers people, businesses, and the nation."
"We are proud and excited to partner with Converge in their digital transformation journey," adds Shiju Varghese, Country Head, TCS Philippines. "We share their commitment to excellence and sustainability, and we are confident our deep domain knowledge, expertise in digital technologies, and portfolio of solutions in innovation and intellectual property will help Converge to transform their businesses and translate their aspirations into reality.
"This is what we do at TCS – to help organisations realise their beliefs and make an impact in their communities."
Offering innovation
"When we started, fibre didn't exist on the scale that it does now," adds Romero. "We were the first to offer unlimited bandwidth – no data caps through fibre. After this, the industry followed suit."
Along with removing the data caps and offering users symmetric speeds, Converge was in no short supply of innovation: offering Time of Day fibre broadband plans, allowing customers doubled speeds at the time of the day they need it most. This, Romero adds, remains unmatched in the industry.
"Because we have the best network, we can then offer the best products to our customers," he explains. "Recently, we launched our Gamechanger packages, which are specifically designed for gamers and gaming enthusiasts.
"These aim to deliver high bandwidth, high prioritisation with low packet loss, low jitter, and low latency." The plans also come with free high-end gaming routers thanks to a partnership with ASUS Republic of Gamers, which began in 2018.
Converge is also continuing to innovate to address the evolving needs of enterprise customers. It launched flexiBIZ last year for the SME Segment and, under Converge Workplace, partnered with SweldoMo to develop an automated HR and payroll system, while also launching HOMEBASE, targeting the Small office, Home office (SoHo) segment.
Sustainability commitments
The business has declared its own sustainability commitments, highlights Benjamin Azada, Converge's Chief Strategy Officer, who says minimising environmental impact is also highly important.
"We have decided that we should go above compliance and not only care about our financial performance, but also our environmental and social impact," he explains.
"As an internet service provider, we have a mission to connect the unserved and underserved areas in the country with the needs of the Filipino people," Azada adds. "By doing so, we want to ensure that we conduct our business while building trust with our customers, upholding good governance, caring for our people and pursuing greener operations to minimise our negative environmental impact.
"Our ESG projects are focused on these guiding principles and include improving network resiliency and reliability, applying leading practices on compliance to applicable laws and regulations, fostering a culture of learning and development for our people and continuous execution and exploration of energy and waste management projects."
This commitment was particularly important in the worst of the COVID-19 pandemic, when having a reliable internet service provider had never been more important.
"As most of our customers transitioned from traditional to hybrid or a work/business from home set up, having a strong digital highway to serve our customers' internet needs is critical," comments Azada. "Thus, by having world-class economic, environmental, social, and governance commitments and practices, we are making our subscribers proud to be associated with a company that is not just customer-centric, but a business that creates a meaningful impact on the communities we serve and the environment in which we operate."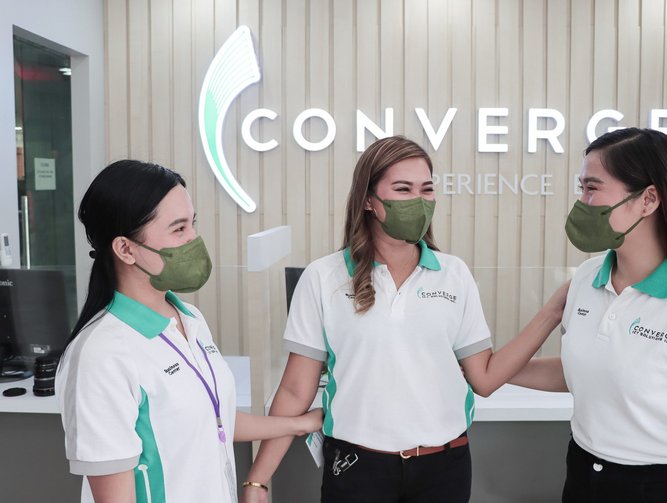 Converge ICT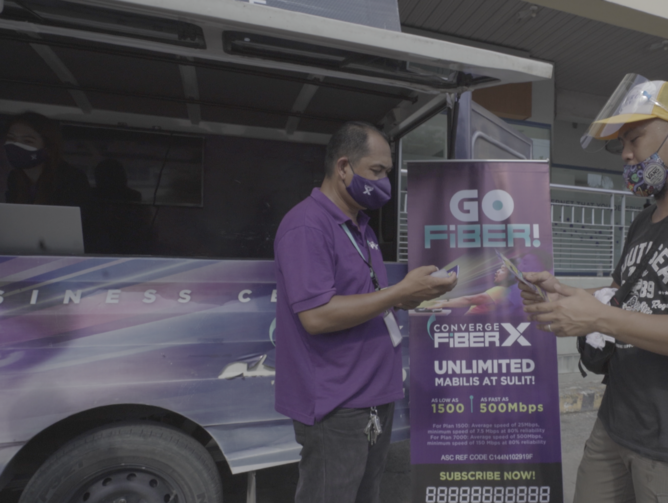 Converge ICT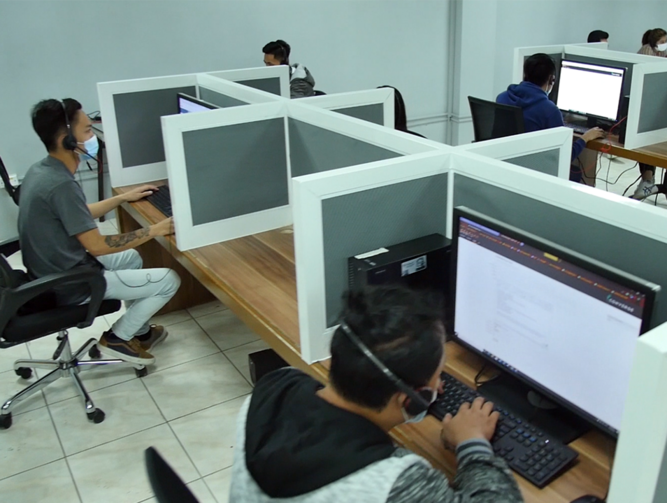 Converge ICT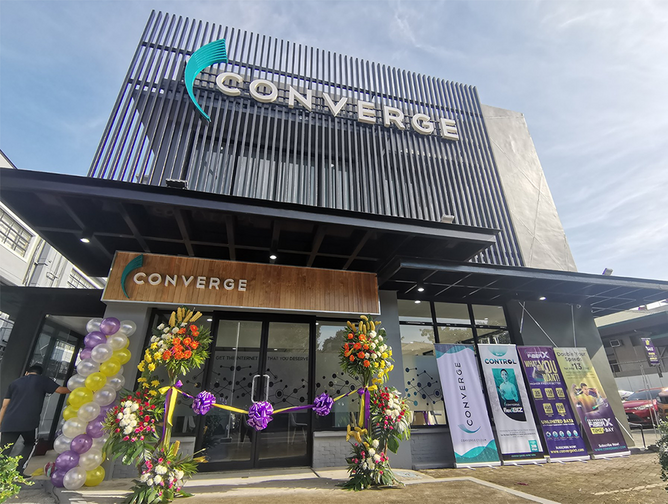 Converge ICT