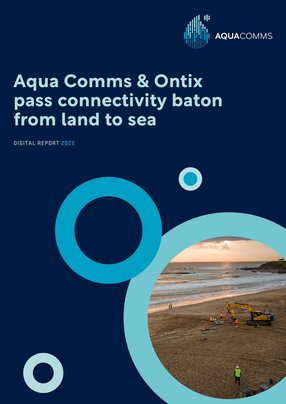 Aqua Comms & Ontix pass connectivity baton from land to sea
Neutral carriers Aqua Comms and Ontix stand at two ends of the connectivity spectrum but bridge oceans and cities for a seamless service to the end-user
How did your New Year's Eve selfie travel from Times Square to Trafalgar Square? Have you ever thought about the transatlantic journey this, or any landmark photograph, takes once you have snapped the perfect shot with your smartphone.
First stop will be the visible mobile infrastructure provided by Ontix, such as a small 4G or 5G within the casing of a lamp post, and the second, more intriguing part of this split-second journey, is via Aqua Comm's 5,536km subsea cable system from Shirley in Long Island in the US under the waves of the Atlantic to Killala, County Mayo in Ireland, via its points of presence in London and New York.
Once the Aqua Comms cable - known as AEC-1 - hits the city, Ontix, a next-generation infrastructure-as-a-service provider, picks up this global relay baton of connectivity to deliver your selfie as it pings into the smartphones of your friends, family or colleagues.
"I love the interconnectivity of what Aqua Comms and Ontix are able to achieve together as neutral carriers," said Nigel Bayliff, Chief Executive Officer of Irish-based Aqua Comms which has specialised in the building and operating of submarine cables since 2014 and was recently acquired by Digital 9 Infrastructure.
As Aqua Comms focuses on its global ambitions with plans to connect Europe with the Middle East and India the long-term focus for Ontix's small cell infrastructure is the UK market extending out of London into the shires. These connectivity solutions are relied upon by today's cloud, content and carrier players.
"Ontix is at the forefront of providing the last few metres of connectivity to the end user," comments Patrick Bradd, CEO of Ontix. "The demand for capacity is unrelenting and while Aqua Comms is about moving bandwidth across the Atlantic we are getting it to the end user."
For anyone sending a selfie from Copenhagen to New Jersey along Aqua Comms second cable (AEC-2) it's fascinating to hear from Bayliff that it passes the iconic hull of the RMS Titanic which lies on the seabed off the coast of Newfoundland. "You can see some of the debris fields of the Titanic on our survey charts as our cable goes through a place known as the Seamounts Monument Area off the North East coast of the US," says Bayliff who speaks passionately about an industry he has been part of since 1988.
Spine of the digital infrastructure
Submarine cables make up the invisible information highways driving the global internet and form the spine of the digital infrastructure that power a digital world.
Dublin & London to New York was Aqua Comm's first fibre-optic network route to deliver secure, low latency, high-quality transatlantic connectivity with diverse backhaul fibre to additional Points of Presence (PoPs). The second was Copenhagen to New Jersey and the third cable from Boston to a data centre in Slough is due this year (2022). This continues to build on its vision of efficient submarine infrastructure ownership with membership of the HAVFRUE consortium and development of CeltixConnect-2 and North Sea Connect.
"We are putting high-grade electronics - the equivalent of electronics that go into a space vehicle - at the bottom of the ocean which is a place less visited than the moon & equally as inhospitable. It is a fascinating challenge both technically, politically and financially," said Bayliff who pointed out it takes a year to survey the exact route and the cable is laid "with one metre accuracy along a 5,000km route" with the whole project taking up to five years.
Power of fibre optics
It's incredible to think the first ever cable connection under the 'pond' was in 1858 when Queen Victoria sent a telegram to US President James Buchanan honouring his "great international work". The message took over 17 hours to deliver, at two minutes and five seconds per letter by Morse code. Today an email will travel at 99% the speed of light.
While the method of laying the cables in the depths of the ocean - by uncoiling them from the inside of a boat - has not changed, today's fibre optic cables are built to survive. The capacity of a modern fibre optic cable is in the order of hundreds of terabits – typically the equivalent of running more than 100m zoom video calls per second.
Bayliff, who was involved in laying one of the first private optical cables in 1988 highlights how connectivity speed has changed. "The entire capacity of the whole cable was 400 megabits per second. We've just launched a product which is 400 gigabits per second on one channel - that's one channel of 100's on one fibre pair of eight - on just one of our cables. That's a thousand times more capable than the whole cable that cost US$1b to build when I started."
As the world is expected to create more than three times the data over the next five years than it did in the previous five, this speed will be essential. Data will be generated in emerging technologies such as IoT devices which include sensors in homes, factories and cities, as well as driverless cars, Artificial Intelligence (AI) and 5G.
How two ends of the network spectrum came together
Aqua Comms and Ontix may be at two ends of the network spectrum but they work together to pass the connectivity baton from land to sea creating. Both companies come from the same development cloud which looks set to grow as the demand for mission critical infrastructure will be vital to cope with the exponential rise in data and online services.
"Aqua Comms and Ontix may seem like completely opposite business types but, in many ways, we are the same - we both deal in invisible infrastructure," said Bayliff. "We not only share a common heritage but also carry neutral infrastructure for the deployment of all services. We may serve different parts of the marketplace with different technology but our approach is exactly the same.
"At Aqua Comms we intend to take our model for efficient infrastructure ownership, operations and distribution to the widest market in a carrier neutral way around the world. There's almost no ocean that it doesn't make sense to do this within as the growth curve is well-established."
In the UK Ontix is transforming the entire process for wireless network densification by investing in neutral shared small cell infrastructure – including connectivity – and selling this to multiple operators. This innovative business model enables operators to benefit from small cells with 5G-ready connectivity at a much lower cost.
Patrick Bradd, who was appointed CEO of Ontix in August 2021, said: "We earn the rights to deploy our infrastructure primarily in urban areas in both indoor and outdoor settings, and we enable 4G and 5G services to be deployed at high capacity to meet user expectations. That's what people are expecting from mobile networks."
Outdoors, Ontix designs and builds small cell networks on lamp posts owned by local authorities to provide the capacity needed for 4G and 5G mobile, and deliver that to Mobile Network Operators (MNOs) neutrally to ensure all operators can benefit simultaneously from their infrastructure assets. They don't own the customer consumer layer, but deliver connectivity to the subscribers of multiple MNO simultaneously. In a similar way indoors, Ontix provides operator neutral solutions by working with property owners and managers to deploy small cell infrastructure in offices, conference venues, and other indoor spaces where mobile capacity is needed.
"The demand for capacity is unrelenting. Ontix is at the forefront of providing the last few metres of connectivity to the end user," said Bradd who pointed out they are working with local authorities across the UK to deploy their infrastructure outside London and eventually into more rural areas.
"In places like the centre of London it's difficult to provide the right amount of capacity needed by mobile network operators, so we work with local authorities to secure the rights to use their street assets to put our equipment on and sell that as a service to mobile network operators.
"For someone standing in Trafalgar Square, their mobile phone is connected to a small cell that we've placed on a lamp post or the side of a building above street level. We are coming up with some very innovative solutions to hide equipment within lamppost casings. Councils are keen to work with us as they know the importance of connectivity for their towns especially when it comes to attracting business and tourism.
"When we build small cell networks in towns, it is not only for the mobile network operators, but also to provide a neutral connectivity layer for smart city initiatives. We've deployed live smart city solutions, including next generation WiFi connectivity and footfall analytics to power applications being developed by local authorities around the UK."
"Aqua Comms is about moving bandwidth across oceans and around the world but you have to get all that bandwidth to end users. The old ways of building mobile networks just don't provide enough capacity. Instead you need to build more cells, make them smaller in size, but higher in capacity. So, in a city, instead of using rooftops and having bigger cells, outside we put the cells on a lamppost and inside we put cells on office ceilings or walls. We can get a lot more data into a lot smaller space," said Bradd
Bayliff commented: "Patrick Bradd is experienced in the industry and understands what carriers want. Ontix is creating a layer that allows carriers to use their assets and I'm doing the same on the subsea fibre infrastructure side. We're creating infrastructure in a carrier neutral way - we don't sell to the customers of our customers. We stay in the layer of the industry which is neutral for anybody."
Visionary leaders
Bayliff and Bradd are both seasoned veterans of the telco industry. Prior to joining Aqua Comms Bayliff was Vice-Chairman of the United Nations joint task force that examined disaster mitigation from the global web of undersea cable systems and was a member of the executive team of FLAG Telecom.
"Compared to what the business was like when I was young to now is astounding. We partner and work with the very biggest; Facebook, Google, Amazon, Microsoft, and across the spectrum to anybody who has a requirement to carry traffic from one side of an ocean to the other."
Bradd has held operational leadership and board roles for both telecom equipment vendors and service providers. At Cable & Wireless, in addition to being an early adopter of small cells, in the Caribbean he faced challenges of connecting cable systems from Jamaica to the British Virgin Islands, and to Florida. "To build out cable systems was an invaluable experience. I got to see first-hand how one layer of a network drove the capacity requirements of other network layers."
"When I came back to the UK, I could then really see the value in providing these infrastructure layers, but in the changing paradigm of needing a lot of capacity and in a really small space. I felt uniquely positioned to be able to drive that infrastructure layer as a service and provide network infrastructure providers and network operators high but much denser capacity," he said.
Machine-driven demand
Bayliff highlighted why more capacity is needed today. "It's not about more calls to the US or selfies and social media - the reason is machine driven. Data is not only stored in the UK but it is also stored in the US as mirror data to form a global footprint. This can happen with Zoom calls and taking photographs - whether you decide to share it or not - and emails.
"The first thing that phone will do is try and get that photograph back to the home data centre where your Apple or Android service is hosted. So what's driving this uplift in capacity and networking requirements is the machine to machine interaction that is mirroring data and moving that data around."
Cable versus satellites
You may ask what are the advantages of cables over satellites? With more than 1,300 communication satellites orbiting the Earth today and Elon Musk's high-profile SpaceX attempting to monopolise this market with Starlink, you may be surprised to read that 98% of all data in our daily communications is carried by cables under the sea. There are more than 400 operational submarine cables today – stretching over 1.3million km.
According to Aqua Comms the reason is simple: submarine cables transmit substantially more data than satellites at far lower cost.
"Using radio waves to a satellite will be 100ths to a 10th of the capacity of the sort of similar thing in the fibre optics. So what Musk is doing is creating a mesh and yes, the satellites all talk to each other, but the pure volume of data that you can shift is minuscule and only people who don't live at the end of a cable - such as those in more remote parts of the world - may decide to use satellites to maintain connectivity."
Reflecting on how advanced optical electronics has advanced during his career, Bayliff commented: "Innovation has come a long way. Optical fibre transmission is essentially flashing a light at one end of a big glass tube and seeing it at the other end. But the chemistry that's gone into making glass is so pure today it means you don't lose that light across our 5,536km fibre optic cable which spans the Atlantic. That is quite amazing!"
Quick fire questions for Nigel Bayliff CEO Aqua Comms
How many miles of cable do you currently have under the sea?
Aqua Comms currently has two cables in operation with another due in 2022 (AEC-3) from Boston to Slough. There are also two shorter routes from Dublin to Anglesea and Blackpool plus plans for a cable from Europe to India - via Egypt and down the Red Sea (EMIC-1)- which will be ready in 2024. This equates to 20,000km which includes AEC-3 and another 10,000km from EMIC-1 so 30,000 total operational or in development by D9.
Where are the cables made?
Our two live ones were made by Subcom in Portsmouth, New Hampshire in the US and we are having more made & laid by Alcatel Submarine Networks in Calais, France. They travel 70-80km at a time and then they have to be connected to amplifiers, which boost the signal. The cable is then wound backwards into a ship. In the case of our cables we laid them from either side and met in the middle which took about eight months.
How do you work to ensure the cable has the shortest passage through the shallow water?
We spend a year surveying an exact route - mapping up to 5,000km - and lay the cable along this route very accurately. We send out ships to survey the seabed and make sure there are no boulders, we avoid rock falls, shipwrecks, other cables, fishing grounds and navigate over the Mid-Atlantic Ridge. The Atlantic has about 300km of shallow water at each side which is less than 1,000 metres deep in which we have to bury the cable using a plough to avoid anything which disrupts the sea bed, like ship anchoring and bottom/trawl fishing.
Why is Aqua Comms not using legacy cable systems laid in 2000?
A lot of cables were laid around that time and are now getting old and almost incompatible with modern day product requirements. We're all about selling a large pipe of bandwidth, and the current currency level is 100 gigabits, the next step up is 400 gigabit circuits and the older cables can't handle that technology as they have insufficient optical clarity in them. In 2015 Aqua Comms laid one of the first two cables across the Atlantic in 16 years.
What is your focus when it comes to sustainability?
Most of the reduction in CO2 in the last 18 months should not be attributed to the pandemic but to telecoms which enabled us to shift to remote work, education and socialising and reduce our travel emissions" We should take that carbon deficit and chalk it up as a positive. Of course it's not a zero-cost to install cables as it is essentially a product which does use fossil fuels in manufacturing and installation, but having cables on the seabed for 25 years will reduce the need for people to fly around the world to conduct business.
How D9 is investing in digital infrastructure
"The greater the demand for the internet, the greater the demand for the infrastructure to support it," claims D9 Infrastructure which has invested in Aqua Comms. The company targets sustainable income and capital growth by investing in the following:
Subsea fibre-optic networks
Data centres
Terrestrial fibre-optic networks
Wireless networks
D9 raised more than US$400 million after a successful IPO - the trust started trading in March 2021 and has already raised more than US$1 billion. Originally Aqua Comms and Ontix had a common shareholder in the form of Aqua Ventures Ltd (AVL) until April 1, 2021.
The third part of D9 focuses on data centres. The company has just acquired Icelandic-based Verne Global which is 100% powered by renewable energy from geothermal power plants. "These three building blocks of radio distribution, fibre distribution and data centres form the backbone of D9," said Nigel Bayliff, Chief Executive Officer at Aqua Comms. "We have already deployed US$600m in Aqua Comms and Verne Global.
The rocket science of laying subsea cables
Laying a cable under the sea may not sound like rocket science, but according to Nigel Bayliff CEO Aqua Comms, it's not a million miles away.
For a start more people have walked on the Moon than explored the depths of the oceans on Earth and when you're laying fibre-optic cables to last 25+ years the engineering has to be precise.
"We are putting high-grade electronics - the equivalent of electronics that go into a space mission - at the bottom of the ocean, which is a place less visited than men who have walked on the moon," said Bayliff.
"Space and the sea have the same engineering challenge as it is not easy to repair. The cables have to survive in a harsh environment at the bottom of the sea. Our equipment is certified for 8,000m of water. That's an enormous pressure. It's 83 megapascals of pressure. It's so pressurised it breaks water molecules into hydrogen and oxygen and the tiny hydrogen atoms push through the metal of the undersea equipment which creates a hydrogen contamination of things.
"The interesting thing is copper provides a good shield for hydrogen penetration. This is because it's got a dense lattice structure so the engineering is the same as it would be to keep somebody alive in a space capsule."
As Aqua Comms continues its work on the new cable from Europe to India the construction company responsible have already surveyed the seabed of the Mediterranean, Red Sea and Indian Ocean – a major project like this could take five years from inception to readiness.
"There is very little known about some of the seabed which is why we survey it with sonar techniques so we can view its shape and look for shipwrecks as well as other obstructions such as large boulders or faults in the sea bed."
As Bayliff reflected on how Aqua Comms' second cable from Copenhagen to New Jersey passes the wreck of RMS Titanic he is reminded how the film director James Cameron - famed for his movie about the ill-fated ship - is one of very few to descend the Mariana Trench, in the Pacific Ocean, to a depth of 10,898 metres.
"We have so much more to learn about the oceans," said Bayliff who never loses his enthusiasm for using cables to connect the world.