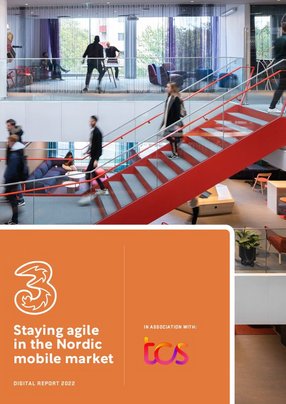 3 Scandinavia: Staying agile in the Nordic mobile market
Per Stigenberg, CTO & CIO at 3 Scandinavia, discusses the convergence of IT and Network and responding quickly to the needs of the customer
In the Nordics, the 3 Technology brands consist of 3 Sweden and 3 Denmark, two markets at different stages but both with vast opportunities for growth and expansion. In charge of enabling this growth from an IT and Network infrastructure aspect is Per Stigenberg, Chief Information Officer and Chief Technology Officer of 3 Technology.
Operating as mobile-only, a point of difference in the Scandinavian market where rivals operate fixed services, 3 are the challengers - taking an innovative, agile and technologically advanced approach while staying extremely price competitive.
The competitive advantage of 3
Stigenberg is proud to be working for a company that is constantly at the forefront both technically as well as commercially. Technological examples include the launch of eSIMs and voice services over LTE and Wifi (VoLTE/WoWifi). Commercially, 3 Scandinavia was leading the evolution towards flat fee concepts with mobile broadband and being an operator associated with user-friendliness, great customer service and simple, well-defined and fairly priced offerings.
"The eSIM is a replacement for the physical card that we put in our mobile phones. It's generally believed to be the future of SIM cards. Physical SIMs are still dominating the market, but we were very early to market with eSIMs. We were also early with smartwatches, so a customer can basically download an eSIM without having to go to the shop and buy it." said Stigenberg.
"It's basically a software version that frees up a lot of valuable real estate in a handset. Within the B2B segment, such as IoT and so forth, eSIMs will have great operational advantages such as vast reductions in energy consumption and field maintenance." he continued.
At present, adoption has been amongst the more tech savvy clientele, but Stigenberg thinks the technology is an investment in the future, an approach that typifies 3's attitude.
"We are constantly making sure that we adapt to whatever market change there is. We like to be well-prepared for the future," he said.
Future architecture
As Chief Technology Officer, Stigenberg doesn't resonate with the phrase 'digital transformation'. In his mind, there is no end and no start to innovation.
He said "It's an ongoing, continuous improvement process. We constantly need to make sure that we have the systems, the technology and the architecture in place so we aren't locked in and prevented from evolving. We're trying to combine a very agile set up with a flexible architecture, so we can change direction rapidly to adapt to whatever our business departments require from us."
While 3 still has some legacy systems in place, it doesn't believe in tearing things apart and throwing them out to bring in something big.
"We are relatively small compared to our competitors, which we use as one of our key advantages, as we are very cost efficient. We're very cost-conscious. As we need to be careful with our money, we're very lean and efficient. We can't afford to fail!"
AT 3 Technology, it's all about taking controlled, well-defined steps that deliver value along the way, throughout its target architecture.
At every step, the business ensures it doesn't diverge from the product architecture. As the Technology department at 3 is always thinking a couple of years down the road, they can identify what purpose they are striving for, while managing the day to day considerations like what kind of systems are running out of support or end of life.
"For me, Agile is being able to deliver value constantly and continuously along the way, so even if I stopped the project or the work that I have done, it should not be in vain. I should have gotten some value from it. This can happen if we have to change direction quickly due to market demands, because we can't anticipate everything that happens." added Stigenberg.
An advanced customer offering
"When it comes to offering a variety of customer options, I think no one can beat us in how quickly we can implement new price tariffs," says Stigenberg.
The reason for these capabilities is linked to the maturity of the markets in Sweden and Denmark. As Stigenberg suggests, in order to make things simple for the customers, you need to do some advanced things internally.
"We have a very competent and very flexible IT stack. With a large IT swap project,that's a huge undertaking, where a lot of things would have been built from the beginning. In certain areas in some companies, and in particular markets, you can do a greenfield approach. But we have decided not to do that because it's not suited for our market." he added.
At 3 Technology, the approach is to do a lot of things in-house, but they do have certain key partners day to day, such as a PeopleSoft CRM from Oracle and a single view billing system from CSGi. Both the billing system and CRM system are configured to 3 in a way that creates an advanced business logic.
"We have a strategic partnership with TCS/Tata consulting but we also like to keep things local by using a number of highly specialised local consultancies. And for development, we have a large number of highly skilled employees that we bring in specifically from local companies."
Using Java code, 3 Technology develops a lot of functionality on their own.
"What we try to do is to isolate functionality. So not too much of one system, otherwise it becomes very complex to swap it. Our architecture targets the goal of having a modular, microservices-based model. That's one thing we were working under the hood to create; a sort of an API-based backend that delivers very clear sorts of interfaces towards the online area, for instance," he continued.
Stigenberg admits that the company isn't at a perfect stage yet, but the business has identified what it needs to do in terms of the architecture, which is to build it around the customer.
"We make the customer journey online as simple and quick as possible, because I think that's important in these days where people are impatient and they expect quick feedback," he said
"So we spend a lot of time learning how to build a rapidly dynamic, low-latency online experience; ensuring we optimise so that the experience is quick," added Stigenberg.
A critical element for 3 is the collaboration between the business side of the company and the Technology department, to reduce the number of steps in the process. The last couple of years has seen the speed of the experience vastly increase.
"Our experiments with AI-based chat functionality are looking very promising. We also set up customer communities, so they can help each other. I think it's a win-win between us and the customers in a way." said Stigenberg.
Altering approach to the market
3 have both Swedish and Danish market presence, but they operate differently according to the business rules and market conditions in those countries.
In Denmark, it's very strict regulations on binding times, so you're not allowed to bind your customer for more than six months. This provides a certain specific challenge, which 3 have been successfully solving with its home offering, allowing customers to 'roam like home', even outside the EU. The COVID situation has impacted this solution, but historically it's an area where 3 have been very successful.
In Sweden, 3 have launched something called '3 Gather' (in Swedish, "3 Samla"), where you can tie additional subscriptions to your main subscription. With an unlimited phone subscription you could, for instance, add your children, mother or best friend at a significant discount.
The company is now looking into doing similar things in Denmark too. The 3 Flexible option also offers a decouple option, creating a conditional discount not tied to either subscription or the hardware.
"As long as they stay with us, they will keep receiving this conditional discount. It gives the customer flexibility, and it gives us the flexibility to give them a great offer if they want to stay committed to us," said Stigenberg.
A strong network
Stigenberg is fiercely proud of what 3 have achieved in a relatively short space of time: "We could look anyone in the eye and proudly say that we have a great network. It differs a bit between Denmark and Sweden because of the geography. Denmark is a much, much smaller country where we have great coverage. We're actually now rolling out 5G and extending the network at a very high pace."
"With Sweden being a very large country, at least comparatively, it takes a while to build out the coverage. In the southern parts of Sweden, where the vast majority of the customers or the population live, our network is very strong. I've been here for four years and our network has grown 50% in the number of sites," he added.
With voice services 3 provides cover 99% of the population, and then with 4G services and data services, they cover 96% of the population.
"We are the fastest growing of the big telecoms players. It shows what we have done the last year in terms of building out the network and improving customer experience. It's really started to pay off," concluded Stigenber.