Who is VMware's Senior Director, App and Cloud Ed Hoppitt?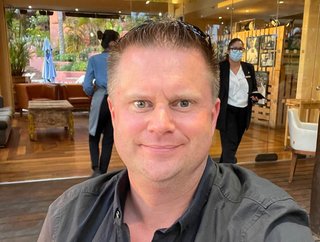 Ed Hoppitt, Senior Director, App and Cloud Platforms at VMWare. Credit: Ed Hoppitt
Ed Hoppitt, Senior Director, App and Cloud at VMware talks to Mobile Magazine about his career so far and his role at the cloud computing giant
As a Senior Director focussed on VMware's platforms strategy, Ed Hoppitt's role is directly customer-facing, engaging with some of VMware's largest customers.
His role sees him focus on three key areas, including working across VMware's Leadership team and Business Units to help align their respective stories, connecting with customers at briefings and events, and supporting VMware's press, communications and analyst relations teams.
Here, he chats with Mobile Magazine about his entry into the cloud sector.
Hi, Ed! Please introduce yourself, your role and what you do in a nutshell
I sit on the technical leadership team for VMware, covering customers and partners across Europe, Middle East and Africa. My role as Senior Director, App and Cloud Platforms is to help our customers and technical pre-sales build long term strategy for their application and cloud platforms. I've been at VMware now for almost 11 years, and prior to VMware I worked for one of VMware's Global Customers, BT, in their Global Services business. I was their Global Principal Architect for Cloud where I started as a detailed network designer having graduated from Royal Holloway University of London.
Did you always want to go into the mobile/cloud industry?
I always knew that I wanted to go into some sort of engineering/technology role in life – even from my early days at school. I went to university in the mid 1990s and can still remember the buzz around the IT/Internet.com boom. In fact, I can still remember when my dad brought home a BBC Micro for us to look at before we had our own BBC Micro one evening many years ago. I had the bug early on!
What has been your greatest achievement so far in your career?
Over my life I've been fortunate to be involved in many different and diverse projects ranging from the very first steps to digitise the NHS here in the UK to helping architect the platform behind the set top boxes for YouView terrestrial TV and being involved in the London 2012 Olympic Games – at the time, the largest online event in history. For me though the achievement that really stands out, and one that I'm most proud of, is probably bringing YouView to market as part of a consortium between a number of broadcast organisations, and to this day I still have a YouView box as my set top box at home. It was just amazing being involved in something that was going to go and sit in millions of people's front rooms and transform how they watched TV.
What has been your greatest challenge that you have overcome?
By far the biggest challenge I've ever had to overcome is a fear of flying. In the early 2000s I had a really bad flight back from a holiday. It was only when I then tried to get on a plane to go on holiday after that that I realised I had anxiety levels going through the roof, resulting in a panic attack at Gatwick Airport and being physically unable to board a plane. Clearly heading towards a job that would require international travel, that wasn't practical – and so I had to learn to manage that. I am still a nervous flyer, but luckily the days of panic attacks in airports are long gone.
You can read more insights from Hoppitt and his takes on the issue of e-waste in the upcoming September edition of Mobile Magazine.
*****
For more insights into the world of Mobile - check out the latest edition of Mobile Magazine and be sure to follow us on LinkedIn & Twitter.
Other magazines that may be of interest - Data Centre Magazine.
Please also check out our upcoming event - Cloud and 5G LIVE on October 11 and 12 2023.
******
BizClik is a global provider of B2B digital media platforms that cover Executive Communities for CEOs, CFOs, CMOs, Sustainability leaders, Procurement & Supply Chain leaders, Technology & AI leaders, Cyber leaders, FinTech & InsurTech leaders as well as covering industries such as Manufacturing, Mining, Energy, EV, Construction, Healthcare and Food.
BizClik – based in London, Dubai, and New York – offers services such as content creation, advertising & sponsorship solutions, webinars & events.
​​​​​​​