VodafoneZiggo achieves gigabit connectivity speed landmark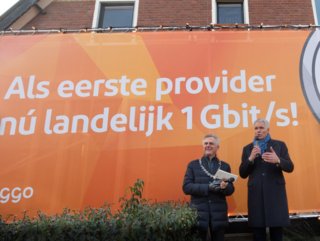 Gigabit connectivity speed is now available for all VodafoneZiggo's Netherlands customers, marking the successful completion of a three year operation
This landmark achievement from VodafoneZiggo will enable 21,000 households and companies in Soest to opt for internet with a download speed of 1 gigabit per second (Gbit/s).
Industry-leading internet connectivity from VodafoneZiggo
This achievement marks the completion of a three year nationwide operation for the telco.
During this time - to reach this landmark connectivity achievement - Ziggo technicians have replaced 7.3 million connectors, 1.7 million connection cables and 441,000 amplifiers in street cabinets throughout the country.
And, alongside the improved connectivity speeds, the investment from VodafoneZiggo has improved the stability of the entire network.
"In recent years, we've seen our customers using more and more data for communication and entertainment," commented Jeroen Hoencamp, CEO of VodafoneZiggo.
"People are constantly online; for example, extensively meeting through Teams and Zoom, streaming films and series in HD and 4K anywhere in the home, and playing sophisticated online games. Our technology makes all this possible. Behind the scenes, we're continuing to invest and make sure that the capacity and speed of our network evolves to meet this need. Pretty much like we've been doing for over 20 years."
For VodafoneZiggo, this achievement represents a 'future-proof' connectivity investment.
For the foreseeable, a speed of 1 Gbit/s is more than sufficient for the needs of most households. For example, it allows 80 people to hold Teams meetings at once, and for 40 people to watch television in 4K simultaneously.
But, despite this assurance, the network provider doesn't plan to stop there.
"Downloading at 1 Gbit/s is actually just the start. We'll be testing Docsis 4.0 early next year. This will allow us to easily progress to a download speed of 10 Gbit/s and an upload speed of more than 1 Gbit/s," Hoencamp asserts.
"These speeds aren't needed at this stage; after all, there are no current applications that require that much capacity and speed. But with our network, we'll be ready for them.