Vodafone tackles e-waste with phone refurbishment campaign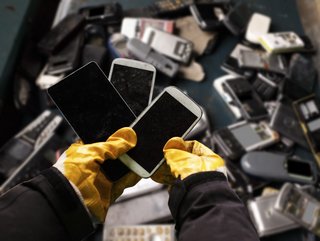 Credit: Getty Images
Vodafone UK is collaborating with British singer-songwriter Sam Ryder to encourage more consumers to purchase refurbished mobile phones
New research has shown that 32% of UK citizens now own a refurbished phone, while 24% are considering purchasing one. To meet this demand, telecommunication giant Vodafone has recently expanded its range of refurbished phones.
When purchasing a refurbished phone from Vodafone Evo, customers can save an average of £324 and benefit from a 2-year warranty with all pay-monthly refurbished phones.
Why is it important to recycle mobile phones?
The number of smartphone users worldwide has reached 6.64 billion, which accounts for 83.72% of the current global population, indicating a 34.32% growth since 2016. If only 20% of these devices undergo recycling, the essential components utilized in their production could be depleted within the next century. This could significantly worsen the already existing microchip shortage, which has impacted the automobile and smartphone industries in recent times.
"Fast mobile phone development has led to a market dependency on rapid replacement of older devices. Mobile devices affect the environment in many ways over their lifetimes, but the impact can be reduced and spread over a longer period by applying circular economy principles, including production control, device reuse, remanufacture and recycling, and improved circular design involving component material selection, standardisation and modularisation for easier disassembly", claimed the Global E-waste Monitor.
Vodafone's new recycling scheme
By partnering with British singer/songwriter Sam Ryder, Vodafone look to extend their range of refurbished phones to focus on helping price-conscious customers purchase "new" handsets through an ad campaign.
Maria Koutsoudakis, Brand Director, Vodafone UK: "We know times are difficult right now, so as a brand we wanted to reassure our customers that they could still get the value and flexibility that Vodafone EVO offers, across new and refurbished devices. We're putting the choice and control in the hands of our customers, so they can get the phone they want, at a price that works for them.
"Deciding to partner with Sam Ryder was an easy choice for us, we wanted an ambassador that had the same brand values when it came to sustainability, had broad family appeal, and the ability to sprinkle some optimism in our everyday life. We can all do with a little bit more Sam magic."
In the past six months, searches for refurbished phones on Vodafone's website have increased by 39%.
Research shows that mobile phones are the most popular second-hand or refurbished item among British citizens, followed by laptops (26%), TVs (22%), and tablets (21%).
Gen Z individuals are the most inclined to purchase a refurbished device (61%) compared to Boomers, of which only 21% are interested.
The extended range of available refurbished handsets includes the Apple iPhone 12 Pro Max, iPhone 13, iPhone 13 Pro Max, iPhone 14, iPhone 14 Pro Max, iPhone SE 2020, iPhone SE 2022, iPhone XR, Samsung Galaxy S20 FE 4G, Galaxy S21 5G and Galaxy S22. Additional refurbished handsets will be available from end-April, including the iPhone 11, iPhone 11 Pro, iPhone 11 Pro Max, iPhone 12 and iPhone 12 Pro.