Vodafone announced as COP27's first principal partner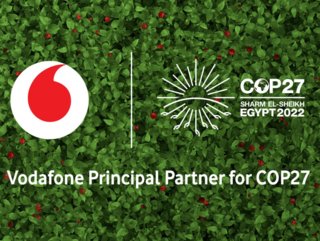 Vodafone has been announced as the Principal Partner for Communications for the COP27 UN, a key climate change conference taking place later this year
The COP27 UN Climate Change Conference - which will be hosted by the Egyptian government in Sharm-el-Sheikh, in November later this year - marks the 27th annual global climate summit.
During this event, the UN agrees upon the climate action that will be adopted by its member states across the world.
Vodafone - the Principal Partner for Communications for COP27
Within its role as the Principal Partner for Communications, Vodafone will be working with the hosting Egyptian government, to provide its telecommunications services to connect the COP27 UN Climate Change Conference, including the event's visitors.
Alongside this, Vodafone also will be showcasing its mobile sustainability solutions during the event.
At COP27, Vodafone will be demonstrating digital technology's potential in tackling climate change, including how IoT can be used to improve energy efficiency, reduce the carbon footprint of cities, and help key sectors (such as agriculture and transport) to implement future-proofing strategies.
"The COP27 UN Climate Change Conference in Sharm El-Sheikh, Egypt is a critical opportunity to accelerate the urgent and sustained action required to address the climate emergency", commented Nick Read, the CEO of the Vodafone Group.
"Vodafone believes business success should not come at a cost to the environment, and our Partnership at COP27 will showcase the role our digital networks and services play in enabling society to address climate change and in delivering the UN Sustainable Development Goals."
Vodafone's sustainability targets
Vodafone is working to achieve net zero carbon emissions, across its full value chain, by 2040.
What's more, the telcos giant is targeting to help its business customers achieve a 350mn tonne reduction in carbon emissions, by 2030.
And, in order to help address the current e-waste crisis, Vodafone is working to achieve an impressive target of reusing, reselling or recycling 100% of its network waste.