Ukrainian telco reflects on major European award amid war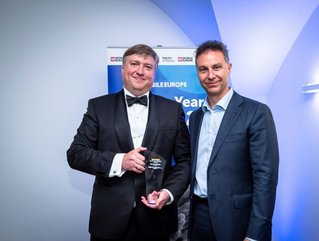 Kyrylo Goncharuk receiving Mobile Europe's CTO of the Year Award. Credit: Ukrtelecom
JSC Ukrtelecom's Kyrylo Goncharuk reflects on receiving the CTO of the Year award from Mobile Europe on behalf of Ukraine's monopolist telephone company
Almost 18 months have passed since Russia's full-scale invasion of Ukraine, and large-scale aggression continues to sweep the nation. There's no doubt that nationals have stood up to this front in all capacities - and the telecoms industry is no different.
At Telecoms Europe LIVE back in June, held in central London, game-changing CTOs or similar from across the world of telecoms were celebrated by Mobile Europe for the CTO of the Year Awards, sponsored by Rakuten Symphony. The award is in recognition of individuals' work at carrying out the core business but not as usual – creating efficient and effective infrastructure, operations and business models that make use of technologies such as AI, analytics, automation, open platforms and APIs.
The winner of that award, Kyrylo Goncharuk, CIO of Ukrtelecom. In a LinkedIn post following the winning of his award, Goncharuk said he was "honoured" to receive the award on behalf of Ukraine's monopolist telephone company, saying: "An integral part of the path to our victory is connection."
JSC Ukrtelecom's Kyrylo Goncharuk. Credit: Ukrtelecom
Goncharuk, who leads the development, operation and provision of service continuity, cyber security, and security of Ukrtelecom's entire IT and technological infrastructure, said that the job of his workforce - regardless of their role - requires strength, courage, concentration and determination to ensure transmission of traffic as the war rages on.
He sits down to reflect on this achievement with Mobile Magazine, and how the conflict has impacted the business.
How did you come to work in the mobile industry?
My professional career in the telecom industry started in 2006. As an engineer, I was involved in a large-scale project that dealt with a new mobile operator establishment. Then, different positions in various telecom fields followed. In 2017 I was appointed CIO of Ukrtelecom.
Talk to me about how telecommunications has supported the Ukraine war effort - and how you fit into that
After the start of a full-scale invasion, the top management team worked 24/7 for almost four months.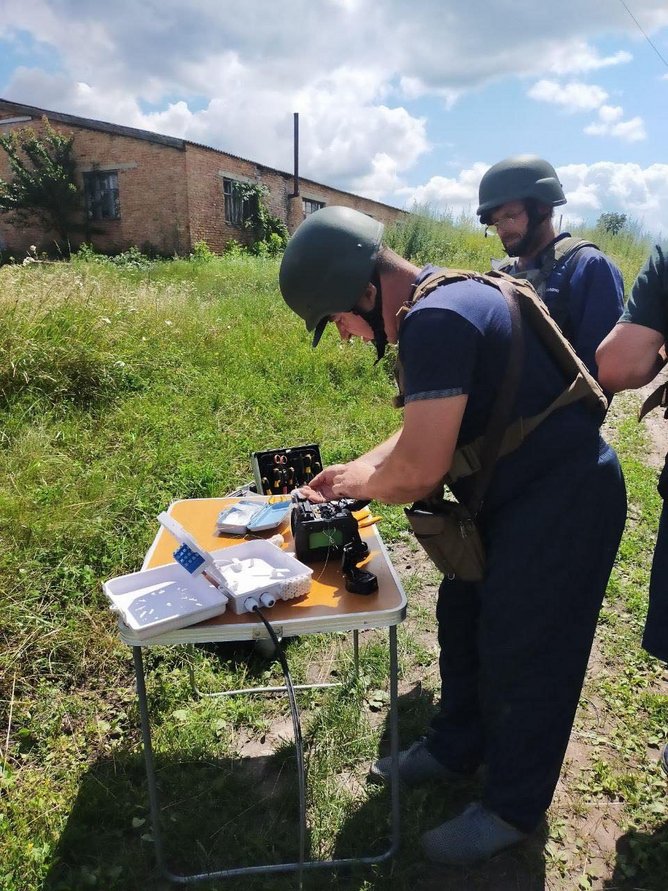 Ukrtelecom workers ensuring open lines of communication in Ukraine despite the ongoing war. Credit: Ukrtelecom
Since 24 February, in accordance with legislation, all the management arms of the telecom sector in Ukraine came under the control of the National Telecommunications Centre, which issued certain instructions to ensure the likes of emergency communication, which is why we had a fairly close interaction with the State Special Intelligence Service. It was important for us to adjust our work, our operational activities with strategic tasks country-wide every day. In the same way, our interaction with other bodies took place in order to ensure a symmetrical and uniform reaction of the entire sector.
How did it feel to be awarded the CTO of the Year award on behalf of Ukrtelecom? What were you recognised for?
It is a complex of different feelings. First, it is pride for the Ukrtelecom team, for the entire telecom industry in Ukraine, which does a lot to provide people with their basic need for access to communication and information.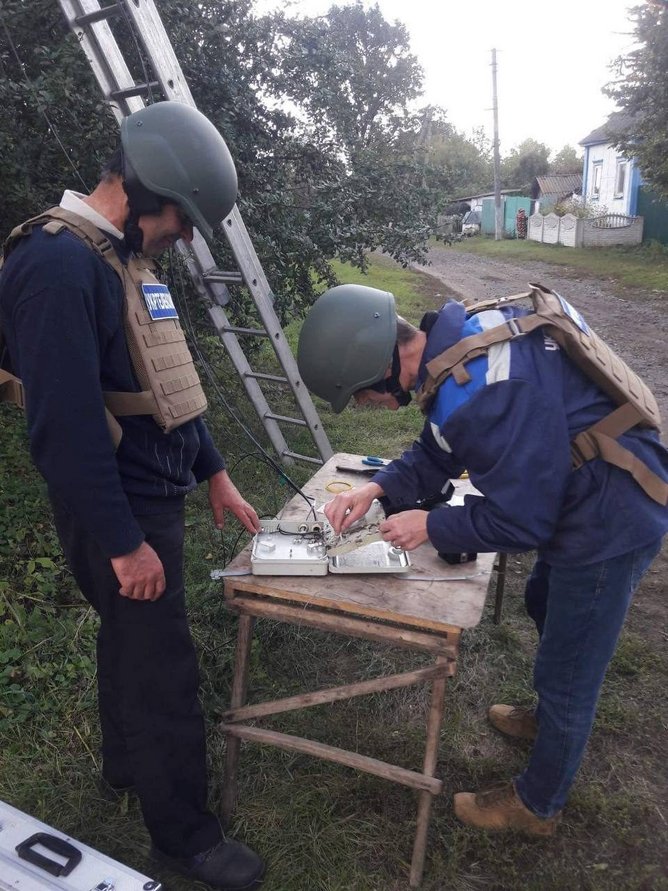 Ukrtelecom workers ensuring open lines of communication in Ukraine despite the ongoing war. Credit: Ukrtelecom
On the other hand, of course, this is recognition of the changes that were implemented in Ukrtelecom over the past six years. Due to these changes, the company has already become a visible, significant player on the worldwide telecom map, and one of the top industry players in Europe.
Under the assumption you feel this award also honours all other telecommunications professionals - what does it mean to highlight their efforts?
In Ukraine, thanks to digital services, people are duly informed of missile attacks. We all began to monitor the movement of missiles over the territory of Ukraine via electronic or digital platforms and applications.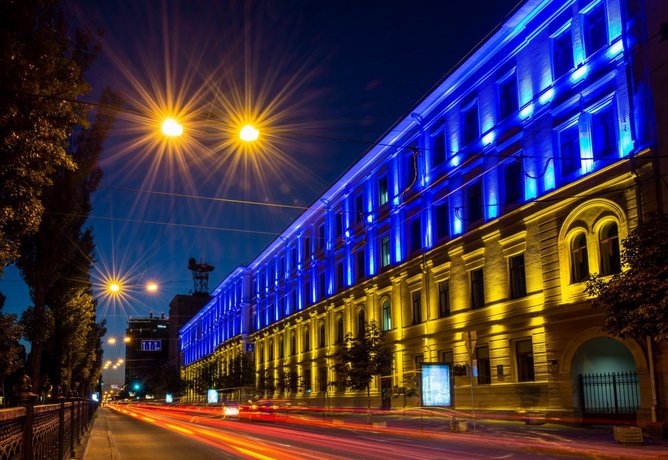 The main office of Ukrtelecom in Kyiv. Credit: Ukrtelecom
Therefore, access to information has become not only a basic need of people from the point of view of learning, self-development, and entertainment as it was before the Big War, but also, critical to preserve life.
This is the recognition by the international community of Ukrainian telecommunication professionals' contribution - their blood, sweat, pain, losses in order to ensure access to information.
Would you say this is one of the greatest achievements of your career? Either way, it must be somewhat bittersweet due to the current situation?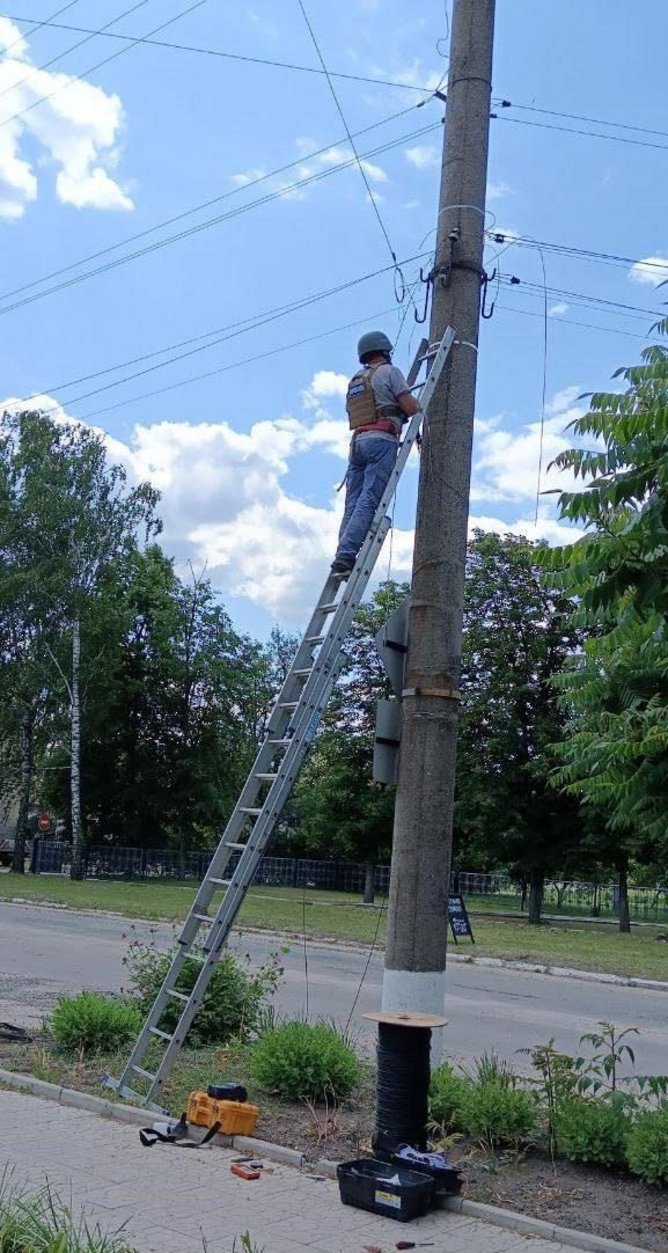 Ukrtelecom workers ensuring open lines of communication in Ukraine despite the ongoing war. Credit: Ukrtelecom
I would say that this award from Mobile Europe is one of the greatest achievements because for every professional, recognition from an institution is a significant stage in anyone's professional career. Moreover, the recognition of my team and my country at a European level means that the achievement emphasises the gains we have made.
What do you feel is next for yourself and Ukrtelecom?
We have three key directions. The first one is to develop as an ICT operator and we have decided not to stop key projects. The second one is to share knowledge about cyber and hybrid warfare and tell the world what tools cyber terrorists use and tell how to respond to them. The third is reintegration with the construction of completely new networks within unoccupied territories.
******
For more insights into the world of Mobile - check out the latest edition of Mobile Magazine and be sure to follow us on LinkedIn & Twitter.
Other magazines that may be of interest - Data Centre Magazine.
Please also check out our upcoming event - Cloud and 5G LIVE on October 11 and 12 2023.
******
BizClik is a global provider of B2B digital media platforms that cover Executive Communities for CEOs, CFOs, CMOs, Sustainability leaders, Procurement & Supply Chain leaders, Technology & AI leaders, Cyber leaders, FinTech & InsurTech leaders as well as covering industries such as Manufacturing, Mining, Energy, EV, Construction, Healthcare and Food.
BizClik – based in London, Dubai, and New York – offers services such as content creation, advertising & sponsorship solutions, webinars & events.