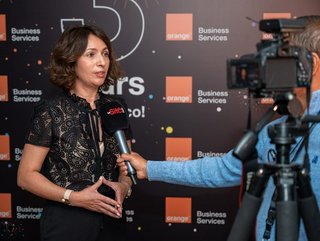 Rym Sahnoun is the pioneering Managing Director of Orange Business Services (OBS), a global digital services company and subsidiary of the Orange Group
North Africa is fast becoming an area of immense growth for Orange Business Services (OBS). Leading the digital transformation operations, Managing Director Rym Sahnoun has forged new paths of innovation and invention, awareness of equality and people management.
OBS is a global digital services company and subsidiary of the Orange Group.
An entity dedicated to assisting organisations in their digital transformation thanks to its worldwide deployment, OBS has a global presence with a local approach. In its mission, OBS relies on the commitment and expertise of its 28,500 employees, and exploits the potential of data in a secure manner and underlines its role as a trusted partner for companies.
OBS supports companies at every stage of their data.
In its fourth year in Morocco, the business has greatly contributed to the acceleration of the digital transformation of companies.
A key figure in their operations is Rym Sahnoun, Managing Director of OBS Morocco.
She is passionate about new technologies and renowned for her leadership and her capacity to develop business, structure and people.
Sahnoun has registered five patents and has also won an ITN Award.
In the wake of COVID-19, Sahnoun told lematin.ma: "Big changes have happened during this crisis. Our clients have been able to overcome these challenges by teaming up with us to help them find a way to continue doing business with their own clients. 79% of customers we surveyed believe the crisis has changed the way they use digital services. Many of these changes will last, because it is now impossible to ignore digitalisation."

An industry pioneer
Before her current role, Sahnoun was Transformation Director of an Orange Operation Centre in Abidjan to maximise the mutualisation of Orange Services and Platforms in Middle East and Africa and improve operational excellence.
And prior to making waves in business at Orange Group, she earned a five-year Engineering Degree from Telecom Sud Paris.
In 2006, after a rich experience in innovative services, Rym was assigned the responsibility of a strategic program in the field of electronic payment.
She helped launch the Orange Money Service and the International Recharge Service with many branches and partner operators, leading multidisciplinary teams and several internal and external providers in an international context.
Up until 2015, Sahnoun managed an International Centre in Tunisia, specialised in the development of high value-added products and service. The Centre currently has around 200 highly qualified experts, renowned within Orange Group.
Romain Maillart, who worked with Sahnoun through Palo Alto Networks as a Business Value Consultant, described her as "highly-motivated, professional and a sharp manager."
Morocco provides ideal digital climate
The acceleration of the digital transformation in Morocco has been accentuated by the exceptional circumstances of the Covid-19 health crisis, as different areas (health, smart cities, cloud) look to the North Africa gem as a place ripe for opportunities.
"Morocco is full of skills, human potential and talents capable of promoting the acceleration of this digital transformation," said Sahnoun. To this end, she noted to libe.ma that her group has chosen Morocco for its "state of development and for the quality of its skills and infrastructure."
She added, "We are witnessing a real paradigm shift that today requires companies to take the course of digital transformation. Digitisation is far and away from being a fad, or a marketing argument. It is rooted, essential and a real performance driver for all of the company's functions".