Top 10 Mobile Insights from Data Centre LIVE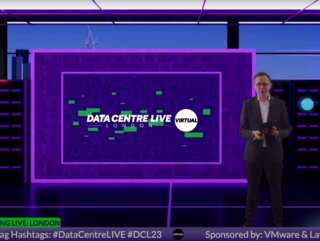 Data Centre LIVE 2023 stage one, hosted by Neil Perry
Last week a host of industry experts took to the virtual Data Centre LIVE stages to share their industry knowledge on data centres, cloud, and so much more
The inaugural Data Centre Magazine LIVE, BizClik's third virtual event, saw the likes of VMware's Vittorio Viarengo, NTT's Marientina Laina and Schneider Electric's Steven Brown interact with attendees via streaming application Brella wherever they are in the world for the day-long immersive experience.
And although a showcase of data centre knowledge, the event provided insightful conversations and collaborative platforms for subjects including the likes of cloud and 5G.
Here's Mobile Magazine's round up of the top 10 mobile insights at Data Centre LIVE 2023.
The metaverse
Discussing predictions for the metaverse and working towards an understanding of the metaverse and its use cases, Kabuni co-founder Nina Jane Patel - a psychotherapist and a doctoral researcher - delved into investigating the psychological and physiological impact of immersion, presence and embodiment in 3D immersive virtual environments. With parameters for the metaverse still somewhat debated, Patel led a keynote on the technological components of what the metaverse is and the technology required to bring it to its full fruition.
"What I find most interesting as a psychotherapist, researcher and as a mother raising children in this era…is the level of change that we are embarking on in our relationship to the digital, digital, synthetic worlds and by proxy to each other," she said.
Multi-Cloud
A 45-minute forum on delving into the depths of all things multi-cloud, The Multi-Cloud Forum featured Mike Milner, VP Cloud Technology at Trend Micro, Samta Bansal, the Global Consulting/Services Marketing and Strategy Executive of Hitachi Vantara, and Vittorio Viarengo, Vice President of Cross-Cloud Services at VMware where the executives offered insights into the benefits and challenges of modern multi-cloud strategies. Bansal emphasised the flexibility and vendor choice that multi-cloud offers, highlighting that with multi-cloud, organisations can select vendors based on their specific requirements and optimise workloads, considering factors such as speed, performance, reliability, geographical location, and security.
Fibre markets
Senior Consultant Matt Bamforth of STL Partners, whose core responsibilities include working in TMT with a focus on edge computing, provided his insights into 2023 trends and projecting forward to how the industry may change in the future. He explained how the UK fibre market - trends in which have been at the forefront of the telco world - has seen a rise in the number of alternative fibre network companies and there is increasing pressure due to overcrowding in the market.
5G
A key topic of Data Centre LIVE, 5G and the evolution of wireless technology contributed to sessions across the entire event. 5G connectivity is just one of the subjects explored by Data Centre LIVE speakers including International Data Centre Group's Guy Willner during his Digital Infrastructure keynote and Ayotunde Coker, who led a fireside with a segment on the 5G rollout, cost-effective fibre strategies and data centre capacity demand across African nations.
Digital infrastructure trends
Guy Willner explored the cutting-edge trends and technologies in cloud computing, edge computing, and 5G connectivity to gain insights into how data centres are driving the digital revolution and shaping the interconnected future we inhabit.

Africa on the Cloud
Ayotunde Coker, who was appointed CEO of Open Access Data Centres in September, shared how OADC plans to digitally transform Africa. His fireside, Africa on the Cloud & Wholesale Connectivity Map, opened discussion on how the push for digitalisation and cloudification of enterprises across African nations is well underway, with spending on public cloud set to triple over the next four years. Also discussed were subjects including the 5G rollout, cost-effective fibre strategies and data centre capacity demand.
Cross-Cloud Services
During his keynote speech, Vice President of Cross-Cloud Services at VMware Vittorio Viarengo explored the advantages of the multi-cloud, the role that cross-cloud services play in achieving the promises multi-cloud offers and provided insights on how organisations can use cross-cloud services to achieve their business goals.
Viarengo also delved into the challenges of having a multi-cloud environment, and how cross-cloud services can help to mitigate these challenges.
Sustainability
Another hot topic across a variety of panels, keynotes and firesides, sustainability was at the forefront of discussions at Data Centre LIVE.
Susanna Kass, Co-Founder of InfraPrime, led two discussions on sustainability, first in the Sustainable Data Centre Forum alongside Uptime Institute's Ali Moinuddin, Steven Brown of Schneider Electric and Virtus' David Watkins followed by a solo keynote.
"I hope to inspire you to connect, to collaborate - not to work on a problem by yourself but really share the journey you are taking in sustainability towards a carbon-free future for the social benefits of our people," she opened, looking ahead of 2025 and 2030 goals.
Hybrid IT
Jason Carolan of Flexential's fireside on Empowering the Hybrid IT Journey explored the journey towards hybrid IT and the strategies and technologies driving its adoption.
The Chief Innovation Officer shared how organisations can harness the power of hybrid IT to achieve greater agility, flexibility and efficiency, and how businesses can empower themselves to succeed in today's rapidly changing digital landscape.
"It's about helping companies find the best, optimal solution for their various IT workloads and dealing with different aspects like security integration, development and resiliency - all things we've come to care about here in the last four or five years of really being a network-focused economy and network-focused world," he shared.
AI
While delving into the metaverse, Nina Jane Patel touched on AI, a major component to the iteration. "What we have is the opportunity to engage and access information through AI, through information datasets that allow us to move more quickly that allow us to solve problems more quickly," she explained. "And if we combine that with VR in a text activated artificial intelligence empowered experience, then that is quite mind blowing to be able to create 3D dimensional objects in that virtual augmented world."