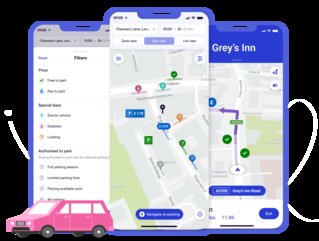 Mobile Magazine rounds up the top 10 smart mobility companies, including AppyWay. Credit: AppyWay
With searches for smart mobility solutions dating back to the 1960s, it shows how big a role developing technology has had on the sector
A radical greener approach to transport, smart mobility includes the likes of public transport, carsharing, Mobility as a Service (MaaS) and Mobility on Demand (MOD). But some companies are taking that to the next level, whether that be utilising innovative technologies and intelligent solutions to enhance transportation efficiency, safety, and/or sustainability.
These solutions - which often optimise traffic flow, reduce congestion, and promoting greener transportation options - aim to create a seamless, eco-friendly, and accessible urban transportation ecosystem.
Here is Mobile Magazine's round up of the top companies providing forward thinking and cutting edge transportation solutions powered by advanced technology, helping drive us to a future of seamless travel, reduced carbon emissions, and improved accessibility.
IoT cyber security company Angoka focuses on smart cities and smart mobility with applications for land, air and maritime mobility as well as satellite communications and ensuring its future.
With the goal of making cities inclusive, safe, resilient and sustainable, Angoka's solutions heighten the cybersecurity and safety of devices, vehicles and networks, on which the future of the solutions is dependent on to protect citizens and infrastructure against cyberattacks.
Excelfore enables smart mobility networks with a scalable and secure unified middleware framework. With products such as the eAVB protocol stack for in-vehicle ethernet time-sensitive networking and cloud-to-vehicle eSync software update management, customers are able to deliver Over-the-Air (OTA) software updates to vehicles and remotely retrieve valuable operating data from the various electronic devices in cars, for predictive maintenance, troubleshooting, and overall improved vehicle health.
Multinational digital communications technology conglomerate Cisco is part of an ongoing 10-year project with TRL. Smart Mobility Living Lab: London sees Cisco build a real-world test environment for the deployment and development of connected, autonomous vehicles.
This emphasises and demonstrates how Cisco understands and deploys co-innovation - working with partners across public, private, and academic sectors to build a brighter, more efficient future. The brand views 5G and multi-access technologies as a key to deliver the future of connected transportation.
Founded 10 years ago out of frustration when trying to park in central London, Hubert was motivated to digitise the streets and put viable transport information in people's hands before leaving home - and starting his trailblazing decade-long journey to digitising the kerbside. And thus, AppyWay was born. By bringing the kerbside into the digital age, technology not only allows drivers to make better informed travel decisions but allows cities to activate their decarbonisation efforts.
AppyWay has now mapped 550 towns and cities, expanding into Europe by adding Dublin to its portfolio. The data, which creates digital twins of the cities in fine detail, creates a copy with between three to 20cm accuracy.
Founded in 2013 by a team of former TomTom employees, Gaiyo - meaning 'overview' in Japanese - develops smart mobility solutions to unify transport options and provide access to make journeys possible. Named 'the most convenient and comprehensive transport app of the moment', Gaiyo is a one-stop shop for any form of shared mobility. The Gaiyo users can very easily plan their trip via the app and get access to all forms of shared mobility, including cars, e-scooters, and e-bikes, public transport and cabs. Gaiyo focuses on developing smart mobility solutions, along with promoting behavioural change, among travellers.
Innoviz is working towards a future with safe autonomous vehicles on the world's roads. The company was founded in 2016 and specialises in the manufacturing of LiDAR sensors and perception software. The technology is branded as having better vision than the average driver, reducing the possibility of error.
An autonomous vehicles leader, Innoviz has been selected by premium car brands for use in consumer vehicles as well as by other commercial and industrial leaders for a wide range of use cases.

Bosch's proficiency in vehicle technology with hardware, software, and services helps bring complete mobility solutions to its customers. Despite being a 130-year-old leader in the automotive industry, Bosch also provides a wide array of technology to other industries, including the likes of home appliances and agricultural robots, which makes it a key player in making smart mobility a reality. Last year, Bosch teamed up with BMW for their 'Smart Home Meets Smart Mobility' joint campaign, ensuring ease for customers in transit.
Christian Thess, Managing Director of Bosch Smart Home, said its solutions "are designed to make everyday life easier for our customers at all levels" and "ensure a higher level of security and sustainability while on the move."
3. MaaS Global
HQ: Helsinki, Finland
CEO: Sampo Hietanen
Specialising in mobility solutions and app development, MaaS Global has achieved recognition for its concept of Maas as a whole and has developed a mobility ecosystem, proving itself as a leading company amongst smart mobility giants.
MaaS Global's mobile app, Whim, was born out of a need to be spontaneous, giving users access to a huge variety of transport options, changing the way people move. It continues to make the concept of MaaS a reality, upgrading the service level of transportation by joining together public and private transportation providers.
Siemens creates smart mobility ecosystems by seamlessly combining public transport and new, shared mobility services. Its digital MaaS solutions allow travellers to receive support ranging from intermodal route planning prior to departure to simplified booking, ticketing and payment. Siemens' offerings also support mobility providers and operators themselves, creating a basis for new business models and opening new revenue opportunities.
1. Ford Smart Mobility
HQ: California, United States
CEO: Jim Farley (Ford Motor Company)
Launched in 2016, Ford began pursuing emerging opportunities to be a leader in connectivity, mobility, autonomous vehicles, the customer experience and data and analytics with Ford Smart Mobility. Working with Ford's existing product development, research and advanced engineering, marketing and data analytics teams, the subsidiary develops mobility services and invests in promising mobility-related ventures.
With the view that smart mobility and smart cities are intrinsically linked, Ford is working on both, not only for the betterment of society but to make Ford "the most trusted mobility brand in the world".
******
For more insights into the world of Mobile - check out the latest edition of Mobile Magazine and be sure to follow us on LinkedIn & Twitter.
Other magazines that may be of interest - Data Centre Magazine.
Please also check out our upcoming event - Cloud and 5G LIVE on October 11 and 12 2023.
******
BizClik is a global provider of B2B digital media platforms that cover Executive Communities for CEOs, CFOs, CMOs, Sustainability leaders, Procurement & Supply Chain leaders, Technology & AI leaders, Cyber leaders, FinTech & InsurTech leaders as well as covering industries such as Manufacturing, Mining, Energy, EV, Construction, Healthcare and Food.
BizClik – based in London, Dubai, and New York – offers services such as content creation, advertising & sponsorship solutions, webinars & events.