The psychology of sharing in a mobile world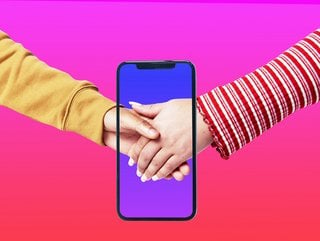 It's no secret that the pandemic separated us from the rest of the world, however, can mobile app technology strengthen the nature of how we share?
When talking about the global pandemic, we speak of separation – from loved ones, colleagues, teammates and the social playground of restaurants, clubs, and shows. But in many ways, this crisis brought us closer than ever as we shared our lives online. We gained insight into how the world was coping and our psychological connections deepened.
The 'grandfather' of marketing, Ernest Dichter, learned through extensive research that sharing is the communication of valuable messages that do two things - grow our relationships and help us define ourselves.
Obviously, this is no more relevant than on social media platforms where sharing quite literally adds to a person's 'status.' The signs of this popularity release happy hormones into the body. This is why we become addicted to seeking likes, shares and engagements!
But the universal act of sharing means something slightly different depending on our moment-by-moment needs. From eating, to banking, gaming and even dating, sharing has an increasingly sophisticated role to play in each activity…and due to digital and mobile technology, sharing is becoming ever more democratic!
File-sharing app SHAREit looked into how sharing plays out in the apps we keep on our mobile phones.
The shared experience of mobile gaming
Since the birth of the first 'Magnavox' gaming console in 1972, players from across the globe have created diverse online communities. Experts found that it is not only shared interests and love of the sport that keeps gamers hooked, but also a shared sense of achievement.
Chess player and gaming commentator, Cam Adair once said: 'Now if you look closely, both constant measurable growth and challenge represent a need for accomplishment.'
Total immersion in an alternative reality is another shared experience that unites gamers. From Super Mario' to the Legend of Zelda, using a character/avatar to live in these sensory and vibrant worlds creates the experience of freedom and exploration in a group.
Fran C. Blumberg, PhD went as far as to say that: "Games are not 'good' or 'bad,' but are powerful educational tools and have many effects we might not have expected they could."
And, games are being shared at greater speeds than ever before. SHAREit has found that over 24 million apps are being shared daily through its platform, and that gaming apps are frequently the most shared file in the course of a month.
Sharing the love on mobile dating apps
10.3% of UK adults use dating apps as a way of meeting potential partners, and a recent US study showed that 13% of app daters find lasting love or marriage. It almost goes without saying that when to 'share' and how much to share about yourself are delicate decisions in the tender stages of a relationship.
The power of sharing your favourite videos, music or content you have created with a partner should not be underestimated. This simple act allows another person insight into what makes us tick and inspires us, often offering a special window into our cultural or family background.
Sharing those popular 'couple photos' online now represents a significant social milestone – a way of announcing the quality and feel of your relationship to family, friends and following. How a couple fits into a wider community can feature heavily in these.
Connectivity, sustainability, and gaining more equal share in Fintech
The world of social enterprise is growing alongside our need to protect the planet. Banking might superficially seem incompatible with this global directive. However, the birth of ethical investing via ESGs and company green targets has put some banks and investment funds on the sustainable map.
The concept of sharing is a fundamental part of the evolution of ethical finance, with an increasing number of companies offering voting rights on how shareholders' funds are invested, often in social causes such as animal rights or sustainability. This movement really reflects how banking is becoming more community minded, and how the process of sharing could affect how we fund the next big start-up.
Further to this, the user-experience of mobile-banking allows individuals and groups to share currency while on the move and more frequently, with digital banks providing special 'spaces' for shared accounts.
All these acts of mobile-friendly sharing amplify our sense of intimacy with friends, family or simply, our fellow man. Consumers can see SHAREit as the airdrop of the Android ecosystem that enables and productises users to expand the social habit of sharing, which plays such an important role in wellbeing and relationship building.
Mobile app technology in life, work and play promotes a sense of trust in community and discovery of a world that has the potential to help strengthen the quality, frequency, and nature of how we share.
Written by Arunabh Madhur, Regional VP & Head Business EMEA at SHAREit Group.