Tech innovator Nothing releases first glimpse of its Phone 1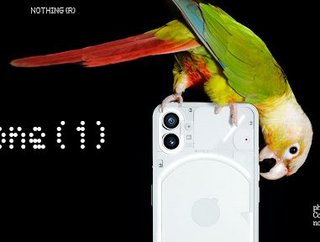 After much anticipation, the first 100 units of Nothing's new Phone 1 will be available for purchase from tomorrow, in a limited edition 48-hour auction
The Nothing Phone 1 will be available for purchase on the 21st - 23rd June, exclusively through StockX. This is a limited edition, 48-hour auction of the first 100 units, before the phone is released on 12th July.
Last week, Nothing gave us a little teaser of its first ever smartphone. The announcement came just days before the device's much-anticipated release date.
Nothing - a technology company based in London - was launched in 2020 by the Swedish CEO and Co-Founder Carl Pei.
Their first product was the Nothing Ear 1 true wireless earbuds, which were released in 2021. The super minimal product is, boldly, designed to "celebrate the craftsmanship underneath, and reveal the raw beauty of our technology."
Having since been reviewed by GQ magazine as "The most hyped tech company in years", brands across the tech sphere have been keen to see what Nothing would do next.
The Nothing Phone 1's revolutionary transparent design
As the tech company releases its first ever smartphone, we are eager to see the inner workings of their design - literally.
In a video pre-launch glimpse (on Tuesday 12th June), we saw the first reveal of the new phone's structure, its layout, and the transparent back of the device.
This first official glimpse of the Nothing 1 gives an insight into how the brand's trademark transparent design will translate from headphones to phone.
The two most unique elements of the phone's design are the exposed mechanisms and interior, which are paired with a series of light strips, brightening the transparent back panel and surrounding the camera.
The design, as Pei mentioned previously, is visibly inspired by the Apple iPhone 12. There's a dual-lens camera, three buttons along the sides (presumably for the volume and lock buttons), and a similar body shape.


What can we expect from the new Nothing Phone 1?
Nothing has been deliberately elusive about the features of the device. There's a lot of rumours, glimpses and sneak peeks, but most of the details are yet to be confirmed.
For the display, we do know that Nothing has partnered with Qualcomm. In terms of the software, the Nothing Phone 1 will have an Android skin Nothing OS. Although reviewers have described the Nothing OS as minimalistic and pared-back, the mass market is yet to put it to the test.
In May, Pei tweeted that the device will be able to charge wirelessly. But, we don't know the specifics of that feature, yet.
As of yet, we don't know whether the Nothing 1 will be available in more colours than white, the type of lens, or the zoom capacity of the phone's rear camera.
We also don't currently know of Nothing's plans to expand further, whether that be with additional devices, or an expansion into the smart home sector.