T‑Mobile launches new Un‑carrier move, "Phone Freedom"
T-Mobile
T-Mobile has launched Phone Freedom, a new initiative aimed at helping businesses and customers avoid hidden costs and providing upgrade flexibility
T-Mobile is introducing a new initiative, called Phone Freedom, as a response to the Carriers' decision to enforce three-year device contracts, marking another Un-carrier move by the company.
The new initiative – announced by T-Mobile US's CEO Mike Sievert and President Mike Katz – aims to help customers and businesses avoid hidden costs.
"Ten years ago, we started the Un-carrier movement by ridding the industry of two-year service contracts," Sievert says. "A decade after that first Un-carrier move, the Carriers are still focused on trying to lock customers down.
"At T-Mobile, we just think differently. We're focused on being the provider you choose, not the one you're stuck with. That's why we created Phone Freedom… because every wireless customer deserves more freedom and fairness they can count on."
This Un-carrier move includes:
Go5G Plus, a new rate plan with upgrade flexibility and the first wireless plan with equal treatment for new and existing customers today and always
The Easy Unlock, an emergency exit for those trapped in three-year contracts with phones locked to Carrier networksGo Back Guarantee, a fail-safe to make sure you're with the brand you choose, not the one you're stuck with
Taken together, this is the Un-carrier's answer to all the new ways the Carriers and Cableopoly are luring you in and locking you down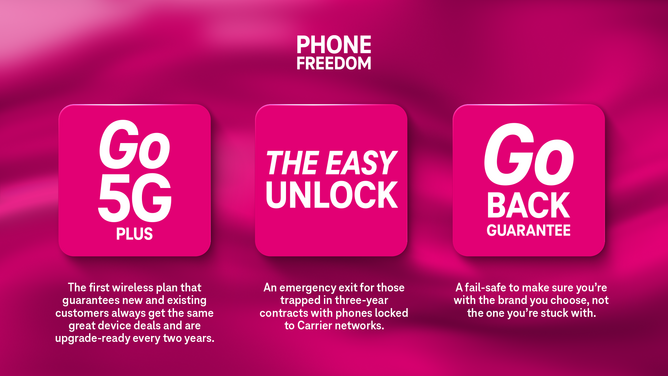 T-Mobile
What is T-Mobile's new Go5G Plus?
Go5G Plus is a wireless plan that sets itself apart from others by offering new and existing customers equal access to excellent device deals, and a new phone every two years through the New In Two programme.
With T-Mobile's Go5G Plus, customers can count on fair treatment from the Un-carrier now and in the future without fear of missing out.
Currently, customers using Go5G Plus can receive a free 5G phone worth up to US$830) with an eligible trade-in.
The plan also offers upgrade flexibility, allowing customers to trade in an old phone up to six years old. The free phone deal applies to the whole family, meaning that up to four phones can be obtained for free.
The Easy Unlock
T-Mobile is currently offering assistance to customers who wish to switch from other service providers. T-Mobile is still willing to pay off up to US$650 for a customer's phone (via prepaid Mastercard), but in addition, eligible customers can trade in their locked device and receive a new smartphone at no cost.
"AT&T's unlock process rivals a trip to the DMV, so we're helping their customers avoid the aggravation," said Mike Katz. "For the first time ever, we're not just taking locked phones off people's hands — we're also sending people home with a free smartphone on America's most awarded 5G network."