Sustainability LIVE: Meta's Dharmesh 'DJ' Jani on net zero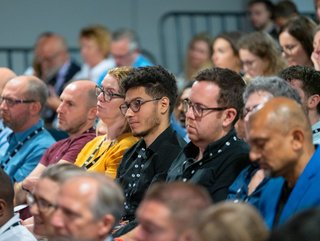 Audience members on day one at Sustainability LIVE 2023
Ecosystem & Partnership Lead at Meta Dharmesh 'DJ" Jani graced the stage at Sustainability LIVE this week at London's Business Design Centre
Energetic and entrepreneurial leader Dharmesh 'DJ" Jani wowed at Sustainability LIVE, sharing insights on how Meta is blazing a path toward its net zero goals.
The BizClik event, hosted by sister title Sustainability Magazine on 6 and 7 September, saw record-breaking crowds of more than 6,000 attendees flock to London's Business Design Centre for the hybrid event, which was also live-streamed to hundreds worldwide via hosting platform Brella.
More than 70 speakers featured across both stages at the learning and networking event, which gave attendees the chance to network and delve into the most pressing sustainability issues facing industries today.
One of those speakers, on day one, was Dharmesh 'DJ" Jani, Ecosystem & Partnership Lead at Meta, who led a panel discussion on the company's path to net zero.
With more than 20 years of industry experience, Jani is known for his strong work ethic and immense curiosity, excelling in building and leading top-performing teams that deliver innovative products in fast-paced environments.
As Director of Infrastructure Ecosystem and Partnerships at Meta, Jani has made significant contributions to the company's technology strategy and will use his panel discussion at Sustainability LIVE to propel how sustainability practices can be encompassed in the ever-growing data centre industry.
Meta's Path to net zero
Talking about the Open Compute Project, net zero carbon and circularity initiatives, along with other innovations Meta are implementing, Jani
Previously known as Facebook, Jani details how when Meta was formed in 2004 there was one core mission - to empower people to build communities and bring the world closer together.
"Today, Meta products allow over three billion people to exercise this power globally on a daily basis,"
In 2020, the brand achieved multiple firsts, he explained. "We achieved net zero operationally for the first time in our history," he said, proudly, "This was primarily due to offering renewable energy which powers all of our data centres."
Today, Meta owns around 10,000MW of renewable energy portfolio, one of the largest in the world, with 5,500MW in North America alone.
He also heavily advocated for using technology for carbon capture, highlighting Meta's key work toward its net zero goal, which is supporting carbon removal projects - starting with nature-based solutions - and investing in emerging technologies that will advance the industry.
"We want to use nature-based solutions which are also using innovative technologies. Those are the two critical elements in making our decision," he shared.
Adding that there are six other factors considered in other carbon capture projects, which Jani said is so Meta can "maintain biodiversity ecosystems and economics of the communities of the projects we implement."
To hear more insights from Jani's panel and other sessions at Sustainability LIVE, you can watch on demand via Sustainability Magazine's YouTube channel.
******
For more insights into the world of Mobile - check out the latest edition of Mobile Magazine and be sure to follow us on LinkedIn & Twitter.
Other magazines that may be of interest - Data Centre Magazine.
Please also check out our upcoming event - Cloud and 5G LIVE on October 11 and 12 2023.
******
BizClik is a global provider of B2B digital media platforms that cover Executive Communities for CEOs, CFOs, CMOs, Sustainability leaders, Procurement & Supply Chain leaders, Technology & AI leaders, Cyber leaders, FinTech & InsurTech leaders as well as covering industries such as Manufacturing, Mining, Energy, EV, Construction, Healthcare and Food.
BizClik – based in London, Dubai, and New York – offers services such as content creation, advertising & sponsorship solutions, webinars & events.