Risks vs rewards: the metaverse in the classroom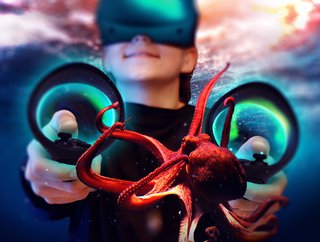 Mobile Magazine speaks to Nina Patel about mitigating the risks of the metaverse to create a safe, invaluable tool for educating future generations
Everywhere we turn, the future of the internet is in discussion. And with good reason. This is one of the biggest phases of digital change that we're experiencing since the invention of the internet itself.
But, before we revel in the power of the thing that we are about to create, we need to address the areas in which we failed previously.
One in three adults - who were children growing up on the internet - were asked to do something sexually explicit online that they were uncomfortable with, before they reached the age of 18.
If things don't change, our children will grow up using digital spheres where their safety and psychological well-being are not prioritised. And these dangers, both for adults and children, will take place when users are fully embodied, fully present and fully immersed in those digital environments.
We need to solve the mistakes that we made and introduce the protocols that we missed, before we allow them to reoccur on an infinitely larger scale.
Nina Patel is a psychotherapist and a doctoral researcher, investigating the psychological and physiological impact of social virtual environments.
Deploying this research, Patel is the Co-Founder and Director of Metaverse Research for Kabuni, a company that is creating a safe, responsible and educational metaverse for children aged 8-16. We spoke to Patel about the near future of the metaverse, the technology that Kabuni is developing to enhance our global education systems, and how we can bring about this futuristic vision in a safe, responsible way.
The rise of the third wave and the metaverse's emerging place in our daily lives
Back in October 2021, Meta rebranded and announced a multi-trillion dollar investment into the metaverse.
Approximately £120bn has been invested into the metaverse in the last five months alone. And, by 2030, the value of the metaverse is estimated to reach US$5tn.
There's no doubt about it – the metaverse is coming.
As Patel puts it, we are essentially back in 1995. No one could anticipate the way that the internet could change our lives, and the way it would permanently shift almost every element of our lives.
So, as we are on the cusp of a parallel wave, how can we prepare for the dawn of the metaverse? For Patel, it's our opportunity to learn from the past and improve upon the mistakes we made 30 years ago.
The next generation of history lessons
As a psychotherapist, a researcher, and a mother of four, Patel has a highly invested interest in the future of the metaverse and how it impacts our children.
Kabuni is using technological innovation to enhance education and implement creative innovation in pedagogy, while unlocking the imaginations of children in the classroom.
To achieve this, they use an evidence-based methodology across their creation process. To date, Kabuni has worked with 5,000 students and 250 educators, and has partnered with Harvard, Sanford and Oxford universities.
"We don't want to be another type of technology that's made by the tech people in their white tower, then planting it on real people, only to realise that it doesn't work in its real context."
"In these situations, the educator is left with 50 minutes to deliver a class, they have no extra resources, no capacity to troubleshoot this latest technology platform, never mind integrate it into the rest of their lesson planning while they're managing behaviour, dealing with challenging students, and so on."
"So, our approach is to design it with the educators, ask them what they need and try to solve it at the ground-level, as we iteratively design a metaverse that's specifically designed for education."
This way, "instead of the trickle down effect where, in the past, educators and students have been the last to be able to really benefit from the use of technology, we're trying to create and innovate specifically for the educator and the needs of the students around specific academic outcomes, around retention, engagement, speed, and health."
Kabuni has been designed to harness the power of the technology and deploy it within the curriculum – a capability that's available to every other industry, but not to the people who are educating the next generation.
"If we look at the academic research in terms of children and their specific learning needs, it isn't there and it hasn't been applied, let alone from a mass mainstream perspective."
"And the information certainly isn't there to help us understand specifically how we can empower the teacher to understand that child's specific learning needs as well."
"Our belief is that it's really undervalued from an investment perspective, from an innovative perspective and from a technology perspective – as an opportunity, the potential is there, it just hasn't been prioritised."
Cybersecurity in the metaverse – the same threats, taking on new dimensions
Patel explained that one of the primary reasons behind Kabuni's grassroots-level approach is the fact that the iterative design process of the technology will make it easier to create a safe application.
Collaboration is deployed in everything from the design of the content experiences, infrastructure and hardware, to the implementation of identity authentication, governance, and safety policies.
But it is the safety concerns that sit at the forefront of this technology's controversy.
Data usage is, for instance, a prime debate – particularly when we consider the sensitive nature of the data being gathered by VR technology. Alongside this, there are also the threats (which, again, are already a pressing concern) of trolling, cyber abuse, cyber attacks and assault.
Patel herself was sexually assaulted in the metaverse, when her avatar was groped by three male avatars. She has spoken about this publicly, in order to raise awareness about the topic, particularly amongst parents, educators or any other caregivers who will be managing children's interactions with the metaverse.
"We've allowed harassment and misogyny to exist in our online and digital spaces since 1995. We prioritise anonymity over accountability and safety, and we have to learn from our mistakes as we build out the future of the metaverse and other web 3.0 tools. It's essential that we prioritise the safety of our children, as the future of the metaverse integrates into their lives more and more."
"My question through all of this is what are the implications for this next generation of children, who will be growing up in the metaverse? Regulators and governments are still struggling to update laws to protect children for their online safety in the 2D world."
So, what is the solution? How can we successfully mitigate these threats, and limit them as much as possible?
For Patel, her goal is to advocate a call to action that sees the industry learn from the mistakes of the advent of the internet and its evolution.
"A successful vision of the metaverse is one that sees the metaverse and its components of technology coming together, integrated intentionally, intelligently, responsibly, and safely, and in trusted ways."
"I do believe that regulators and governments will come on board quicker than they did with the internet in considerations of policies, especially in the space of online digital harm for children, now that we are just starting to comprehend the long-term impact of social media and other platforms."
"So, let's take our time. Let's specifically innovate and invest in areas for children and the next generation so that their lives are integrated in safe, responsible, and elevating ways. And I think those doors are open to conversation."
"Of course, the question is always, where's the money, where's the capacity, where's the commercialisation? And that speaks to the ecosystem in which technology is being designed, around commercial revenue models that are constantly selling us things. And this time, we need to flip it around. Otherwise, we're going to do much more damage."
In essence, this topic boils down to one big question – should we ever open up the metaverse to children?
For Patel and many other metaverse pioneers like her, closing the metaverse off to children is a flawed, short-sighted solution. Instead, we need to design a metaverse that side-steps the usual profiteering routes and makes the technology accessible, but secure, safe and engineered to cater to these specific educational needs.
"Children have an amazing capacity to learn and grow on their own. If we limit them when it comes to technology, then we're really limiting their progress. It's going to be a disadvantage, and that digital gap will widen if we stop some children from accessing technologies, while others are allowed to engage with it and embrace it and run with it."
"There are the fundamental rights of a child, and one of them is participation. So, in terms of designing safe spaces – whether they're technology-based or not – we have to let our children participate, to understand what is safe and what isn't for them. And beyond that, so that they can grow, that they can make mistakes, they can push boundaries."
"It's not the technology's fault that we are in this situation, it's the system in which we created the technology. It's the commercialisation of it. It's the model in which we've allowed the manipulation of human psychology. That's the destructive aspect of it. Technology really had nothing to do with it."