Putting humans at the heart of workplace automation
By Balakrishna D. R (Bali), Senior Vice President at Infosys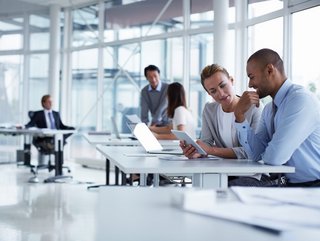 Balakrishna D. R (Bali), Senior Vice President at Infosys, outlines how automation is set to transform global workplaces
Automation is making waves in the way people work, pushing the limit of efficiency across industries. In a 2020 Mckinsey global survey, two-thirds of the senior executives confirmed their increased investment in automation or AI. While this indicates an unprecedented shift in businesses, it also raises the question of human employment. With 1.5 million jobs at risk of being replaced by automation in England alone even before the pandemic, many organisations recognize the need for establishing a hybrid workforce.
Automating the workplace
Machines have been replacing human labour since the 4th century BC with the invention of the wheel. In the modern digital era, technology can imitate not only physical labour but also human intelligence. While automation has stretched the boundaries of efficiency, it is not yet a replacement for human intelligence. The incident of bias detection in the AWS recruitment process has shown the importance of human involvement. Human intelligence possesses sophisticated dynamics such as intuition, emotion, and sensitivity, while machines are logical and accurate. To evolve further, we need a balanced fusion of both. While chatbots can collate large data to squeeze insights, only the friendly tone of a customer care executive can drive it home.
The blend of human & AI
During the pandemic, businesses widely adopted automation and process redesigning to reduce cost and mitigate risk. A new era of the human-machine paradigm has emerged. To ensure a smooth convergence of the hybrid workforce, merging the skill gap is the first step. In a global study by Deloitte, 68% of executives reported a moderate to extreme skill gap, for another 27% it is an extreme or major skill gap. It also means a tectonic shift in jobs with demand for technological, social, emotional, and higher cognitive skills taking the forefront.
Automating employees
Most European companies plan to address the skill mismatch by retraining while in the US, hiring is more popular. A four-pronged approach to address this will be Retraining, Redeployment, Hiring and Contracting.
Retraining- Employee reskilling is going to define the success of the future workforce, and organisations must invest heavily in enabling their employees in upcoming technologies and niche digital areas to enable them to work on challenging work areas.
Redeployment – With more skilled employees, organisations can remap their existing workforce, based on their skills and experience, to cater to new demands in new technology areas. This can be done by splitting up the tasks of a particular job and then regrouping the tasks in different ways, either by reworking business processes or by laterally moving the workforce by matching skill and demand.
Hiring - Widespread skill demand can outnumber the availability of skilled personnel. AI can be used to streamline the process of hiring employees who are trained in the desired skills, by bringing in intelligent matching criteria.
Contracting - Skills outside the current portfolio will also be a way to match staffing needs. Although it is only effective for non-core or short-term needs, freelancers, gig workers or contractors can instantly supply off-the-shelf talent.
Human at the heart
The populist narratives skew toward a dystopian future of job losses. But close to 97 million new jobs have been created as a result of wide scale adoption of automation and AI, while some 85 million job roles will be displaced by 2025 due to the division of labour between humans and machines (Future of jobs report-2020).
Proactively upskilling the workforce to close the digital skills gap will be the first step. Continuous learning to bridge the skill deficit is necessary to collaborate with intelligent systems.
Business leaders must leverage workplace insights for informed decision-making and avoid job loss due to automation. Businesses must deploy AI tools in areas where employees are spending time without generating much business value. Finally, it is essential to create a new hybrid workforce culture where technology and data are valued as an enabler for people. Where they empower employees to thrive in unpredictable working environments. Organisations are also bringing in measures such as cross-functional teams, mindset shifts, re-bundling work, and changing the hiring process by using intelligent bias-free systems built using AI and ML to address the hybrid workforce.
Researchers are also using technology to enhance human potential. MIT Lincoln laboratory is working on a technology to help employees manage their work-related stress by monitoring human performance from biomarkers. Assembly line automation mitigates risks due to fatigue and stress.
The pandemic has quickened the pace of automation in the workplace making it important to bring in a hybrid workforce to keep pace with the new normal. Experts believe this trend can add another 15.7 trillion dollars to the global economy by 2030. Businesses need to keep their human potential at the centre and bring innovative ways to reskill and realign them. The collaboration between humans and machines must be designed carefully to tap into the enormous potential of human intelligence and the agility of machines.