Perfect 10 for EE as provider holds top spot for full decade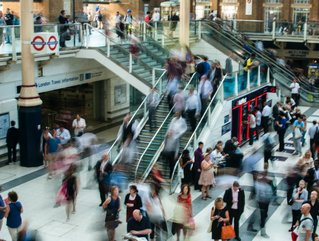 EE has come out on top as the best UK mobile provider, with testing by RootMetrics in real-life situations. Credit: Anna Dziubinska
EE has been named the best mobile network for the 10th year in a row, following independent testing conducted by network monitoring company RootMetrics
EE has retained the top spot as the UK's best mobile network for a record-breaking 10th consecutive year.
Independent testing was carried out by Ookla company RootMetrics, which included analysis of the consumer mobile experience. The firm conducted more than 538,000 tests across the country over the first six months of 2023, which covered 24,000 miles of roads to scrutinise network experience in real-life situations across a variety of scenarios.
A clean sweep
On top of this accolade, the network came out on top in every UK-wide performance award, meaning EE is the best mobile network for reliability, accessibility, speed, data, calls and texts. It outperformed all other networks across all four nations of the UK.
"The quality and reliability of mobile networks are now more important to more people than ever before," Marc Allera, CEO of EE, said. "To have been the UK's number one mobile network for a whole decade is testament to our approach of always putting network quality at the heart of our customer experience.
"We are at the start of a new chapter in the mobile industry, one which will see the new generation of EE evolve and provide more than just the connectivity we are famous for. It's fantastic to have the solid foundation of being the UK's best mobile network for ten consecutive years on which to build our exciting future."
The key to success
This year EE also ranked highly in other studies, with Expert Reviews also putting EE in the top spot as the best performing network.
Across the pond in the US, RootMetrics found AT&T leads in national and state testing, T-Mobile shows incredible speeds and holds the best 5G honours for the third straight time, and Verizon delivers strong results across the board with the best 5G reliability of any carrier.
"Mobile phone networks are now delivering a much more level playing field when it comes to 4G coverage across the UK. All the major mobile networks have achieved almost complete coverage, aside from very rural areas," Compare the Market Insurance Expert Holly Cox says.
In a 2022 discussion paper, Ofcom said: "Improved mobile services, together with the take-up of smartphones, have enabled the use of online services that touch many aspects of people's lives. We now see mobile devices being used for a wide range of purposes at home, work or school, as well as on the go, the majority of which rely on internet access."
The report adds: "Mobile services are particularly important for people who do not have access to Wi-Fi, especially the 1.5 million households that currently rely on mobile data as their only source of internet access at home.
"One of Ofcom's priorities is for people and businesses across the UK to have internet we can rely on. We prioritise promoting competitive markets to support investment in strong, secure networks, getting everyone connected, and delivering fairness for customers."
The outcomes it wishes to see include:
Investment in new technologies and strong, secure networks to meet the future needs of customers and the country
Widespread availability of reliable mobile services to keep people and businesses connected on the move wherever they live, work and travel
Quality, value for money and choice for customers to meet a variety of needs
Customers who are empowered to shop around with confidence, and can make well informed decisions, and switch easily
Support for customers who may be vulnerable, including those in financial difficulty
EE's speed - a breakdown
Across the UK, EE's median download speed of 65.1Mbps was established as being almost two times as fast as any other operator, and 400% faster than Virgin Media O2. The speeds of the other main operators across the region were 34.7Mbps for Three, Vodafone at 29.4Mbps and Virgin Media O2 with 15.5Mbps.
EE's 5G network was found to deliver download speeds above 100Mbps in 15 of the 18 cities RootMetrics highlighted in its study, with EE the only operator to achieve median download speeds above 50Mbps in every city.
Investing in innovation
EE has seen a rapid expansion of its 4G and 5G networks with more than 60,000 square miles of additional 4G coverage added throughout the UK since 2013. The carrier has also installed 1,350 new mobile masts, equating to one new mast every three days over the 10 year period.
With this, EE has also upgraded more than 1,400 more rural locations than all other operators combined under the Shared Rural Network (SRN). Its 5G connectivity is now available to more than 70% of the UK population and is on track to make 5G possible anywhere in the region by 2028.
******
For more insights into the world of Mobile - check out the latest edition of Mobile Magazine and be sure to follow us on LinkedIn & Twitter.
Other magazines that may be of interest - Data Centre Magazine.
Please also check out our upcoming event - Cloud and 5G LIVE on October 11 and 12 2023.
******
BizClik is a global provider of B2B digital media platforms that cover Executive Communities for CEOs, CFOs, CMOs, Sustainability leaders, Procurement & Supply Chain leaders, Technology & AI leaders, Cyber leaders, FinTech & InsurTech leaders as well as covering industries such as Manufacturing, Mining, Energy, EV, Construction, Healthcare and Food.
BizClik – based in London, Dubai, and New York – offers services such as content creation, advertising & sponsorship solutions, webinars & events.