Partnership launched to support Channel Islands connectivity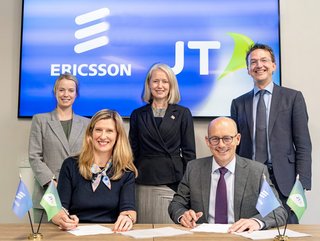 Executives at JT and Ericsson sign a contract to bring 5G to the Channel Islands. Credit: Ericsson
The next-generation network will utilise Ericsson's RAN, Transport and Cloud Core solutions giving Jersey Telecom customers access to enhanced connectivity
A 5G network is set to be up and running across The Channel Islands, according to the technology company Ericsson.
The archipelago in the English Channel, off the French coast of Normandy, is expected to have access to 5G by 2026. Nearby neighbours the United Kingdom officially had access to 5G in May 2019, and Bouygues Telecom initially launched 5G in 20 cities across France in December 2020.
The Swedish telecommunications company has been chosen to supply Jersey Telecom (JT) to support its ambition in a deal said to be worth in the ballpark of £80 million (US$102m).
Ericsson and JT's 5G venture a 'transformation and leap'
Work installing the new technology is due to start later on in 2023 ahead of the planned 2026 completion date.
JT CEO Daragh McDermott says Ericsson's involvement will help "provide the transformation and leap in technology now required to meet the future demands of businesses and consumers."
"We are delighted to be working with such a well-known and respected company," he said. "Communications technology never stands still, it's a rapidly changing environment but as with the roll out of fibre, we need to stay ahead of the game."
Katherine Ainley, CEO of Ericsson UK and Ireland, added that the network will deliver "leading connectivity" and "create a platform of innovation".
This rollout is also expected to advance the area's international and IoT capabilities.
Businesses in the group of British dependency islands are expected to benefit from the rollout, with improvements to voice quality on mobile calls, more bandwidth for mobile users and improved coverage promised by Ericsson as part of the project. The program will enable future 5G and technology ambitions in the Channel Islands to be met, it says.
No providers have successfully launched a 5G network in the Channel Island of Jersey, but JT and Sure Jersey have both had applications accepted by regulators to provide for 'Full Service' 5G spectrum packages.
This is not the first time Ericsson has partnered with other telecommunication brands to enhance 5G offerings worldwide. In India, Ericsson signed 5G network agreements with Bharti Airtel alongside Nokia and Samsung for deployment in 2022, as well as a contract to help Chilean operator Entel deploy its private 5G Standalone infrastructure across the country. It also carried out an insight report to gauge consumer opinions on 5G.