Mobile phones and the building e-waste mountain
By Charlie Steer-Stephenson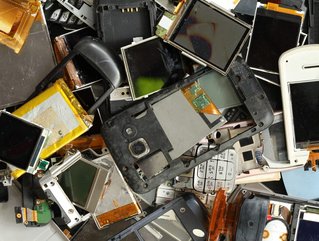 Addressing the world's e-waste is critical to the mobile sector, to ensure we improve sustainability standards and address the supply chain shortage
E-waste (or electronic waste) involves the discarding of anything with plugs, cords, or electronic components. Since these products usually contain hazardous materials, they can release toxic chemicals into the atmosphere when they aren't disposed of correctly. This (obviously) isn't great for the environment, especially considering the escalating scale of our current global waste crisis.
In 2021, the Waste Electronic and Electrical Equipment (WEEE) forum reported an estimated 57.4m tonnes of e-waste globally – that's heavier than the weight of the Great Wall of China. Clearly, the world is suffering from an ever-growing e-waste problem.
E-waste recycling is the re-use of electronic waste, meaning a second (or even a third) life for electronic parts. Most parts of electronics can be recycled - from plastic or metal casing to batteries and circuit boards. But in reality, under 20% of electrical items end up being properly recycled.
Even with government regulations in countries across the world, the majority of consumers choose to throw their broken or old electronic goods into the normal rubbish – a quicker and easier option than taking devices to a shop that can recycle them. A recent survey by the Royal Society of Chemistry revealed that, out of the 51% of UK households with at least one unused electronic device, 82% had no plans to recycle them. Nearly a third explained this was because they didn't know how, or where, to recycle unwanted electrical items.
"There are plenty of great solutions out there, but people are either not aware or they have had a bad experience with a process that may be too arduous for them. The trick is to make it effortless for the consumer to deal with. This will enable the volume to come back through the appropriate routes", says Sunny Ratnam, the Founder of the tech refurbishing company Nxt2Nu.
10% of e-waste comes from our mobile phones
According to Statistica, 6.64bn people across the world own a smartphone. That's 83.72% of the current human population - a 34.32% increase since 2016. If only 20% of these smartphones are recycled, many of the core materials used to produce them will run out in the next century. This will rapidly exacerbate the ongoing microchip shortage, which has affected both car and smartphone manufacturers in recent years.
"Fast mobile phone development has led to a market dependency on rapid replacement of older devices. Mobile devices affect the environment in many ways over their lifetimes, but the impact can be reduced and spread over a longer period by applying circular economy principles, including production control, device reuse, remanufacture and recycling, and improved circular design involving component material selection, standardisation and modularisation for easier disassembly", claimed the Global E-waste Monitor.
Since smartphones contribute to 10% of global e-waste, mobile phone companies are increasingly encouraging customers to hand in their unwanted items to be reprocessed. On top of this, right-to-repair advocates (like Apple Co-Founder Steve Wozniak) are calling for laws that require companies to provide repair manuals and parts for mobile phones so that consumers can fix products themselves.
US President Joe Biden recently took a global lead in responding to the right-to-repair movement by introducing new rules that prevent mobile phone companies from imposing restrictions on independent repair shops, making it much easier for consumers to have their electronic devices, including smartphones, fixed.
We all have a part to play - engaging consumers in mobile e-waste goals
"Alongside convenience, financial compensation, care for the environment, culture and social norms, awareness is one of the key motivators for people to take action on e-waste," says Magdalena Charytanowicz, the Manager of International E-Waste Day at the WEEE Forum.
"This is why on 14 October we hope to reach as many citizens worldwide as possible and urge the proper disposal of end-of-life electronics by encouraging campaigns and awareness activities such as e-waste collections, school lectures, and social media outreach. Even the smallest action promoting sound e-waste collection, repair, reuse or recycling is welcome in the frame of International E-Waste Day."
In the UK, refurbished tech companies like Nxt2Nu and Reboxed believe that public awareness is key to promoting the recycling and repairing movements. On the other hand, Chris Everitt, the Managing Director of ArmaFone, says manufacturers are the ones that need to take responsibility for ensuring their products end up being recycled.
"Tech giants cannot ignore the environmental movement; to do so could marginalise themselves," says Everitt.
Clearly, there are many strands to solving the smartphone contribution to the e-waste problem.