Micron starts production of world's first 232-layer NAND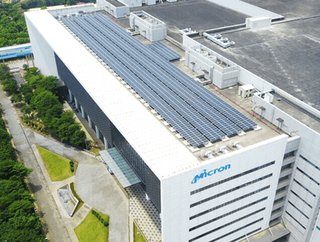 Micron Technology has announced the launch of volume production of its new 232-layer NAND - a high-speed, high-performance technology that's a world-first
Micron Technology has officially begun volume production of the world's first 232-layer NAND.
This technology will deliver the industry's highest areal density, and the highest TLC density per square millimetre ever produced, among numerous other impressive benefits.
The next wave of digital transformation and data storage solutions
This high-performance storage solution delivers higher capacity, enhanced capabilities and reduced energy consumption, over previous generations of Micron NAND.
"Micron's 232-layer NAND is a watershed moment for storage innovation as first proof of the capability to scale 3D NAND to more than 200 layers in production", commented Scott DeBoer, the Executive Vice President of Technology and Products at Micron.
"This groundbreaking technology required extensive innovation, including advanced process capabilities to create high aspect ratio structures, novel materials advancements and leading-edge design enhancements that build on our market-leading 176-layer NAND technology."
"Micron has sustained technology leadership with successive first-to-market advancements in NAND layer count that enable benefits like longer battery life and more compact storage for mobile devices, better performance in cloud computing, and faster training of AI models", added Sumit Sadana, Chief Business Officer at Micron.
"Our 232-layer NAND is the new foundation and standard for end-to-end storage innovation underpinning digital transformation across industries."
The data storage performance of Micron Technology's pioneering new solution
The 232-layer NAND is the world's first six-plane TLC production NAND. It offers the most planes per die of any TLC flash, and each plane has an independent read capability.
At 2.4 gigabytes per second (GB/s), this new technology node has achieved the fastest NAND I/O speed in the industry.
This represents a 50% faster data transfer than the fastest interface that was enabled on Micron's previous 176-layer node.
Alongside this, the 232-layer NAND also delivers a write bandwidth of up to 100% higher, and a read bandwidth per die that is more than 75% higher than the prior generation.
And, at 14.6 Gb/mm2, the technology has the highest TLC density per square millimetre ever produced.
Furthermore, Micron's 232-layer NAND is the first in production to enable NV-LPDDR4. This low-voltage interface delivers per-bit transfer savings of more than 30% (compared to prior I/O interfaces). As such, the 232-layer NAND solutions support mobile and data centre companies in their sustainability targets, who have to balance the dual challenges of improving performance while reducing their power consumption.
The 232-layer NAND is now under volume production, and Micron hopes that it will enable mobile companies to quickly achieve the low-latency and high-throughput requirements of AI, ML and cloud computing.