Juniper Networks - keeping cloud providers operational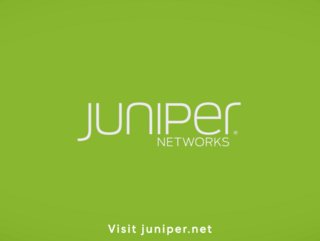 Juniper Networks on how it provides infrastructure to cloud providers, including the largest, hyperscale networks
Juniper Networks might just be one of the biggest companies you've never heard of. A US multinational corporation, Juniper offers networking products including routers, switches, network management software and security products and solutions.
Juniper's customers consist of service providers, enterprises, and cloud providers, including the largest hyperscale cloud providers, as part of their Cloud segment.
"Our customers are building clouds that serve businesses and the public globally," says Jason Fritch, Senior Vice President of Global Sales, Juniper Networks Cloud Segment. He adds that the company also provides "high-end, high-performance, high-scale networking solutions" that not only connect clients' data centres to one another, but also connect them directly to their end-users.
Fritch says most of Juniper's cloud customers design simplicity into their systems, so that they can scale them as quickly as possible. This Increases efficiencies throughout their infrastructure while keeping the network secure, customisable, and low-cost.
"They begin with the end in mind," he explains. "This is so that vendors like Juniper can design, build and deploy scalable networks that can be heavily and easily automated."
But it's not just what you build that counts, says Fritch, but how it integrates into the customer's operational model.
"Our solutions perform specific functions for customers," he says. "Such as how they transmit between their data centres, and how they move data around the world, to make it available to everybody."
Juniper also provides the means for its cloud customers to manage the back-end of networks, where they can make remote changes.
"We provide that type of capability," says Fritch. "Tens of thousands of products and hardware components are required from us to do this at planet scale, like we do for some of our global cloud clients."
Such vast quantities of components and products demand a great deal of both Juniper's supply chain and the man who oversees it:
Mitch Haynes, Supply Chain Planning & Fulfillment VP at Juniper.
"What's super important is our ability to scale-up with a customer. We have to physically produce all of the hardware that makes that possible."
This requires an ecosystem of partners, says Haynes: "There are the customers, and the operation of their data centres, and then there are our manufacturing partners, and their suppliers."
All of which must work in harmony, which is what Haynes and his team specialise in doing.
"We are the ones who synthesise all the information, both forward from where the customer is deploying, all the way back to the folks in the chip-wafer manufacturing facilities."
It's a difficult job at the best of times, but over the past two, pandemic-hit, years, it has been inordinately challenging - which is when Juniper's strong relationship with their customers came into its own.
"We work with customers so that together we can make the best operational decision we can at any given point in time," says Haynes. "That might be whether to place a new order for a product earlier than we typically would, or looking at a design or use-case and making early-stage decisions on future engineering."
Fritch and Haynes, and their teams, help ensure that many of the largest hyperscale networks on the planet are operational at all times.