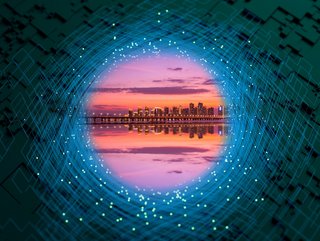 Although the 5G hype is only just beginning, there's even more to anticipate from the dawn of 6G and its wealth of futuristic, network-enabled technologies
According to predictions from the University of Sydney, we could see 6G achieve speeds that are up to 100 times faster than 5G – even reaching speeds of 1tb-per-second. But, while network speeds will, naturally, improve markedly with the deployment of 6G, this new era of connectivity also promises to usher in a wealth of new technologies.
"New technology evolves by leveraging learning from the previous generation of the device or infrastructure, setting additional expectations for future iterations and use cases," explains Manish Vyas, the President of Communications Business and CEO of Network Services at Tech Mahindra.
What can we expect 6G to look like?
Although there are no guarantees for what exactly 6G will be able to achieve, we can use our knowledge of previous network evolutions to create reliable guesses.
"It's hard to predict what 6G will look like, but from our learnings of 5G and open-RAN networks, we know 6G is going to be AI-based, super intelligent, and fully integrated, with ultra-low latency systems and large ecosystems utilising open interfaces," outlines Vyas.
"AI will be an important service and application in 6G. As mobile networks become complex, larger and multi-vendor, optimisation tasks become harder and often impossible to envision as 'rules'," adds Shamik Mishra, CTO of Connectivity at Capgemini Engineering. "6G will leverage AI/ML at scale for better radio/network design, improved network management, orchestration and resource management."
Then, alongside the opportunities to deploy new technologies, 6G's neural network capability can create entirely new connectivity solutions, the likes of which we've never seen before.
"6G will go beyond communications by creating a distributed neural network with the ability to integrate physical, biological and cyber systems," explains Victor Holmin, Director of Discovery and Innovation at World Wide Technology.
"This will be done through establishing a bridge between cognitive computing, communications and sensing technologies. 6G will mark the beginning of a new era: the Internet of Behaviours and Intelligence of Everything."
Through these network capabilities, near real-time detection of moving objects, robots, autonomous mobile devices, immersive digital twins and more will become mainstream.
"6G will allow new and exciting possibilities in the future, including holographic communications, a tactile internet, intelligent network operations, networking and computing convergence," Vyas adds.
How will the world's industries benefit from 6G?
This new wave of edge computing and AI-driven applications, coupled with the sensor network and increase of connectivity speeds, will enable a wide variety of new intelligent industry use cases.
If the predictions above become a reality, the deployment of 6G has the potential to dramatically increase capabilities, across the full spectrum of global industries.
For instance, if we take the broader example of the world's office environments, 6G's rapid speeds and new technologies could completely transform the way that teams collaborate.
"With 6G supporting virtual environments and haptic technology, the virtual world will be closer to the in-person experience than ever before. It could be possible to no longer need to spend time commuting into the office, as the office could virtually come to us in a matter of seconds through VR and AR applications. Virtual meetings would feel almost as real as in-person ones without us having to leave our home," explains Holmin.
In the same vein, these capabilities also offer a wealth of opportunities to the events industry.
"6G may even support realistic 'teleportation', bringing people to completely different places. A Wimbledon tennis match could be 'teleported' to Trafalgar Square with fans watching it live from central London," Holmin predicts.
After the rapid shifts that the pandemic necessitated, it's hardly surprising that remote-working technologies continue to be such trending topics. And, even with the next wave of 5G, the remote solutions remain a key industry priority.
But, thanks to the new powers achieved by 6G, this virtual connectivity could extend even further, reaching previously unattainable industries like healthcare and manufacturing.
According to Holmin, 6G could push these existing trends even further and industrialise entirely new activities, like performing surgeries remotely.
"The added capacity of 6G has the potential to give workers the ability to control and interact with industrial machinery in real time from the safety of their home office. Haptic sensory suits, fuelled by the ease of quickly moving data across the network, could allow workers to maintain full control from the safety of a desk through a controller and headset while still communicating with colleagues."
In fact, the potential capabilities are so advanced that, if we could create devices with brain-machine interfaces, thoughts and sensations would be possible to share in real time, and the so-called 'Internet of Behaviour' would become a reality.
"With 6G, the network itself will no longer be a constraint but instead ensure that almost any use case can be easily deployed. With a network as flexible as 6G is set to be, service providers will need to be flexible themselves, working collaboratively across the telecoms ecosystem and with customers to deliver solutions," Holmin envisions.
How will 6G support the world's sustainability drive?
While sustainability might not have been set as a priority in the deployment of 3G or 4G, in the years since, it has become absolutely paramount. Not only does 6G need to be made and used sustainably, but one of the core goals for this new network is that it will be able to assist us in achieving the global UN sustainability targets.
"6G networks will deliver infrastructure which is highly capable of supporting sustainable industrial use cases, intelligent decision-making, and fast and efficient digitalisation," Vyas predicts.
"6G is expected to have sustainability as its prime focus, using features and functionalities such as energy-aware resource scheduling, the widespread use of AI, MEC, cloud and blockchain technologies, and several other emerging technologies that can be leveraged to promote sustainability across different industry verticals."
In these ways, there are almost endless possibilities for the ways in which 6G can enhance the energy efficiency of our cities, businesses and technologies.
"Firstly, 6G introduces the ability to do wireless power transfers, giving rise to zero-energy IoT endpoints, radically reducing the power requirements for the billions of sensors deployed," explains Ian Goetz, Global Lead for RAN Systems Architect 5G at Dell Technologies.
Then, there's 6G's introduction of intelligent reflective surfaces.
"When mounted on walls or street infrastructure, these can allow a city or suburb to become software that's defined in terms of interference patterns, reducing the number of transmitters that require energy and power," Goetz outlines.
In fact, with the advent of 6G, the world's operators are aiming to create zero-carbon-footprint networks, where every aspect has been streamlined to completely minimise emissions.
For instance, "not only will 6G enable lower costs per bit and faster connectivity, but it will also analyse collected data to turn off components and scale down capacity when the demand is low," explains Volker Ziegler, Senior Technology Advisor and Chief Architect at Nokia.
"That is why we look at 6G sustainability through two lenses: first, the sustainability of the 6G network infrastructure; and, second, the sustainability impact of the 6G network platform serving all industries, enterprises and consumers alike."