Hybrid cloud and the challenges of managing multi-cloud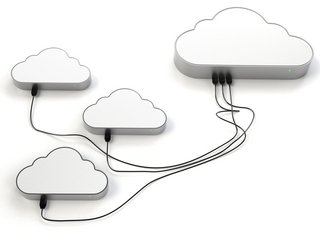 As the storage location for 60% of the world's corporate data, the cloud's present challenges and future evolution are topics that we're all invested in
When it comes to global cloud migration, rapid is a bit of an understatement.
In 2020, fuelled by the pandemic and rapid shift to remote working, 61% of businesses moved their workloads onto the cloud. Today, the number of enterprises using cloud services has reached 94%.
Now, more than 3.6 billion people across the world use the cloud, with 60% of all corporate data being stored there.
And this growth rate? It's only set to continue.
So, in order to meet the world's burgeoning data demands, the cloud continues to evolve – it has to. In light of multi-cloud promising to be the next big phase for business cloud migration, we explore the risks, rewards and competitive edge that this data solution represents.
The next phase of the hybrid cloud evolution
The global cloud computing market has a predicted 16.3% CAGR through to 2026, where the market is set to reach $947.3bn by 2026. And, in just five years, the market size has risen by more than half a billion USD.
"As cloud migration continues, becoming more essential to business strategy and agility, we only expect to see more companies making the switch," comments Jon Lucas, the Director of Hyve Managed Hosting.
"Forward-thinking teams will continue to recognise that, with the right management, they can reap the extensive flexibility, affordability, scalability, and security benefits of a bespoke hybrid cloud solution that suits their business needs, while eliminating the shortcomings of only leveraging public cloud environments."
The hybrid cloud is expanding and evolving exponentially, fuelled by this rapidly increasing global demand.
And, by combining the benefits of public and private networks, the hybrid cloud gives you the best of both worlds. The technology offers a flexible, dependable and quick solution to a whole host of business concerns, including reducing the cost of infrastructure management, improving data security and successfully managing demand surges.
Security, in particular, is one of the prime benefits of the hybrid cloud. After all, for businesses, online security encompasses everything from data compliance to website uptime, brand reputation to minimising financial loss.
"It's incredible, the complications that security can make to a company right now. And, as companies become more and more digital, the impact is greater," adds Leonardo Coca, the B2B Business Director at Telecom Argentina.
The growth of multi-cloud environments – the next step in cloud evolution?
The multi-cloud represents the natural next step in the future of our data storage. In fact, the public cloud service market achieved an 18.4% year-on-year growth in 2021.
"Recent years have seen an exponential rise in the adoption of a multi-cloud approach to cloud storage, as companies worldwide are noting the benefits. It has become evident that, in many cases, relying on a single cloud infrastructure provider for all applications and workloads is no longer a viable option for enterprises," advises Massimo Bandinelli, the Enterprise Marketing Manager at Aruba.
"When it comes to BI and Advanced Analytics, two or more clouds are often stronger than one. But that wasn't always the case. Initially, the rise of cloud – and the resulting data explosion – forced organisations to store data across an array of disparate platforms and warehouses, spreading workloads and increasing costs," corroborated Mark Balkenende, the Vice President of Product Marketing at Matillion.
"That reality prompted the emergence of multi-cloud, which promised greater flexibility, security and business resiliency to enterprises. Now, we're at the stage where organisations grappling with the volume and variety of data need that custom cloud architecture, so they can execute against data in a more agile way."
The two main reasons why companies would want to use a multi-cloud is to either replicate the same workload across multiple clouds, or to split the workload across multiple clouds.
If your users are located across the world, then replicating your workload across multiple, strategically-chosen cloud providers means you can optimise your geographical outreach.
Plus, there's also the issue again of depending too much on one single provider. Many companies are reluctant to do this, in case the cloud company goes bust, crashes, or experiences some other major issue, causing their systems to be lost completely. If you have multiple cloud platforms, this risk is mitigated.
Multi-cloud – the pros, the cons, and the management challenges
Without a doubt, the benefits of multi-cloud environments are many and counting.
For many businesses, multi-cloud strategies allow greater flexibility, increased efficiency and agility, and improves their scalability.
Security is one of the other most commonly quoted multi-cloud benefits. It's important to note, however, that high security isn't always a given.
In fact, although access to the cloud is the basic security measure that the cloud providers give you, "it's not the most important".
"People think that, once you have the two-factor authentication and everything secure to access to the cloud and the configuration, that's done. And that's a huge mistake. In fact, 85% of security breaches came from problems with the configuration of the application," states Coca.
So, "to ensure maximum data protection and privacy across your multi-cloud environment, it's important to always have data backed up off-site", Bandinelli advises.
"One of the most long-standing practices for on-premises data protection is the 3-2-1 model. With this method, keeping three copies of data is recommended: two on devices and one offsite. The advantage of having a 'live backup' is that it updates automatically and can be restored in minutes when disaster strikes. It's equally as important to have a 'cold backup' – an offline backup that is separated from your live systems, and is therefore tamper-proof."
In fact, Bandinalle adss that, "at the moment, enterprise companies tend to rely on an average of five cloud providers to offer their services and reduce their dependence on a single provider".
"As with all technology, hybrid cloud is not without its challenges," Lucas adds. However, Lucas also reassuringly follows that up by noting that the challenges are by no means insurmountable, with such issues "easily overcome by those with hybrid cloud expertise".
But, one of the key challenges is precisely that: there simply aren't enough people in the industry with hybrid cloud experience.
According to Coca, the so-called 'knowledge race' means that "it's very, very difficult for companies to be up to date on this". He adds: "It's difficult to get the talent, and it's difficult to keep the talent in your company."
If you're a company that is not specialised in this field, it's very challenging to keep pace with the technology. So, employee training and talent retention are made even more critical by multi-cloud environments.
Another key challenge to managing a multi-cloud set-up is the sheer extent of the technological organisation involved.
"Organising data, platforms, and applications across various locations, including on-premise data centres and multiple clouds, creates a complex challenge," Bandinelli warns.
"Diversifying your cloud vendor portfolio promises greater flexibility in pricing or storage needs, but often results in vendor lock-in due to poorly managed interoperability between providers," Balkenende furthers.
When you're dealing with this many technologies, service providers and digital processes, one of the main challenges of a multi-cloud can actually be its multi-service nature.
According to Balkenende, the solution lies in planning a clear strategy for blending the cloud solutions, in order to keep implementation as smooth as possible.
"Multi-cloud architectures are like puzzles, and data leaders need to devise and manage a solid underlying strategy to solve them."
"While each one is unique to its business, a unifying data-management layer should be the one constant across all, ensuring the secure passage of data across warehouses, platforms and regions, and increasing data teams' productivity and efficiency. When part of a robust data strategy across the organisation, they also help companies extract more value from their data and make more informed decisions – the ultimate silver lining sought, whether from one cloud or many."