How smart cities are set to transform the events sector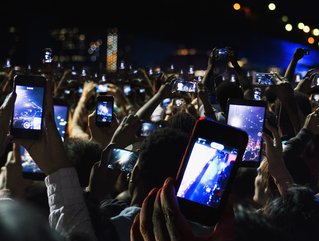 We explore how the advent of smart cities – and the technologies that they unlock – are set to transform the way we enjoy events
The rise of the smart city is far from a mere science fiction plot or a think-tank notion. It's feasible, fast approaching, and set to completely revolutionise the operations of almost every industry.
"Smart cities are no longer a hypothetical concept – over 100 cities in the world have already implemented initiatives that warrant them as smart in some way or another," explains Amr Houssein, the Managing Director of Mobilise.
Technology has the power to dramatically reduce our usage of energy, water and other key resources. As such, the rise of smart cities has largely been driven by targets to balance quality of living with more sustainable, future-proof solutions.
"A growing urban population with mass migration to urban areas means that, to handle the influx of people, cities must be well-oiled machines powered by carefully selected processes," Houssein outlines.
Within a smart city, 5G and IoT technologies will be used by the full spectrum of industries to provide a more sophisticated, reactive, flexible and interconnected service.
"On a citywide scale, these technologies mean things like smart energy grids and intelligent traffic management systems, but also smart homes, too," Houssein adds.
So, what could our sporting events look like in a smart city?
Connectivity across a city
The advent of 5G has made a huge variety of new IoT-enabled technologies possible. These, when linked, can achieve an entirely interconnected network, at a level of sophistication that has never been seen before.
"The backbone of a smart city, and any smart device, is Internet of Things (IoT) technology. From a telecoms perspective, it really is that perfect combination of IoT's connectivity and 5G's rich capacity of capabilities that have enabled automated systems and flows to be built across cities," Houssein explains.
The capabilities of IoT present exceptional opportunities for almost all industries, but events is one of the sectors set to undergo the greatest transformation amid the rise of smart cities.
This new level of interconnectivity represents a huge potential for event organisers. They can use these futuristic technologies to create an exceptional visitor experience, thereby preserving the value of in-person attendance in the face of ever-improving online streaming.
"Smart cities are all about using data and technology to drive efficiencies across city environments. As such, they have a key role to play in the future of the events sector," predicts Daz Ahmed, the Regional Director UK&I at Extreme Networks.
"According to a PwC survey, 70% of sports leaders see gamification and connected technology as the greatest opportunity for physical sport. Technologies such as IoT, AI, and virtual reality – enabled by modern WiFi network capabilities – will therefore become bigger parts of the in-stadium offering," Ahmed explains.
"This will open the door to immersive experiences that fans can't get from watching the game at home, creating a compelling reason for fans to keep buying tickets to see their favourite team."
Improving the efficiency, flexibility and elegance of event organisation
Then, alongside enhancing visitor experiences, these technologies will also give organisers a much greater level of data-driven insights, into a wealth of key metrics.
"Analytics will deliver deeper insights around fan behaviours, allowing operations teams to monitor and control network traffic in real-time. This will make it easier to quickly troubleshoot and resolve any issues so that the fan experience isn't impacted," Ahmed explains.
A key area that is set to be transformed by smart city connectivity is transportation. And, once implemented, these smart transport systems will seamlessly address some of events' biggest pain points.
"Almost everyone has experienced times when public transport has been overwhelmed or roads have become gridlocked around high-profile events. Smart cities will help minimise this disruption. For example, intelligent transportation networks can ease congestion through advanced traffic light systems and tube sensors that identify carriage capacities. Or smart parking solutions can make it easier for drivers to find free spaces and pay through apps," Ahmed explains.
"The data and connectivity offered by smart city infrastructure will offer a lot of opportunities for event organisers to improve attendee experiences and minimise disruptions for the surrounding area; it will just be a matter of taking advantage of them."
Uniting smart homes, smart devices and smart experiences
When predicting the value of our future smart cities, you could take the macro view of global industries and the operations of huge enterprises, or you could zoom in, and assess the impact that this technology will have on individual people.
This is where smart homes and smart devices come in, and where we begin to understand how smart city technology will shape residents' day-to-day lives.
"Looking into the future, smart homes will become more sophisticated than the existing technologies – like smart meters – that are already found in most developed nations. There will be a shift in how we view smart devices – they will no longer just be nice-to-have add-ons, but integrated elements of a home," Houssein explains.
"Rather than a collection of unconnected smart devices, homes in the smart cities of the future will use IoT to become an interconnected ecosystem that seeks to improve efficiency, reduce running costs, and make life easier and more comfortable for residents."
Smart devices aren't designed to just work in silo. In large venues, like stadiums, 5G can be coupled with next-generation WiFi technologies to enable superior in-venue experiences, while unlocking significant capacity and new performance capabilities.
"For example, WiFi solutions give stadiums the bandwidth to better support connected fan devices, while also increasing the use of fan-facing technologies such as mobile ticketing or cashless transactions," Ahmed outlines.
"At the same time, these wireless networks can deliver deeper insights about collective fan preferences and ways to improve operational efficiencies. Network analytics can be used to uncover patterns around things like app usage in the stadium, foot traffic and potential congestion spots – all helping to improve fan safety, optimise efficiencies, and deliver a memorable fan experience."
And the experiences that these technologies unlock are only set to get more elaborate.
"Professional sports organisations are increasingly extending their reach and offering fans more experiences outside of the walls of the stadium, and this will only continue as smart cities build the infrastructure necessary to offer more digital fan engagements," Ahmed asserts.
"Stadiums are already offering more connectivity in parking lots and outdoor spaces, enabling fans to get connected and share tailgating experiences or use the stadium app to make a game plan for getting from their favourite concession stand to their seats. This also creates new opportunities for public safety officials who are looking at how technologies can be leveraged to provide visibility and information into crowded events."
And then, from there, the full power of smart cities' interconnectivity can be realised, with fans engaged by the events' providers throughout the surrounding areas, such as restaurants or retail spaces.
In short, the technologies of future smart cities present almost limitless potential and, if events teams remain creative and flexible, there is no end to the opportunities for the sector to tap into.