Flexential CIO joins 5G Leaders Forum at Cloud & 5G LIVE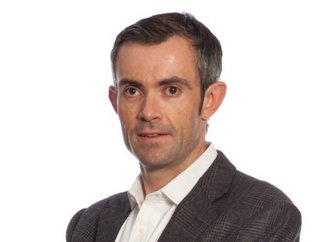 Flexential's CIO Jason Carolan. Credit: Flexential
Jason Carolan, CIO at Flexential, will join The 5G Leaders Forum as a panellist at Cloud & 5G LIVE in two weeks' time
A recognised thought leader and industry expert in distributed computing, network systems and cloud computing is the latest to be announced as joining the esteemed Cloud & 5G LIVE line up.
Jason Carolan, CIO at Flexential, has more than 25 years of experience in leadership positions in IT, system architecture, software development, and technical sales and support.

He will join Ravi Kumar Palepu, SVP, Global Head of TMT Solutions & 5G at Virtusa, for The 5G Leaders Forum at 3:20pm BST on 11 October. The final speaker making up the panel is still yet to be revealed.
With less than two weeks to go to the highly anticipated event, more industry leaders are set to join the Cloud & 5G LIVE line up - forming panels and leading keynote and fireside chats.
You can get your FREE ticket here.
Who is Flexential's CIO Jason Carolan?
Carolan leads Flexential's customer-driven innovation and advisory programs office, providing leading insights to product and technology evolution. Operationally, Carolan leads Flexential's IT and security teams, enabling new products and services. He and his team are responsible for developing insights on what's on the horizon to further position the company to empower enterprise's hybrid IT journeys.

He joined the company in 2011 and has held various roles in product, operations and technical management. Previous positions include CTO and Chief Cloud Officer, VP Product Development & Engineering and IT Leader.
Carolan has more than 25 years of experience in leadership positions in product architecture, software engineering, technical sales and support across a variety of companies, including the likes of Sun Microsystems - which was acquired by Oracle in 2010 - VMware and the Mayo Clinic. During his time at Sun, Carolan was honoured as a Distinguished Engineer. He is also a Member of the Forbes Technology Council.
Alongside his leadership roles, Carolan was the lead author of 'Building N1 Grid Solutions', one of the first books highlighting the combined use of virtualisation and automation. He also has several patents in networking, data centre resource management, virtualisation and security.
Carolan at Data Centre LIVE
A seasoned speaker, Carolan featured at sister title Data Centre Magazine's Data Centre LIVE 2023 back in June. He led a fireside session to show how organisations can harness the power of hybrid IT to achieve greater agility, flexibility and efficiency, and learn about the critical role that data centres play in enabling this transformation.

His session, Empowering the Hybrid IT Journey, zoned in on how organisations can harness the power of hybrid IT to achieve greater agility, flexibility and efficiency.

"It's about helping companies find the best optimal solution for their various IT workloads and dealing with different aspects like security, integration, development, resiliency, all the things that we've come to care about here in the last four or five years of really being a network focused economy and really a network focused world," Carolan opened his keynote with.
He also highlighted the importance of sustainability, with Flexential one of the first to announce a green bond offering which requires electricity and water to be used in a specific way to ensure the highest levels of efficiency.
"We have a whole team really focused on the ESG journey and how sustainability plays an important role in advancing workloads," he added.
At the close of his appearance, Carolan fielded questions on the subjects of the rise in AI applications and the impact on the data centre industry and how hybrid setups could be more heavily cloud focused moving forward.
To watch any of the other speakers from Data Centre LIVE on demand, click here.
What to expect at Cloud & 5G LIVE
Coming to you this October, Cloud & 5G LIVE makes a triumphant return - this time as an exclusive two-day virtual event for industry leaders.
Join Cloud & 5G LIVE on 11 and 12 October as the brightest minds in Telco, Cloud, 5G, AI, and Sustainability grace the stage.
With more than 1,000 attendees expected to beam in from around the world for the virtual event, Cloud & 5G LIVE presents a unique opportunity for knowledge sharing, learning, and networking with industry professionals from all corners of the globe.
The conference, streamed via Brella, will feature engaging keynote speeches, panel discussions and live Q&A sessions with industry experts.
Throughout the event, attendees will have the opportunity to network with inspiring and motivational leaders from the world's largest companies, forge new business connections with potential future partners, seek collaboration opportunities and gain personal and professional development through the range of workshops and speaker sessions.
Cloud & 5G LIVE started as a stage at Tech LIVE 2022, live from Tobacco Dock in London. But this year's instalment marks the first fully-virtual incarnation of the event.
Five themes will guide attendees through this year's bumper two-day event: The Future of Cloud Computing, The Future of 5G, Women in Cloud & 5G, Cloud & Infrastructure, 5G Network Transformation.
Day one will cover the vast and ever-evolving subject of 5G, followed by cloud and sustainability across day two.
More information will be available at Mobile Magazine and Cloud & 5G LIVE in the run up to the event.
******
For more insights into the world of Mobile - check out the latest edition of Mobile Magazine and be sure to follow us on LinkedIn & Twitter.
Other magazines that may be of interest - Data Centre Magazine.
Please also check out our upcoming event - Cloud and 5G LIVE on October 11 and 12 2023.
******
BizClik is a global provider of B2B digital media platforms that cover Executive Communities for CEOs, CFOs, CMOs, Sustainability leaders, Procurement & Supply Chain leaders, Technology & AI leaders, Cyber leaders, FinTech & InsurTech leaders as well as covering industries such as Manufacturing, Mining, Energy, EV, Construction, Healthcare and Food.
BizClik – based in London, Dubai, and New York – offers services such as content creation, advertising & sponsorship solutions, webinars & events.