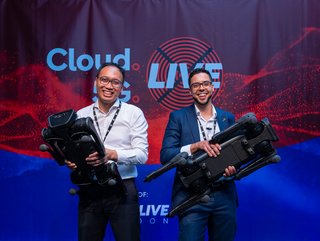 Cloud & 5G LIVE returns
Mobile Magazine looks ahead to Cloud & 5G LIVE next month - two days of fully immersive topics and discussions with a stellar line-up of industry leaders
The countdown is well and truly on. The time is almost here. Cloud & 5G will be coming to you LIVE next month across two days, bringing a whole host of industry content to your screens wherever you are in the world.
On 11 and 12 October, leading experts in telco, cloud, 5G, AI and sustainability will take to the stage for exclusive keynote speeches, engaging panels and dynamic fireside discussions.
As well as knowledge sharing and learning from execs at the top of the game in real time, the showcase will also offer the opportunity to network with industry professionals worldwide.
What to expect from Cloud & 5G LIVE
With this instalment being a fully virtual affair, Cloud & 5G LIVE will be streamed directly to you via the virtual events platform Brella - giving you complete access to all conference stages, attendee lists and sponsor booths.
Neil Perry, BizClik's Head of Multimedia and Editor in Chief of Procurement Magazine, will be hosting the virtual stages across the event.
"I'm really excited about the Cloud & 5G LIVE event, and it will be a real privilege to bring together some of the most influential voices in the sector on the same stage," he says. "With it being virtual, the discussions can reach a global audience of delegates and together we will explore the key issues facing the industry, and the key trends for the future.
"Our virtual event series has been a huge success so far across our wide range of leading brands, bringing together speakers and delegates from across the world. As the host, it is always fascinating to see the insightful questions that come in from our viewers to the studio, that make the experience truly interactive. What you can never forget though is the long term value of all the sessions we host, as there is always a vast audience watching and sharing key sections of the content after the event across their social networks."
Round up of Cloud & 5G LIVE 2022
This follows on from our Cloud & 5G stage as part of Tech LIVE 2022 at Tobacco Dock in London, where industry leaders such as Edwige Robinson, SVP, Central Region, Network Engineering, Operations & Transformation at T-Mobile, Belinda Finch, CIO at Three and Group CCO at BAI Communications (now Boldyn Networks) Andrew McGrath led conversations and facilitated in-depth discussions with people in both the physical venue and those tuning in across the globe.
Last year, day one saw us delve into roaming robotics, 5G connected forests, great advice on how to optimise and monetise 5G through software-as-a-service and how partnerships are crucial to protecting and building new network infrastructures. The following day, the focus shifted to commercial opportunities and the benefits to society that 5G can bring as it rolls out across sectors such as healthcare and automotive.
A lot has changed across the industry in the year since. And this time around, all of our offerings across the bumper two-day event will revolve around our five main themes - The Future of Cloud Computing, The Future of 5G, Cloud & Infrastructure, Network Transformation, and Women in Cloud & 5G.
The power of collaboration
BizClik Marketing & Partnership Manager Alice Page adds: "MWC Barcelona 2023 showed an immense level of innovation within the connectivity sphere, with telcos and wireless companies alike demonstrating some groundbreaking advancements, developments, and technologically advanced products - including a very real glimpse into the Metaverse. This year, our cloud & 5G event is taking place virtually, and is a place to speak and be heard.
"It's an important opportunity to foster meaningful discussions about the industry's direction, our potential, and the power of collaboration. Industry leaders are deeply committed to making a positive impact, forging a better-connected and sustainable world. This event gives them another platform to make that impact.
"Since we launched the Cloud & 5G LIVE stage at Tech LIVE London in 2022, we have been eagerly anticipating its return. This will be the ultimate time to collaborate, listen, learn, and innovate. We can't wait to see Mobile Magazine present the Cloud & 5G stage to a global audience once again and hope to engage with you all online."
Join global business leaders and experts at Cloud & 5G LIVE VIRTUAL on 11 and 12 October 2023. Register to attend today! Click here to learn more.