Spanish telecommunications company Cellnex appoints new CEO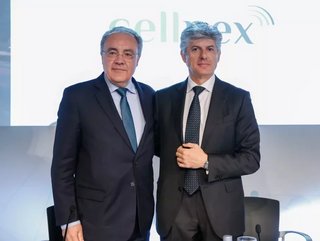 Tobias Martínez (left), the outgoing CEO of Cellnex, with Marco Patuano, who will succeed him in June
Marco Patuano replaces Tobias Martínez, the Founder of Cellnex, who announced earlier this year that he would be stepping down from his position as CEO
Marco Patuano has been named as the new CEO of Cellnex.
Patuano replaces the Spanish wireless telecommunications company's founder and chief executive Tobias Martínez.
Martínez will step down and leave Cellnex on 3 June 2023 after leading the firm for eight years and overseeing the successful expansion of the business to 12 markets across Europe. Patuano will kick off his three-year term the following day.

Patuano, who has a Master's Degree in Finance from Bocconi University in Milan, is currently Chairman of Italian utility firm A2A and Utilitalia, among other senior roles.
He has previous experience at Cellnex, serving as non-executive chairman in 2018, and is formerly CEO of TIM Italia and mobile operator Telecom Argentina.
"Cellnex is a great company with a bright future," Patuano said.

Cellnex Chairman pays tribute to outgoing CEO
Anne Bouverot, Chairman of Cellnex, said Patuano had been appointed following a thorough and comprehensive recruitment process.
"Marco is an experienced and respected leader with a deep understanding of the dynamics of the telecommunications sector and the European tower market," added Bouverot. "We are looking forward to supporting him as he takes on responsibility for delivering the next chapter of Cellnex.
"I would also like to take the opportunity to thank Tobias for his exceptional leadership and the decisive role he has played in building Europe's leading telecoms infrastructure provider.
"Marco and Tobias have committed to working together in the coming weeks to ensure a seamless transition."
Cellnex, an independent wireless telecommunications and broadcasting infrastructures operator, manages a portfolio of around 135,000 sites – including forecast roll-outs up to 2030 – in 12 European countries. Martínez has been the organisation's CEO since 2015.
Elsewhere at Cellnex, Óscar Fanjul and Dominique D'Hinnin are to join the board as independent directors subject to shareholder approval at the General Shareholders' Meeting on 1 June 2023.
Fanjul is currently a Vice Chairman of Ferrovial and a Director of Marsh McLennan, and has also been Vice Chairman of Omega Capital. He has extensive experience in managing large multinationals, developing a deep understanding of the business world in many countries across the globe.
D'Hinnin has been Chairman of the Board of Eutelsat Communications S.A. since November 2017 and has also acted as a member of the board since November 2016.