Best Sustainability LIVE sessions for telco & TMT leaders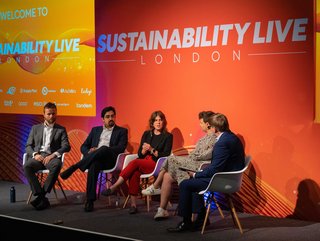 Sustainability LIVE London 2022
Leaders in the data centre industry are heading to Sustainability LIVE in London next week, including Schneider Electric and VIRTUS
The countdown is on to Sustainability LIVE – the two-day hybrid learning and networking event being held in London from 6-7 September 2023.
Now less than a week away, Sustainability LIVE is hosted by BizClik and Sustainability Magazine and is being held at London's Business Design Centre with more than 6,000 people already registered to attend, and more than 70 speakers set to feature across two conference stages.

The hybrid event will also be streamed live via Brella, meaning guests can beam in from across the globe and be part of Sustainability LIVE's virtual audience.
Sustainability LIVE 2023 highlights for data industry leaders
Stage 1: Microsoft's Sustainability Strategy
Speaker: Sean Jones, Chief Sustainability Officer at Microsoft
Date and time: 11:05am BST, 6 September

Highlighting how the American multinational technology corporation is meeting its sustainability targets, Microsoft's Sean Jones - armed with 25 years of industry experience in consumer goods and chemicals as well as digital transformation consulting - aims to enlighten Sustainability LIVE's in person and virtual audiences on Microsoft's ncorporation of sustainable practices, its efforts to reduce carbon footprint, and the promotion of renewable energy sources and empower other businesses on their green journey.

Jones' discussion will also touch upon collaborations with external organisations and the company's journey to become carbon-negative by 2030.

Stage 1: Sustainability efforts within Open Compute Project to drive the global data centre industry
Speaker: Dharmesh (DJ) Jani, Ecosystem & Partnership Lead at Meta
Date and time: 3:45pm BST, 6 September

An energetic and entrepreneurial leader with more than 20 years of industry experience, Jani is known for his strong work ethic and immense curiosity, excelling in building and leading top-performing teams that deliver innovative products in fast-paced environments. As Director of Infrastructure Ecosystem and Partnerships at Meta, Jani has made significant contributions to the company's technology strategy and will use his panel discussion at Sustainability LIVE to propel how sustainability practices can be encompassed in the ever-growing data centre industry.

Stage 1: Accelerating Sustainability & Decarbonization through the AWS Cloud
Speaker: Tobias Kederer, EMEA Head of Sustainability & Migrations/ Modernization at AWS
Date and time: 10am BST, 7 September

This keynote, led by AWS' Head of Sustainability Tobias Kederer, will display what Amazon and AWS are doing to fight the climate crisis and how the cloud can help businesses leverage capabilities and data to accelerate sustainability initiatives through innovation, sustainability expertise and proven use cases. Hoping to inspire individual sustainability journeys, Kederer - who works in accelerating the sustainability transformation of AWS customers through the use of data analytics, ML and AI - is sure to inspire.

Stage 1: Google's Sustainability Strategy
Speaker: Adam Elman, Head of Sustainability EMEA, Google
Date and time: 1pm BST, 7 September

As Head of Sustainability for Google Europe, Middle East and Africa, Adam Elman works at the meeting point of physical, digital and natural worlds. He coordinates with Google's real world and digital infrastructure teams - from real estate and supply chains, to data centres and products - to ensure the company is capitalising on opportunities to strategically advance sustainability.

He draws on more than 15 years of experience driving sustainability at organisations including Amazon and Marks & Spencer. In his keynote, Elman will highlight Google's sustainability strategy to inspire others on their journey towards a greener future.

Stage 2: The Circular Economy Forum
Speaker: Sarah Watt, VP Analyst at Gartner
Date and time: 11:10am BST, 7 September

Alongside the likes of Bidfood and Wilson James, Garter's Sarah Watt joins The Circular Economy Forum which explores a new economic model based on the principles of waste reduction, resource efficiency, and closed-loop systems. The circular approach seeks to eliminate waste and pollution by designing products and processes that are regenerative and restorative. The discussion will delve into the potential of the circular economy to foster sustainable development, reduce environmental impacts, and offer opportunities for innovation and job creation.

Watt empowers clients to turn sustainability strategies into action and focuses on climate change mitigation and adaptation, implementing the circular economy and responsible sourcing. Her contribution is set to empower leaders to unlock change through people, process and technologies.

Stage 1: The Future of Generative AI Forum
Speaker: Sandeep Chanda, Chief Sustainability Officer at Tech Mahindra
Date and time: 10:20am BST, 7 September

Sponsored by Schneider Electric, this panel discussion will explore the exciting possibilities offered by GenerativeAI in shaping a sustainable future. Sandeep Chanda will be joined by leaders from EY and Avande to discuss how Generative AI can drive innovation, enhance resource efficiency, and create personalised solutions across diverse sustainability domains. Chanda will bring valuable insights into ethical considerations and responsible deployment of Generative AI, inspiring us to forge a path towards a more sustainable world. At Tech Mahindra, Chanda utilises his more than 25 years of industry expertise to demonstrate how sustainability creates competitive advantages.

Under Chanda's leadership, Tech Mahindra has been recognised as the only company from India to receive the Terra Carta Seal during COP26, a Global IT Leader and achieved highest percentile score in Dow Jones Sustainability Index 2021 and 2022, and has been recognised in the Top 5% Organisations in the S&P Global Sustainability Yearbook 2023.

Stage 1: Powering the Future: Envisioning Sustainable Technology and Design
Speaker: Claire Thornewill, Digital Sustainability Lead at Cognizant Netcentric
Date and time: 2:50pm BST, 7 September

Sure to be a captivating conversation on sustainable technology and design, Powering the Future: Envisioning Sustainable Technology and Design allows the audience to explore how forward-thinking approaches are shaping the digital landscape and paving the way toward a more sustainable future. Claire Thornwill, part of the movement to green the internet by 2030 by optimising web performance and tracking the CO2e emissions per web page, promises to deliver insights into the role of technology in accelerating sustainability efforts and discover innovative strategies to reduce environmental impact.
******
For more insights into the world of Mobile - check out the latest edition of Mobile Magazine and be sure to follow us on LinkedIn & Twitter.
Other magazines that may be of interest - Data Centre Magazine.
Please also check out our upcoming event - Cloud and 5G LIVE on October 11 and 12 2023.
******
BizClik is a global provider of B2B digital media platforms that cover Executive Communities for CEOs, CFOs, CMOs, Sustainability leaders, Procurement & Supply Chain leaders, Technology & AI leaders, Cyber leaders, FinTech & InsurTech leaders as well as covering industries such as Manufacturing, Mining, Energy, EV, Construction, Healthcare and Food.
BizClik – based in London, Dubai, and New York – offers services such as content creation, advertising & sponsorship solutions, webinars & events.