Baseball team to provide greater wifi connectivity for fans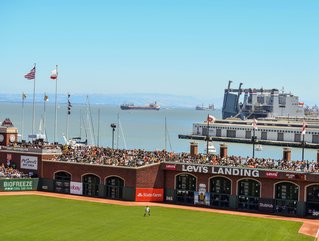 San Francisco Giants have partnered with Comcast Business and Extreme Networks
In a network first, Oracle Park has become the first 100% WiFi 6E-ready sports venue and hopes to greatly improve fan experience with better connectivity.
San Francisco Giants have partnered with Comcast Business and Extreme Networks to make Oracle Park the first 100% WiFi 6E-ready professional sports venue. Resulting in an improved experience for fans, benefits include fast mobile ticket entry and mobile concessions, paving the way for future developments such as AR/VR experiences and biometrics-based park entry.
The introduction of WiFi 6E includes optimised network efficiency at the stadium and the ability to enable devices to download and upload data from the internet faster with updated connectivity inside the venue. A transformed experience at the venue signals a tipping point to embracing a new and improved WiFi.
WiFi 6E is fast becoming industry standard
Comcast Corporation is a global media and technology company with two primary businesses: Comcast Cable and NBCUniversal. They are one of the largest video, high-speed internet and phone providers in the United States, providing services to both residential and commercial customers. Commended for both their innovation and fast-growing services, Oracle Park's new wireless network will be managed via a partnership with the ExtremeCloudIQ toolset. This will provide employees a single view into network performance across the park and enable them to detect anomalies before they cause issues.
Tweet from Talkin' Baseball
The installation at Oracle Park includes approximately 900 of Extreme's Wi-Fi 6E access points, managed via the ExtremeCloudIQ toolset, providing Comcast and the Giants a single view of the network performance across the entire park. Digital transformations like this ultimately reinforce the need for convergence between WiFi and cellular technologies. A 2022 Wireless Broadband Alliance industry report revealed that WiFi 6E has become the de facto industry standard, with 53% having already deployed the technology (as of October 2022). In addition, 44% of those surveyed for the report are planning to adopt WiFi 6E in the near future.
"It is so important for ballparks like Oracle Park to be adaptable," said Scott Cohen, Executive Director of Strategic Wireless Solutions, Comcast Business. "Fans attend Giants games for monumental moments and unforgettable experiences. Having a strong and adaptable network infrastructure is how these fans, and the vendors that serve them, achieve those unforgettable experiences. And, with these new network upgrades, the gameday experience at Oracle Park will be prepared for years to come."
"The Giants have laid the foundation for next-generation services like streaming and biometrics."
Additionally, ExtremeAnalytics will provide insight into network activity within Oracle Park to pinpoint network issues and help improve performance as a result. This includes the consideration of foot traffic, or determining if necessary to change resources around when the venue is busy. In being able to better understand fan behaviour and interests, Oracle Park will be able to influence or adapt their future commercial or marketing partnerships.
This adaptability means that as technology advances, the network can be adjusted without installing any new technology. An increased reliance on tech services makes it more necessary to ensure the need for a more robust service and easier to manage and with WiFi coverage throughout the venue, fans will be able to enjoy more connected experiences on social media and navigation. It also greatly benefits Oracle Park itself, as they can power e-tickets and adopt a more wireless infrastructure.
John Brams, Vice President of Strategic Accounts at Extreme Networks said, "The Giants are setting the bar of excellence when it comes to fan experience and overall operational efficiency. In this day and age, when fans come to the park, they expect the experience off the field to match what they see on the field. With the backbone of a high-bandwidth, high-performing, superhighway network, the Giants have laid the foundation for next-generation services like streaming and biometrics."
The installation is expected to be completed in April 2023.