Avado and BT Group launch new FastFutures DE&I programmes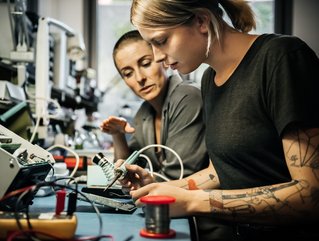 The FastFutures programme will foster the tech careers of 2,000 young adults, while helping companies improve DE&I standards and tackle the talent shortage
Avado and BT Group have announced a new series of FastFutures programmes, which will support 2,000 young adults from diverse and under-represented backgrounds.
The programme is designed to help them gain critical employment skills, so that they are ready to progress in the tech sector.
About FastFutures, and how it can address the mobile talent shortage
FastFutures, which launched in 2020, is launching a series of new programmes for this year.
These will focus on addressing the skills gap in AI and related technologies.
Other employers that are supporting the programmes include AstraZeneca, Agilisys, Barclays, British Airways, CBI, Contentive, Flutter, Health Education, Hive Learning, England NHS, Legal & General, London Stock Exchange, Modulr, Salary Finance, Shell, Standard Chartered, Syncona, Tate & Lyle and Trinnovo.
Recent reports have revealed that, while the AI industry has potential to boost the UK economy by as much as 10% of GDP by 2030, 63% companies are either experiencing or foresee a related skills gap in their business in the next two years.
"Organisations across the UK are facing huge challenges in recruiting young talent into data and digital. At BT Group, we want to help drive a digital talent movement to benefit not just ourselves but the whole of the UK," commented Adrian Joseph, Chief Data and AI Officer at the BT Group.
"We're proud to be the lead sponsor of FastFutures this year, and to have funded the development and delivery of the first boot camp, in data analytics. So, we're thrilled that the DfE has rewarded the commitment of these programmes to broadening the horizons of diverse young people, inspiring them, and providing practical support around careers in data and digital."
"FastFutures has gained fantastic momentum since its inception," added Natalie Pierre-Davis, Avado Delivery Director for FastFutures.
"Now with the support of BT Group and a growing pool of employer partners taking up the opportunity to sponsor and input into each boot camp's design, we have gone from strength to strength."