Amazon Alexa smart speaker can replicate voices of the dead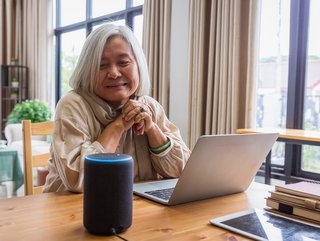 'Creepy' or life-changing? Amazon has revealed an in-development feature, which gives Alexa the power to replicate and recreate the voices of the deceased
At Amazon's annual Las Vegas MARS conference, Alexa unveiled a powerful new addition to her capabilities. In the very near future, Alexa will be able to replicate the voices of any human voice. This will, most controversially, include those of the deceased.
At the conference, a demo video was played, which showed a child sitting listening to Alexa play his deceased grandmother's voice, reading him a bedtime story.
After asking, "Alexa, can Grandma finish reading me the Wizard of Oz?", Alexa promptly responded "Ok", and changed seamlessly to the voice of the boy's grandmother.
Across social media, the prevailing response seems to be one of discomfort. Although the technology represents a phenomenal advancement in the powers of our virtual assistant, has this feature crossed the line?
What will Alexa's new development entail?
The feature is currently in development and, as of yet, Amazon has not revealed when (or if) it will be released to the public.
But, the feature's capabilities, and its potential real-world applications, were boldly demonstrated at the conference:
(See the demonstration video played at 1:02)


"While AI can't eliminate that pain of loss, it can definitely make their memories last," said Rohit Prasad, the Head Scientist for Alexa AI, who announced the update.
As was explained at the conference, Amazon said that Alexa has the power to fully imitate a human voice from just one minute of recorded audio. This means that users can play a video or a voice note that they have of a deceased relative, and Alexa can use it to replicate their voice.
Equally, this feature can also be used for other purposes, like replicating celebrities' voices, mimicking other family members and speaking as cartoon characters.
In fact, this technology is already commonly used by Amazon. Back in 2019, Amazon revealed that it could create computer-generated audio by replicating the voice of celebrities. After the individual's consent was granted, recordings could be turned into any other audio content, almost instantaneously.
Alongside this, AI voice replication is also widely used in film, TV, gaming and podcasting. For instance, if a guest speaker makes a mistake or if a snippet of sound is lost, imitated "audio deepfakes" can be used to fix the flaw, without requiring a complete re-record.
In terms of Amazon's in-test update, "The way we made it happen is by framing the problem as a voice conversion task and not a speech generation path," said Prasad.
"We are unquestionably living in the golden era of AI, where our dreams and science fictions are becoming a reality."
An ongoing debate - what are the boundaries for virtual assistants?
How exactly do we feel about devices and technology gaining a foothold in our most personal memories?
Amazon's announcement has sparked a huge debate, both within the industry and amongst ordinary users, about virtual technologies and their place in our lives. And, to an extent, this may well have been the impact that Amazon wanted this experimental feature to have.
And the consequent social media storm has seen countless people label the feature as 'creepy', 'ghoulish' or a 'monstrosity'.
But, on the flip side, the deeply personal example within Amazon's demonstration showed this technology's power to comfort, and ensure the memory of our loved ones lives on.
In the announcement Prasad spoke about how, particularly after the COVID-19 pandemic, "so many of us have lost someone we love."
"While AI can't eliminate that pain of loss, it can definitely make the memories last."
And this is by no means the first instance of this technology. Across the world, people are using AI (and even creating chatbots) that recreate the voice and character of a deceased loved one. This debate was initially brought to the forefront of popular culture in 2020, when Kanye West gave Kim Kardashian a hologram of her deceased father for her birthday.
However we feel about it, this announcement has revealed that our advancements in AI, VR and audio technology have made the scenario depicted in the demonstration a very real possibility.