Accessibility: start with progress, not perfection
By Kevin Lee, Chief Digital Officer, Consumer at BT Group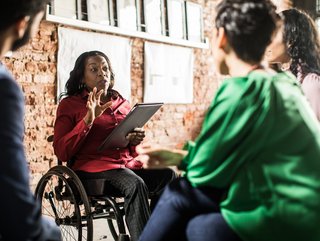 Kevin Lee, Chief Digital Officer, Consumer at BT Group, shares his insights into how technology can better support accessibility
We recently hosted a talk about how technology can better support accessibility – where the consensus was that devices and apps that many people take for granted, should be readily available for everyone - no matter their neurodiversity or disability.
A common thread of the discussion was that, as smart tech and digital tools incessantly innovate and change, so does the challenge to ensure functionality of apps and websites remains accessible and user-friendly to all.
It's a never-ending cycle and we must never rest on our laurels that we have mastered how to make digital solutions universally accessible. Those who work in this industry must regularly review and iterate how digital solutions, old and new, ensure nobody's user experience is left behind.
As digital design and engineering teams become more aware of the importance of accessibility than ever before, there still remain a number of challenges to overcome before accessibility is engrained into society's technology to the extent it should be.
Design standards are just a starting block
There are strong standards that are a great springboard that designers and engineers should include in any thinking about accessibility. The Web Content Accessibility Guidelines (WCAG) international standard explain how to make digital content more accessible to people with disabilities in cooperation with individuals and organisations around the world.
They provide a great starting point, but rather than a templated approach, leaders should encourage their teams to remain creative in their thinking – with every digital solution created, there'll be a unique challenge on top to ensure a personalised and positive experience for all users.
Better internal and external collaboration
Engineers and designers must understand each other's contribution to building more accessible solutions, something that will avoid gaping holes in the User Experience for disabled and neurodiverse customers. Here at BT Group, we have a great accessibility team who is helping to bring together product, design and engineering teams while incorporating their expertise to build solutions that are achievable and effective.
More broadly, we need to understand the collaboration between government and business. Accessibility is covered by legislation Worldwide, and closer to home, the UK Equality Act 2020 already covers Web Accessibility as a right. There is also the UK Directive on Web Accessibility that stipulated that all government websites must be compliant with WCAG at level AA. The UK government has also mapped out all the different accessibility professional roles. But those are specific to the reality of public services.
What would help is better dialogue between government and businesses on how to better drive investment in solutions and process. The work in this space is not well enough understood, which in turn, impacts championing resourcing and funding. Working together to profile accessibility's role will only serve to change this.
Digital Accessibility is also about strength by simplification
In terms of coding, the simpler the code is, the more likely it is to be compatible not only with assistive technologies, but also with different browsers, operating systems and devices. HTML remains the core foundation for web pages, and accessibility already comes baked into it. The semantic elements of HTML tell browsers what they do – which serves to increase compatibility with assistive technologies. With simpler code, we end up with pages that are lighter, load faster and that are also easier to maintain.
Simplification also includes reducing the many steps that are in place for a user to complete a task. This might include reducing the number of interactions the user needs to perform to complete a transaction. Another example, that we have recently incorporated into the EE app, is supporting the blind community by labelling all the buttons so that screen readers can read the content correctly.
Accessibility needs to be built into computer science courses
Success in accessibility requires know-how in a number of areas. This includes knowledge around its role in design, content and coding (HTML, JavaScript, CSS) alongside an understanding of other fields such as relevant legislation and how to run change management programmes.
We need to ensure that everyone learning their craft in the industry understands the importance of accessibility at the outset of any project they are working on. In fact, this needs to be taught beyond just digital design and engineering courses, but for any qualification in content creation, for example journalism. More Master's degrees will also help attract graduates who are committed to building expertise in an area that would set their professional development apart from those who have no experience in this area.
Accessibility from the outset
Beyond this, we need accessibility to be a consideration not just at the start of professionals' careers – but from the point of conception of every innovative digital solution an organisation creates.
For this to happen, disabled and neurodiverse participants need to attend user research sessions as mandatory. To that end, our accessibility team have ensured that our BT Group's User Research Team are setting up an Accessibility Expert Panel and devising more methodological ways to collect results.
As a next step, I encourage every leader who wants to initiate better accessibility in their organisation's technology to think about one single, first step that would make their digital assets more inclusive for disabled or neurodiverse customers. It could be at the outset of a new feature being developed or when a team is looking to fix a bug. While many organisations will be at different stages in integrating accessibility into their thinking, if everyone made an initial step it would make a world of difference towards bringing everyone in society closer together through technology.