5 minutes with: Helena Nimmo, CIO of Endava
As the CIO at Endava, Helena Nimmo is pioneering industry-leading developments in intelligent experiences, engineering and strategic software solutions
Leveraging next-generation technologies, Nimmo and her team offer a wide breadth of product and technology strategies, intelligent experiences, and engineering solutions.
Tell us about your education and career path
I was born in the UK and moved to Finland when I was young, meaning (bar a year spent at Strathclyde University for an MSc) my education took place in Finland.
I really wanted to be a florist and gardener but, living in a country that experienced winter for six months of the year, it wasn't really viable. Though now it's a hobby I make sure I always have time for.
Instead, I ended up doing a variety of business studies, starting at my home town's university, Oulu University, and ending up in Strathclyde, Scotland.
What led you to this industry?
I worked for a number of years both before and during university, and the technology sector was not at the top of my mind when I started out. But I had always had access to technology at home and school.
Oulu was a very tech-heavy city, with Nokia dominating the employment market. And that's how it started. I got fully and completely sucked into the world of technology, both as a product and business enabler.
Saying that, I have moved across different companies and sectors, which has been great in giving me a different, wider perspective on what works, and the why and the when for what doesn't work.
How are you driving digital transformation in your organisation?
Personally, I am not a great fan of the term "digital transformation".
It's become one of those industry by-words that doesn't feel like it needs to be explained, but in reality, isn't actually true.
Digital transformation suggests starting from a point that doesn't include any level of digital. Whereas, more often than not, it is about incremental improvements in existing systems.
Any successful change needs to be collaborative and inclusive. By that, I do not mean management by consensus. Rather, I mean making sure all the right people are involved and engaged.
Leadership should provide the sponsorship, and those impacted by the change need to be part of the design and implementation. Technology leaders are stakeholders and sponsors, just like any other functional leader. We often initiate the change, but to be successful, change needs to be inclusive and led by someone who has it as a full-time job.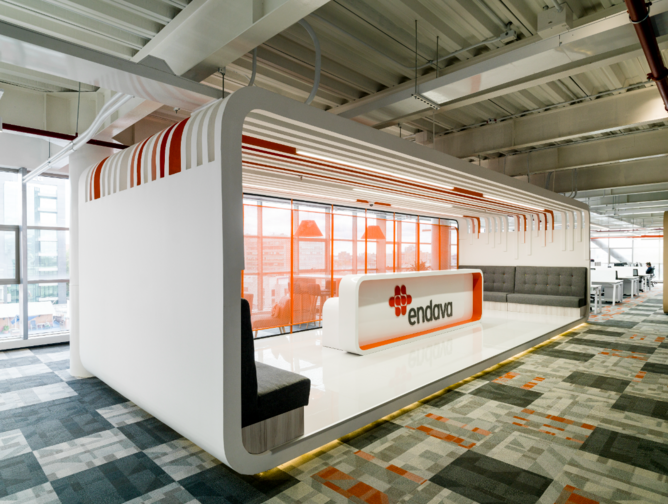 What are you doing to improve your operational sustainability?
My role is a global one, engaging across multiple time zones, cultures and varied user groups, which makes it enjoyably unpredictable.
Endava has signed up to the Race to Zero pledge, and we work with our partners to ensure sustainability in energy use, as well as in how the components for the devices and infrastructure are sourced. We maximise the life of the devices we use and ensure they are recycled appropriately. These are, however, only some of the actions we need to take.
The volume of data is something that needs to be addressed, namely copies of data. The more copies there are, the more storage and power is required to manage them. Managing the solution is going to require both behavioural changes and technological solutions.
What have been your greatest challenges within your role?
The role of a technology leader has changed dramatically over the years. Many of us struggled with the transition from technical leadership to business leadership.
Technology leaders are expected to understand how every part of the business operates, what the future trends will be, link the commercial and the operational, as well as retain the technical knowledge. Getting the balance between all these demands can be challenging, and I certainly do not get it right all the time.
Being able to recognise when a rebalance is required and acting on it is one of the biggest challenges I would identify with.