Vodafone Idea, L&T partner to trial 5G Smart City solutions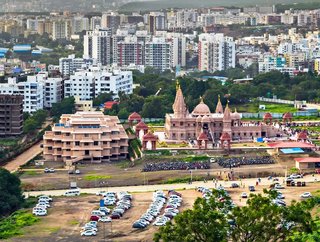 Telecommunications company Vodafone Idea has partnered with Larsen and Toubro (L&T) to trial Smart City Solutions on 5G in Pune, India
Leading telecommunications operator Vodafone Idea (Vi) has today announced a partnership with Indian multinational conglomerate Larsen & Toubro (L&T) for a pilot project to test 5G-based Smart City solutions. Conducting the trial in Pune, India, the companies aim to test and validate 5G use cases built on IoT, Video AI technologies leveraging L&T's Smart City platform – Fusion,  and address the challenges of urbanisation, safety, and security.
Commenting on the 5G trials and partnership, Abhijit Kishore, Chief Enterprise Business Officer of Vodafone Idea Limited, said: "Telecommunications solutions are the backbone of building smart and sustainable cities. The advent of 5G technology opens whole new opportunities to address challenges of urban growth and provide end-to-end solutions to support the sustainable creation of Smart Cities, in the future. Vi is happy to partner with Larsen & Toubro to test 5G-based Smart City solutions and utilise our mutual expertise to find solutions that can help shape cities of the future." 
What does Vodafone Idea and L&T's trial include?
According to Vodafone Idea, the partnership aims to trial several 5G-based use cases that cover 5G services such as enhanced Mobile Broadband (eMBB), Ultra-Reliable Low Latency Communications (uRLLC), and Multi-Access Edge Computing (MEC). It will help to analyse performance requirements of Smart city applications and business models in 5G, design and implement 5G based Smart & Safe city applications and use data analytics tools to visualise and analyse the trial results. 
Vodafone Idea has deployed its 5G trial in a setup of an end-to-end captive network of Cloud Core, new C1 – Vodafone Idea External generation Transport and Radio Access Network, in Pune city. In its initial test results, Vi says it had achieved peak speed in excess of 3.7 Gbps with very low latency on the mmWave spectrum band. These speeds were achieved with state-of-the-art equipment in 5G Non-Standalone network architecture and using NR Radios, the company claims. Vodafone Idea has also been allocated 26 GHz and 3.5 GHz spectrum in the mmWave band by the DoT, for their 5G network trials and use cases. Vi has also achieved peak download speeds of up to 1.5 Gbps in the 3.5 GHz band 5G trial network with its OEM partners. 
Greater demand for smarter and more intelligent solutions 
J D Patil, Whole Time Director & Senior Executive Vice President of Defence & Smart Technologies at L&T, said: "In this constantly-evolving world, we are seeing an exponential rise in demand for smarter and more intelligent solutions and L&T Smart World is committed towards leveraging the latest technological innovations in the IoT and Telecommunications areas to benefit society at large. 
"We are excited to partner with Vodafone Idea to bring to the table our experience, of having successfully executed several smart solutions across Indian cities, to develop customised, IoT-driven 5G solutions for various industry and enterprise verticals," he concluded.