Vinsmart announces Vietnam's first 5G smartphone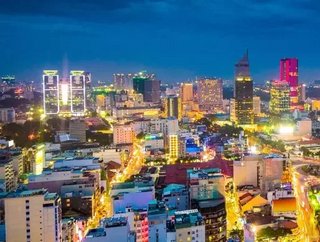 The VSmart Aris 5G will be the first 5G handset to be manufactured by a Vietnamese company...
Vietnamese tech conglomerate yesterday that its business unit had produced the first batch of 5G smartphones from the country. 
In a press release, the company stated: "This makes VinSmart become the first Vietnamese company to successfully manufacture a terminal supporting 5G technology. Furthermore, the event affirms the design and manufacture capacity of domestic enterprises and opens up opportunities for early access to world-class technology products for Vietnamese people."
The phone, dubbed the Aris 5G, was developed in collaboration with US tech firm Qualcomm, and is going to be aimed at the premium flagship tier. It reportedly has an 8GB RAM configuration, a Snapdragon 765 chip, a 4000mAh battery, 128GB ROM and supports the 5G Sub 6 GHz network. 
The frame is a single piece of metal, with a water-drop triple (48MP + 8MP + 2MP) front camera cluster and a 6.39-inch Super AMOLED screen, with Full HD+ (2340x1080p) resolution. According to VinSmart, the Aris 5G is also the first handset in the world to use a modular design platform that allows flexible hardware design and shortens production time.
However, VinSmart has not revealed how much the device will cost, or set a date when mass-production and shipping will begin. 
VinSmart has paid extra attention to the device's security measures. It reportedly integrates the Quantis QRNG security chip, developed by VinSmart in cooperation with Swiss-based company IDQ. VinSmart claims that this chip uses quantum computing technology to generate real random number sequences, making for better security functionality than most existing solutions, which use algorithms to generate pseudo-random numbers. This could mean the phone will rank among the best in the world for the kind of confidential data protection necessary as mobile devices increasingly become the standard method of accessing online banking, investment and other financial functions. 
Nguyen Phi Tuyen, Director of Measurement Center at the Vietnamese Department of Telecommunications, has said that the Aris 5G typically reaches download speeds up to 8x faster than traditional 4G LTE devices, thanks to its use of the Sub6 band. It is expected that the 5G access speed of the Vsmart Aris 5G will continue to improve when VinSmart applies the mmWave band in the near future.
The device's unveiling comes at a time when the race for 5G in Vietnam heats up. This will also be the first premium handset from VinSmart, as the company (which only launched its first products in 2018, has traditionally focused on the budget end of the market. Its 12 previous devices have all been priced below VND5mn (about US$212).