Telstra 5G trial enables cyclists "to see around corners"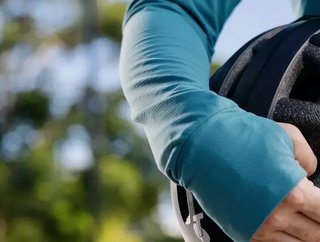 Telstra is trialling a 5G prototype bike helmet in Australia that gives cyclists improved visibility around corners.
Telstra, an Australian telecommunications company, is trialling a prototype bike helmet that uses 5G technology to allow cyclists to see around corners better and improve their overall safety on the roads. 
According to the company, around 40 cyclists in Australia are killed every year, a figure that is likely to increase as more people take up cycling for the first time. Since the beginning of the pandemic, cycling has seen a 270% increase in popularity, but as the number of cyclists rises, so do the troubling statistics, Telstra says. 
Talking about the reason behind the prototype bike helmet, Telstra said that "they saw a problem with cyclist safety" and knew they could "do more" to help, and began trialling 5G technology in bike helmets. 
How does the 5G technology Telstra's prototype bike helmet work? 
"5G isn't exclusively limited to smartphones, tablets, and laptops. With the right tech, we can use it to keep riders safe, too by building a connected bike helmet full of safety gear", Telstra said. The helmet, which was developed in collaboration with the Australian start-up company Arenberg, works by using 5G to pass video, GPS, and other forms of data to an analytics and data processing cloud. 
Telstra's 5G prototype helmet explained. Video: Telstra.
The helmet collects this information and merges it with more data gleaned from connected cars, infrastructure, and road cameras around the rider, which is then passed onto them through a speaker in the helmet, providing them with warnings, alerts, and safety information in real-time, Telstra claims. "It's more than just giving cyclists eyes in the back of their head: it's giving them the ability to see around corners where traffic is at a standstill, and even helps them predict the future", the company said. 
Being "doored", a cyclist's biggest fear
While most journeys are uneventful, there is one thing that cyclists fear every time they go out. According to Telstra, it's known as the fear of being "doored". This is where a driver of a car or passenger opens their door into a cycle lane without checking, causing a cyclist to collide with it and come off. If, however, they avoid the door, it may still cause them to swerve into the path of another car, which can be just as dangerous.
Telstra's helmet aims to reduce the chances of this happening by providing real-time video from the bike helmet, which is sent using 5G to a cloud platform, where it analysed before sending an audio alert to the rider to inform them of the hazard. This is made possible due to the low-latency connectivity offered by 5G, Telstra claims. 
It is hoped that, with this new technology, cyclists will be much safer on the roads and the number of accidents and deaths per year will be significantly reduced as it is rolled out in time to come.