T-Mobile uses 5G to power Pano AI wildfire detection system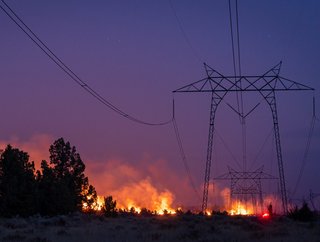 T-Mobile, Pano AI and Portland General Electric are deploying 5G-connected cameras designed to help emergency services stop wildfires early
T-Mobile has teamed up with Pano AI, a San Francisco-based disaster preparedness company, to deploy 5G-connected cameras for detecting active wildfires.
The deployment involves Pano customer Portland General Electric (PGE), which went through a pilot programme to prove out the technology in 2021.
A participant of the 5G Open Innovation Lab, which T-Mobile co founded, Pano AI deploys ultra-high-definition cameras and its proprietary Artificial Intelligence (AI) platform to constantly scan for and identify wildfires in the very early stages.
The reach of T-Mobile's 5G network allows Pano AI to gather high-quality video in at-risk areas and send vast amounts of data to Pano AI's command centre in real time, maximising the effectiveness of its AI platform and spotting potentially dangerous situations quickly and reliably.
"Firefighters are looking for ways to detect, confirm and pinpoint a fire within minutes, and modern technology makes that very possible. Wildfire detection is especially important in rural and remote areas, and thanks to the long range of T-Mobile's 5G network, we can bring Pano AI's solution to some of the most vulnerable locations across the country," said Sonia Kastner, CEO of Pano AI.
Detecting wildfires faster with 5G technology
T-Mobile is a leader in 5G and covers more than 97% of Americans across 1.8 million square miles – most of which are in rural America. This means T-Mobile has the ideal 5G network with the breadth and capacity to support Pano AI's active wildfire detection service.
"This is why we've been focused on building a 5G network for all – not just in densely-populated areas but across the country, into rural communities and remote environments as well. Pano AI has developed an innovative solution that is poised to save lives and limit the devastation often caused by wildfires, and it's both humbling and rewarding that T-Mobile's 5G network is uniquely positioned to help bring it to life," said Neville Ray, President of Technology at T-Mobile.
Last year nearly 60,000 wildfires burned more than seven million acres of land in the US, according to the National Interagency Fire Center.
"The stakes are high when it comes to detecting wildfires, and we need access to breakthrough technologies and reliable connectivity, which both Pano AI and T-Mobile bring to the table," said Larry Bekkedahl, Senior Vice President of Advanced Energy Delivery at Portland General Electric.

Pano AI has made it their mission to combat wildfires by providing intelligence that leverages the latest technology, including 5G. The company works with utilities, governments, fire authorities, forestry companies, and private land owners to deploy their solution. Portland General Electric is the first to utilise Pano AI on T-Mobile's 5G network.