Saudi Arabia has built the first 5G F1 circuit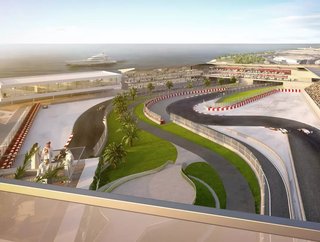 Saudi Arabia has constructed the first Formula 1 circuit to use 5G to boost fan experience and is part of the country's Vision 2030 project
The country of Saudi Arabia in the United Arab Emirates has constructed the first Formula 1 circuit to use 5G. By adding the network to the track, it is hoped that it will enhance the motor racing experience for fans. 
The track, called the Jeddah Corniche Circuit, has been billed as the "fastest street circuit in the world", and is located in the city of the same name, Jeddah, in Saudi Arabia. It has been built from scratch, and with it being the first track to use 5G, the fastest wireless communications technology yet, Director of the Jeddah Corniche Circuit, Martin Whitaker, said fans "will be able to immerse themselves in the Formula 1 action "to a completely new level". 
"In a relatively short period of time, his circuit was built and at the same time we can say it is one of the most modern, or maybe even the most modern,  circuits in the world," he said in an interview with RacingNews365.nl.
"For example, we are the first F1 circuit in the world that will use the 5G network. As a result, we are able to give the fans in the stands even more action. They can use their devices and experience the race on our circuit even more intensely. It's great to see how innovative people are here and how we are laying a great foundation for the races that will follow on this track," he said. 
Part of Saudi Arabia's Vision 2030 project
Whilst it is a technological marvel and proves the capabilities of 5G, the circuit is not just a standalone feature, but rather part of Saudi Arabia's Vision 2030 project. This aims to reduce the country's dependence on oil and diversify its economy. 
"It is very beautiful and impressive to see what the people here in Saudi Arabia have achieved in the past year. We worked very hard to get the circuit in order and we succeeded," said Whitaker.
"They are working on a beautiful vision here called Vision 2030. In that project, the F1 circuit is a part, but it is only part of what they will build.
"You can see the country is capable of putting on great projects and that's why I'm looking forward to seeing what will be realised in the coming years. It's clear that the country is ambitious and that's also evident when you see how international everything is here in Saudi Arabia.
"We work together in very international company and that makes this circuit project very interesting.
"The international company and the way in which the Vision 2030 project is structured gives me great satisfaction. Because of this, I can help many young people from Saudi Arabia on their way and that's a very nice thing to do."