Samsung expands its Galaxy Upcycling program
3 min
The program will allow Samsung customers to convert their old smartphones into IoT-enabled smart home devices...
Samsung today an expanded beta version of its Galaxy Upcycling program, which allows Samsung customers to give their old smartphones as IoT-powered smart home sensors and devices.
On Earth Day of all days, it's a welcome development. In an industry that pushes its customers to throw away their devices every one to two years in favour of newer-shinier gadgets - and contributes massively to as a result - Samsung's drive to find a place for defunct, but very much functional, smartphones may point the way forward for other operators looking to help their customers cut back on  
"We created Galaxy Upcycling at Home to enable more people to repurpose their old devices into useful tools, allowing both Samsung and our users to be mindful of the impact we have on the environment," said Sung-Koo Kim, VP of the Sustainability Management Office, Mobile Communications Business at Samsung Electronics. 
Kim added: "We are rethinking how we use existing resources, and we believe the key to upcycling is to enable solutions that transform old technology into something new by adding value. We are committed to integrating sustainable practices into our day-to-day lives, and through Galaxy Upcycling at Home, users can join our journey toward a more sustainable future."
The program also has the function of demonstrating and expanding the availability of Samsung's smart home solutions - something it's been pushing hard for a few years. 
The Galaxy Upcycling program was actually announced a few years ago, but the South Korean tech giant has been almost-completely silent on the project until this week.
The expanded functionality of the program now allows users to turn their old Samsung devices into sound and light sensors, which can then be linked to everything from light bulbs to a smart TV.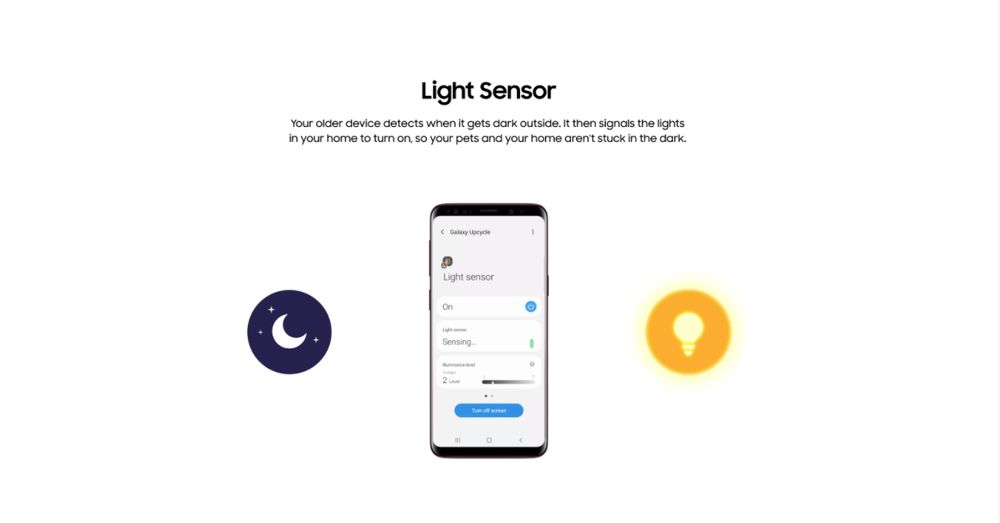 Courtesy of Samsung Electronics
Using an AI-based solution, these devices will now be able to pick up specific sounds - like a baby crying or a dog barking - and send an alert to the user's primary device. Simultaneously, the light level detection feature can, for example, tell when it gets dark outside and turn on the lights indoors. 
Courtesy of Samsung Electronics
Jaeyeon Jung, VP & Head of the SmartThings team, Mobile Communications Business at Samsung Electronics, commented: "The program transforms Galaxy devices into SmartThings devices and demonstrates the power of our intelligent IoT platform to broaden the possibilities of what users can do with their old phones. Through Galaxy Upcycling at Home, users will have access to the complete SmartThings ecosystem, enabling them to explore broader updates and features without having to purchase a new device." 
EDGEMATRIX and NTT DOCOMO deliver AI at the edge
3 min
NTT DOCOMO and EDGEMATRIX are collaborating to expand the EDGEMATRIX ecosystem in Japan and overseas...
Leading Japanese telecommunications firm NTT DOCOMO, together with startup EDGEMATRIX, is harnessing the power of 5G to support artificial intelligence-enabled video, real-time analytics and, ultimately, the next step in the evolution of the modern smart city. 
Founded under the roof of Silicon Valley tech firm Cloudian, EDGEMATRIX has grown into a cutting edge startup based in Japan. NTT DOCOMO has been a shareholder in the company since 2019, having spent the past two years jointly developing and commercialising EDGEMATRIX's revolutionary edge-AI platform using high-speed, high-capacity, low-latency 5G technology. NTT DOCOMO, together with EDGEMATRIX, launched a world-first edge AI platform for intelligent video analytics, enabling high resolution, high security, and real-time video using AI. 
Courtesy of EDGEMATRIX
The platform simplifies, manages and oversees the implementation and integration of AI at the edge, which captures, analyses and stores video close to where it is captured in industrial and retail settings, "on location at factories, buildings and other outdoor and indoor locations." The solution is also used in social infrastructure such as roads, railroads, and long-term care facilities for safety monitoring and anomaly detection.
Using Edge AI Box, a compact indoor and outdoor device equipped with a GPU for deep learning-based AI and a communication module (WiFi/LTE/5G) together with various interfaces such as camera connection, it becomes possible to process video streaming from surveillance cameras on-site (at the edge) and in real-time. EDGEMATRIX's Edge AI Boxes can be installed across a site and then monitored using the company's platform. The platform maps the locations of multiple Edge AI Box devices installed on site, monitors their operational status and enables the devices to be controlled remotely. 
EDGEMATRIX's customers can use the platform to pruchase additional AI applications from a rapidly-expanding ecosystem which allow them to implement the right solution for the right situation. This simplifies the implementation and upgrade of edge AI for processing and storing video data captured with video cameras at customer premises either outdoor or indoor. Using "Edge View" feature, it is also possible to simultaneously display on the browser a large number of AI-processed real-time videos from the field.
Partnerships like this are key to NTT DOCOMO's efforts to integrate 5G technologies into the modern enterprise. 
Zaif Siddiqi, Executive Director and Global Head of NTT DOCOMO's 5G & IoT Business Department, comments: "When you're approaching digital transformation, there's more to it than just leveraging cutting edge technologies into new customer experiences." Unless the needs of the customer, and the underlying market forces at play, can be truly understood, "5G doesn't mean anything," he explains, adding that in order to find the right contexts for deployment, "Selection of the right partners is extremely important to delivering on the potential value of 5G."