Qualcomm, AIS, ZTE test world's first 5G NR-DC in Thailand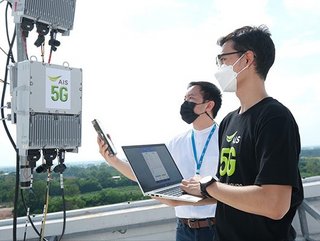 Qualcomm, Advanced Info Service, and ZTE have announced they have completed a world-first 5G New Radio Dual Connectivity (NR-DC) showcase in Thailand
Semiconductor company Qualcomm, Thai mobile operator Advanced Info Service (AIS), and Chinese technology company ZTE, have jointly completed the world's first test of 5G New radio Dual Connectivity (NR-DC) at AIS' commercial 5G site in Korat, Thailand.
The showcase, designed for frequencies of 2.6GHz and 26GHz, achieved a peak download speed of 8.5Gbps and a peak uplink speed of 2.17Gbps on a single mobile device. The partnership between the companies combines Sub-6 and 5G mmWave, two major frequency bands that enhance Thailand's 5G capabilities and extend the application landscape.
The test used a smartphone form-factor device powered by the latest ZTE mmWave AAU network infrastructure equipment and the Snapdragon X65 5G Modem-RF System. Discussing the partnership, ST Liew, Vice President of QUALCOMM CDMA Technologies Asia-Pacific Pte. Ltd. and President of Qualcomm South East Asia, said: "Our collaboration with AIS and ZTE proves the feasibility of deploying 5G mmWave in Thailand."
"Qualcomm Technologies believes that 5G mmWave will be the key to unlocking the full potential of 5G. The possibility is endless and we are proud to take the first step in bringing the full benefits of 5G mmWave to the country," Liew added.
NR-DC test propel's Thailand's 5G mmWave commercial progress
According to the companies, the NR-DC showcase drives the commercial progress of 5G mmWave in Thailand. AIS, Qualcomm Technologies and ZTE say they are "committed to accelerating and growing 5G for capability enhancement, efficiency improvement and application boundary extension."
"AIS's key goal is to develop the smart 5G network as a national infrastructure with investments of 30,000-35,000 MB," said Wasit Wattanasap, Head of Nationwide Operation and Support Business Unit at Advanced Info Service Pcl. (AIS).
"We are the licensee holding the most spectrum in Low Band, Mid Band and High Band or mmWave, which has the outstanding feature of rapid data transmission with low latency. We have never stopped deploying innovations to level up the network, including 5G Non Standalone (NSA)/ Standalone (SA), Voice over New Radio (VoNR) and 5G carrier aggregation (CA), to provide increasingly improved experiences to Thai customers, which was our intention when we joined the auction for spectrum," Wattanasap said.