NTT DOCOMO founds 5G consortium in Thailand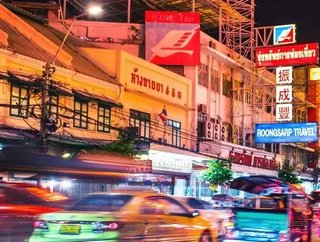 The 12 global partners plan to deliver 5G solutions, first in Thailand, and later across the rest of SouthEast Asia...
Leading Japanese telecom, NTT DOCOMO, is going into business with 11 other international firms (many also part of the NTT Group) as part of a new consortium dedicated to providing 5G services in Thailand, and later throughout the rest of the SouthEast Asian region.
NTT DOCOMO is taking the lead on the venture, reportedly handling project coordination, supplying the 5G solutions, designing and integrating the wireless networks, and promoting the adoption of OpenRAN solutions. 
On a side note, NTT DOCOMO also announced this week the launch of its own OpenRAN ecosystem, with a spokesperson saying that the company will, "aim to package, provide, install, operate, and maintain the optimal radio access network in response to the requests of communication carriers considering the introduction of open RAN." 
Adding that, "By utilising DOCOMO's know-how, which has promoted open RAN for many years and put open RAN into practical use in 5G for the first time in the world, we will maximise and integrate the strengths of our partners and provide a flexible and highly expandable network."
In addition to NTT DOCOMO, other members of the NTT group have also signed up for the consortium. NTT Communications and NTT itself are working on the development of customer channels, and the NTT Data Institute of Management Consulting is supporting that customer channel development and working on bringing new solutions to market. 
From outside the NTT camp, Activio is working on developing applications for certification of radio equipment and the importation, arrangement of certification labeling and acquisition of the consortium's radio business license; the AGC is provisioning thin, small-footprint, advanced-design proprietary antenna products that will improve NTT's indoor-coverage solutions, particularly regarding mm-Wave 5G; network connectivity is being handled by the Advanced Wireless Network Company; EXEO Asia is working on construction of network infrastructure; Fujitsu is providing network communication equipment; Loxley is contributing to system integration and engineering tasks; Mobile Innovation is supporting NTT in the development of customer channels; and NEC is doing a little of everything, including verification support for network communication equipment, as well as some design and engineering work. 
By coordinating each of its member's strengths, the consortium plans to "provide such companies with professional consultation regarding 5G solutions, especially flexible and highly secure private 5G networks that function independently of public networks offered by local telecommunications operators." 
Participating members will reportedly be able to offer "one-stop delivery" of 5G networks and services to the Thai market. 
The consortium isn't the first international firm - or firms - to enter the fight for a slice of the Thai 5G market. In January, Ericsson announced that it had been chosen by Thailand's leading telecom DTAC, to help provide 5G coverage to almost half of the country's 70mn citizens.